Atwood Magazine is excited to share our Editor's Picks column, written and curated by Editor-in-Chief Mitch Mosk. Every week, Mitch will share a collection of songs, albums, and artists who have caught his ears, eyes, and heart. There is so much incredible music out there just waiting to be heard, and all it takes from us is an open mind and a willingness to listen. Through our Editor's Picks, we hope to shine a light on our own music discoveries and showcase a diverse array of new and recent releases.
This week's Editor's Picks features Rachel Chinouriri, Shannen James, merci, mercy, riela, mxmtoon, and Jenny Berkel!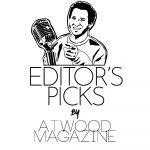 ---
"All I Ever Asked"
Rachel Chinouriri
A beautiful song of self-love and respect, vulnerability and intimacy, Rachel Chinouriri's "All I Ever Asked" is as catchy as it is cathartic: Lilting and buoyant pop on the surface makes way for a deeper exploration of our roles in relationships – what we ask of others, as well as what we give of ourselves. Following her viral hit "So My Darling (Acoustic)" that released at the top of the year (a fresh take on a 2018 single), "All I Ever Asked" sees Chinouriri taking a bold step forward into a promising and bright career bridging the mainstream and alternative worlds. It's her first original release since signing a worldwide deal with Atlas Artists / Parlophone, which includes Elektra Records in the United States.
Needless to say, the London-born and based artist is firing on all cylinders – and nowhere is that felt with more depth or strength than on her latest release, which is truly a "release" in every sense of the word as she sings, vulnerable and full of emotion:
Somewhere beneath the surface
I wanna find
If you're the problem or the purpose
Cos It's borderline
I Never know if you're sorry
For what you said
For all I know you adore me
But keep all inside your head
"'All I Ever Asked' was inspired by a breakup my friend was going through, and it made me reflect on a similar situation I was going through too," Chinouriri tells Atwood Magazine. "The feeling of asking someone you love to respect you in the simplest form and realizing it's the bare minimum. It's also about realizing your own worth and not settling for someone who cannot be what you need."
Pulsing and impassioned, radiant and tenderly sweet, "All I Ever Asked" becomes a mantra in itself as Rachel Chinouriri rises to meet her moment head-on.
Just a little more time, was it really that hard to do?
It was all I ever asked of you
It was all I ever asked of you
Nothing compares to the trouble that I've been through
It was all I ever asked of you
It was all I ever asked of you
"Breakfast with You"
Shannen James
A cool confessional with Americana roots and achingly intimate lyrics, Shannen James' first single of the year is as unapologetic an embrace of self-worth as it is pure, sweetly seductive fun. The Melbourne artist first caught my ears with last year's debut EP Arrows – a "dazzling, intimate outpouring of fresh grooves and hot feelings" – and she's done it all over again with "Breakfast with You," a grooving country-ish tune that has me bopping my head and snapping my fingers along with some extra twangy guitars and smoldering, soothing vocal harmonies.
Call me up in the middle of the night
Stumbling words 'your on my mind'
Why would you say that
Why would you call me up so late
Flowers dead on the bedroom floor
Stop leaving things when I miss your calls
Why would you say that
Why would you think im that kind of girl
What's it gonna take for you to understand
You might think James is singing, "I want to be loved," and… you'd be dead wrong. "I want to be alone," she howls in the song's radiant, soaring chorus. If it's intimacy she's after, it's the intimacy of solitude: That joy one gets in the company of oneself, reconnecting with who we are away from the world's noises and romantic (or not-so-romantic) distractions.
"'Breakfast with You' was one of those songs that once the main riff and song idea came together, it was super quick and fun to write!" James tells Atwood Magazine. "I was going into a writing session and had a very simple riff in my voice memos. One of at least a thousand on my phone! It jumped out at me as something pretty groovy and catchy, it was stuck in my head. I brought it into the session with Xavier Dunn and we workshopped it into what you hear today as the main intro guitar melody. It felt kind of country pop with a bit of swagger to it, so lyrically making it a bit tongue in cheek in its storytelling made so much sense."
"I knew I wanted to write about this idea of a person who just can't get the hint that you aren't interested in them regardless of all the signs, like turning down many breakfast dates! Brutal but honest. It was really exciting leaning into the country flare in this song and as well as the music video as I'm inspired by so many amazing country pop singer songwriters. This one fed my ego a little being able to live out my Shania Twain dream."
What's it gonna take for you to leave me
And to tell you the truth
I don't want to have breakfast with you
"Breakfast with You" is fun with a glowing wink and a charming smile. Shannen James has shown a new whimsical, vivacious side to herself with this song, and quite frankly the sky's the limit to what she does next.
"Sick to My Stomach"
merci, mercy
With a sweet n' spicy charge and a feverish sound, merci, mercy comes to life like never before on her achingly intimate, confessional anthem "Sick to My Stomach." Few artists sing so candidly about their experience with addiction, but here the Sydney-based artist holds nothing back: Visceral lyrics and a vulnerable vocal performance (over cutting synths and raging, fuzzy guitars, no less) find her fully present and utterly exposed. There's pain in her poetry, but more than anything else, there's raw, heartfelt truth. This is her diary; her life; her reality manifest in an untethered, irresistibly catchy song.
Take me home, take me home
Cause I've got nowhere to go
Nowhere to go
There's a bottle sitting next to me
And oh it looks so sweet
And I know it's old news to you
But just cause you don't have it doesn't mean it's not a habit
Baby
Make me go, make me go
Cause I've got nothing left to show
Nothing left to show
I wish I wasn't so dizzy
when it's hard enough not to see
And I know it's old news to you
But just cause you don't have it doesn't mean it's not a habit
Baby
"'Sick To My Stomach' is about my addiction with alcohol and cigarettes and how it may seem like old news to some people because it's what I always sing about," merci, mercy (aka Mercedes Thorne) tell Atwood Magazine. "Right now in my life I am not struggling with heartbreak for another, but for myself. When I wrote this song I felt like anyone I told about my addiction would question it because it wasn't life threatening in their eyes."
"This song will take you on a journey of me and my self-worth. It is really showing you that I have come to a realization where I begin to understand what is truly going on with myself and that it really is an issue people should start worrying about."
If I ask for help
Will it mean that I'm unwell
In this untitled bathroom with all my misfortune I can't read the sign
yeah I think I've got bilnd
Think I've gone blind
I prefer dark night lonely times always alcohol in sight
The cigs in my pocket make me sick to my stomach
Mmmmmh mmmmh
The kind of song that hurts so good, "Sick to My Stomach" channels pain into something beautiful and wondrous.
One of the many standout tracks on her sophomore EP llorar y perrear, "sola" sees multilingual Miami-based avant-R&B artist riela shining bright and refusing to let anyone quench her light. Tempered, lilting 808 trap beats and a gentle synth melody provide the perfect open framework for riela's evocative voice to soar; she sweeps high and swoops low, performing with grace, elegance, and undeniably heartfelt passion. "'sola' tells my own personal story of rediscovering who I am without the validation of romantic relationships and encounters," she says. "It's finding my worth through giving myself everything I used to give to other people that didn't deserve it."
Singing in both Spanish and English, riela is irresistible and intoxicating:
Dress up with that new
Fenty, gold hoops
Look fly for me not for you
I roll up, the doob
Kick off my shoes, I'ma treat me real good
It's only me that I be lovin'
Give my body
To someone that's worth it
I'm nobody's baby
No, I won't be chasing
'Cause I don't do waiting
Prefiero estar sola
Así me gusta a mi pasar las horas
Sin pensar en nada, se
Solita es mejor
Yo me doy amor
Sola
"I'm so happy that this song is finally out," she tells Atwood Magazine. "The day I wrote it with Ale Alberti (Anitta, Becky G) & Federico Vindver (Kanye West, C.Tangana) was a day that really inspired me to be better at my craft. It also felt so natural. I'm usually pretty reserved with my feelings but they made me feel so comfortable and I just told them how I wanted to make a song that could hug you and a song that feels warm. It became this ode to self-love that was a topic I usually don't touch on, but now it's a reminder of who to put first."
For a song about feeling empty in a relationship, "sola" feels profoundly full of emotion and feeling. It's an electrifying display of riela's vocal and songwriting talents that is sure to send shivers down the spine.
Prefiero estar sola
Así me gusta a mi pasar las horas
Sin pensar en nada, se
Solita es mejor
Yo me doy amor
Sola
"I've always played the part of Shakespeare: I hide behind the ink and pen," mxmtoon sings in a sweet lilt, with enchanting ukulele strums at her side. "… I'm so tired of being a book on the shelf, tired of stories for somebody else – think that I'm ready to start a new chapter." From the moment the song opens, it's hard not to fall head over heels for "mona lisa." A song about stepping out of the shadows and into the light, mxmtoon's first release of the year is an intimate and glistening call for a fresh start: A "best step forward" into something exciting, bold, and new. Fun and free, emotionally impassioned and musically rich, it's the self-empowered bedroom pop anthem that'll rouse our spirits and put a pep in our steps.
I wanna be a Mona Lisa, ah-ah
The kind of girl that you can dream of, ah-ah
And I always had the words, but I don't wanna say it
Wish I could paint a smile on my face
I wanna be a Mona Lisa
"As someone who usually writes songs about other people, one of my ongoing questions is, 'Will anyone ever write songs about me?'" mxmtoon's maia explains. "'mona lisa' is about wanting to be the subject of the art for once instead of being the creator. I think we all daydream at some point in our lives of diving into our favorite stories and finding ourselves in the pages. we all deserve the chance to feel like we're worthy of a spotlight every once in a while, and mona lisa is meant to express that sentiment exactly."
So is there anybody out there
Who could change my point of view?
The way that Van Gogh uses yellow or the self in Frida Kahlo
I could be that for you
Full of colorful instrumental work and sung from the depths of the artist's heart, "mona lisa" is inspiring and uplifting, gently soothing and stirring at the same time. An intoxicating sun-soaked singalong, it's the kind of song that has the potential to get stuck in your head all spring and summer long.
"Kaleidoscope"
Jenny Berkel
The lead single off Jenny Berkel's new album is, true to its name, a dark "Kaleidoscope" that will send listeners reeling into ourselves as we piece apart the poetry and seek relief from the fervent tension. It's in many ways a response to (and perhaps a reckoning with) the relentless stress and emotional strain we endured ever since the Trump years began back in the mid-2010s; a poet as well as a singer/songwriter, Ontario-based Berkel weaves a compelling narrative, exploring the ways in which "truth" gets twisted and corrupted through language – the words we say, and the words unspoken:
Drive through the night, high beams cut the dark
Out on the highway, somebody's flicking cigarette sparks
All through America, the cities sleeping
The radio plays like a child stuck inside a bad dream
A word is sold now,
kaleidoscoping everything that should be true
Find me a way that's far away
From you and the lies
Berkel's second verse is particularly moving: She injects an urgency and immediacy to her lyrics here that make this moment particularly special, if not a little ominous and jarring:
Cold in the night air with the summer sick of hanging around
Slow like a balladeer, with the words so worn they're meaningless now
Inside our silence is something violent,
something hard to see through
"The internet with its rabbit holes, slipperiness, and propensity for mis- and disinformation inspired me to write "Kaleidoscope." I wanted parts of this song to evoke the same tense, frantic feeling that the internet can sometimes give, paired with a chorus that lifts its way out of that mood," Berkel tells Atwood Magazine. "I wrote this song while I was on a poetry and music tour from Ontario to Montreal and then all the way to Winnipeg. It started with the guitar part while I was fiddling around with a new open tuning during an afternoon in Montreal.The lyrics of "Kaleidoscope" evolved extensively as time went on. Given that this song considers the importance of care and precision in language, I felt even more attentive to the lyrics than usual."
"Kaleidoscope" carries with it an undeniable darkness; a nervous, anxious energy that comes not from Berkel, but rather from her subject matter. Dazzling though her chorus may be, there's no escaping the deeper sentiments of this song. Our words have palpable weight; the pen has proved its might time and again, and whether it be in candid conversation with friends, publicly on social media, or through any other mode of communication, we would do well to heed Jenny Berkel's warning. "A word is sold now, kaleidoscoping everything that should be true."
— — — —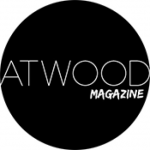 Editor's Picks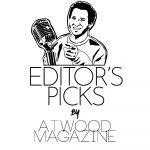 ---