Genre-meshing musician Felly discusses his new record, past projects, and plans for the future.
Stream: 'Mariposa' – Felly
---
With several records released over the years, 24 year old musician Felly has a sound that is always evolving and open to new sonic experiences in terms of production. His sophomore LP Mariposa released in mid-March, and is the current example of this artistic evolution.
Consisting of eleven tracks, Mariposa explores a wide range of sounds and genres — from a blend of West Coast-ish surf guitar energy on the opening "Weak Hearts," to Felly showing off his creative rap lyricism, even naming Omar Apollo and Clairo in a sample on "Come Alive."
Despite the large California-esque influence on the new record, Felly originally grew up in Connecticut. However, time spent on the West Coast seemingly allowed him to tap into the "surf" sound, while infusing it with a creative rap flow — making a sound that is all his own.
Felly has also had a wide range of influences and collaborations throughout his discography. The latest (and only) feature on Mariposa is also a display of Felly's versatility. "Heartstrings" opens with a groovy backing beat and Santana playing a killer guitar solo, per usual, adding a whole other rock-like level to the track. The song's vocal and lyrical performance by Felly is also a standout on the album as well.
Cupid's gotta hold of my
heartstrings, yeah my heartstrings
And every time you go girl
my heart breaks, girl my heart breaks
And even though I try to move on,
the gravity is much too strong
Cupid's gotta hold of my
heartstrings, yeah my heartstrings"
– "Heartstrings" (feat. Santana), Felly
Mariposa is also a spot-on name for Felly's latest album. Given the fact that butterflies are the symbol of transformation, the record is a marker of his musical evolution as well. Even releasing a full instrumental album of past tracks in 2015, Felly follows what he feels drawn to creatively. As for what the future holds for Felly, any musical style is fair game and he can only go up from here.
Read Atwood Magazine's interview with Felly below!
A CONVERSATION WITH FELLY
Atwood Magazine: Did your musical process, specifically writing and producing, change at all between Mariposa and Surf Trap? Or has it stayed the same between records, even if the sounds themselves change?
Felly: Hi guys. It's dramatically changed between those two. On Surf Trap, I gave some producers I met in Brooklyn the reigns to evolve my sound. I was sort of like, I'll just worry about what I'm saying. This time around I was really predicated on having control over each sound. I produced almost every sound on Mariposa. There's only two or three songs where someone else led the way on the production. I think this came from spending a lot of time with myself and I, for once, actually had an idea of how I wanted things to sound.
You managed to get Santana on "Heartstrings", but have mentioned in other interviews that other features were pitched. Was he originally who you had in mind or did it wind up falling into place?
Felly: No, we pitched for a bunch of out of pocket features. I was supposed to go to PnB Rock's house or something. It was definitely a learning process in the field of collaboration. I used to think like – Oh, I'll just collaborate with anyone who wants to collaborate with me, or anyone cool who is down to get on the verse.  I'm much different now – I really couldn't care less about having a cool feature unless I genuinely fuck with the person.
The Santana feature came from him hearing the song, after my label on a whim sent it over to his team – and he loved it, and wanted to play on it. This was sort of God's way of showing me like, don't be so eager to collaborate with anyone. When you let it come naturally, it's much more rewarding, as we can see here. It was also a testament to how in a box I was putting myself – trying to get features from like solely hot rappers… I was undermining how versatile my sound actually is. Going forth, I'm seeing things from a much wider perspective.
What was the studio collaboration process like between you two?
Felly: Flew to somewhere outside of San Francisco where Santana lives. Brought a couple of my friends. Had a day session at a private studio with the best smelling incense I've ever smelled. Went through a bunch of takes with Carlos. Talked life. Drank a lot of coffee. Came home that night with a much better record.
Had you met him before?
Felly: No, but it's eerie cause I've probably mentioned his name 3-4 times on past records where I'm just rapping and referencing him.
You've listed childhood inspirations, from Rage Against The Machine to Nas. Besides Santana, and other collaborators including Ari Lennox, have there been other surreal musician meetup moments in your career so far?
Felly: Being in LA, I've met a lot of people I've looked up to and am huge fans of their music.  Sometimes we make music, sometimes we don't. I always have to hush my urge to like, just want to make music. Most of the time you develop a better relationship by just talking or doing normal shit with them like playing video games.
In one of the comments of the ''Heartstrings'' music video on YouTube, someone said, "Remember when he was a kid making beats in his room." Do you feel the same way?
Felly: Yes, but I have my sights on such bigger things that I can't really be thinking about that.  I need to make time for me to, in order to feel good about myself. But it's mission vision right now.
I've also noticed that a lot of the visuals tied to Mariposa, both with music videos and photos on social media, are influenced by film. Is that intentional? Do you have any favorite films that have inspired your creative process?
Felly: I just really feel, at this time in my life,  I should have been around in the late 60's. I've been really inspired by older stuff.  With Mariposa, I was listening to a lot of John Lennon and cowboy junkies and older stuff — listening to a lot of vinyl records. I wanted to make something that could be played with those.
Are there any artists, either in the east coast scene or across the globe, that you're currently inspired by and would want to work with in the future?
Felly: I want to work with Elton John, Future, Pharrell, Post Malone, and honestly want to write something with Bob Dylan before he dies. He'd probably hate me, but it'd be great.
Will there be another instrumental album at any point in the future?
Felly: I have so many beats, almost too many. Some are really amazing, but I want to get this artist thing popping at the moment.
Are you working on new material in general at the moment? Or just taking a rest since Mariposa just dropped?
Felly: I've been making a lot of new stuff, but it's really unidentified right now — sort of in the feeling things out stage of the album, seeing what direction I want to go. I definitely want to rap more on the next record if my soul calls for that.
Do you envision the next record being similar sonically to Mariposa? Or are there other musical evolutions you're looking to explore?
Felly: I want it to be like Mariposa only in the sense of color.  I think there are beautiful chords and color pallets on Mariposa. But it can be pushed further. Rhythmically I'm thinking, tempos can be pushed.  I want the next record to sound like you're running through a jungle. Mariposa, you're laying down, or sitting down, pondering, taking a breath.
Besides being inspired by East Coast rap, did growing up in Connecticut specifically play a role in you wanting to create music?
Felly: Yes, definitely. Tons of alone time. Tons of nature.  Boredom. Pondering. It all led to, let's see if we can make something happen, cause this isn't enough.
Have there been talks of possible rescheduling at all during such a rollercoaster time?
Felly: Yeah. The tour probably won't happen on the expected dates. Don't even know what's going on right now. Will probably get postponed.
Will part two, if there is one planned, expand outside of the US cities?
Felly: I hope so.
From what's uploaded to Spotify, years have passed since 2014's Waking up to Sirens. Do you feel that growing older has changed your musical style?
Felly: Yes, that stuff doesn't feel like me anymore. It's great, and I admire the time, but I sort of shed skin and move on.
— —
— — — —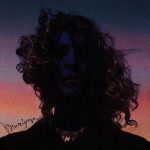 ? © Bryn Allen Lamb
art © Matt McCormick x Allen Of Irvine
Mariposa
an album by Felly
---