Atwood Magazine is excited to share our Editor's Picks column, written and curated by Editor-in-Chief Mitch Mosk. Every week, Mitch will share a collection of songs, albums, and artists who have caught his ears, eyes, and heart. There is so much incredible music out there just waiting to be heard, and all it takes from us is an open mind and a willingness to listen. Through our Editor's Picks, we hope to shine a light on our own music discoveries and showcase a diverse array of new and recent releases.
This week's Editor's Picks features Hana Eid, Raia Was, Kate Davis, Robyn Froese, Jealous of the Birds, & Why Bonnie!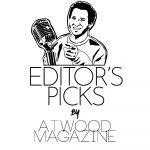 ---
Singer/songwriter Hana Eid spent the past year and change establishing herself as a noteworthy newcomer in Nashville's indie rock scene, steadily releasing a formidable slew of introductory tracks that not only highlight her vocal talents, but also capture her sheer lyrical prowess as an expressive and engaging storyteller. Last February's sophomore single "Dancing to the Smiths" remains an in-your-face explosion of sonic youth and ecstasy, and judging from its formidable 600,000+ Spotify streams, it seems like quite a few others would agree with that summation.
The great thing about being an early Hana Eid fan is that she keeps setting the bar higher and higher, and you get to watch her climb in real time. Her latest single is her best effort yet – a sonically and emotionally charged reckoning full of fire and furor, raging guitars and soaring vocals. Baked in the heat of the moment, "Shrapnel" (released March 10) is a cinematic and searing outpouring of relationship wreckage. Eid takes a brutally honest and achingly raw mirror to her emotions as she lets loose, singing with raw and unbridled passion: "You're upset and I am too, I'm still pulling out the shrapnel made of you."
Ouch.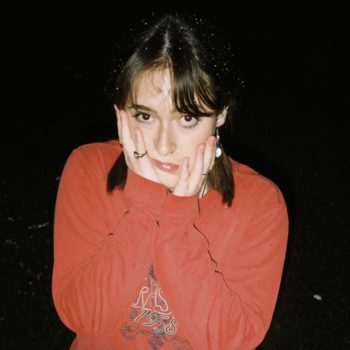 You asked me to drive you home
I stood out by the street
The bottom of your driveway
Still sort of smells like me
You couldn't speak for yourself
And it kind of makes me sad
But it's all for the best
Now you're upset 'cause I'm a liar
And I talk about myself all of the time
Now you're upset and I am too
I'm still pulling out the shrapnel made of you
"'Shrapnel' is about being disappointed by someone," Eid tells Atwood Magazine. "It's the closest thing I've ever written to a diss track." Angst, anger, and heartache coalesce to capture the artist's inner churn as she seeks to rise above and beyond the pain in her past; to put someone who was one so special and cherished behind her, for good this time, and to never look back. "Saying goodbye is the hardest thing I've ever done," she confesses in the song's bittersweet, breathtaking bridge. "And saying goodbye is the sweetest love I've ever known… I never loved you so well…. than when you're not speaking for yourself."
When you said you'd love me still
I should've asked you how
And you know you've got it bad when
Going home feels like throwing in the towel
You couldn't speak for yourself
But I still want you half as bad
And it kind of makes me sad
Intimate and vulnerable, visceral and dynamic, "Shrapnel" hits hard and cuts deep, reminding us of what it's like to love, to lose, to pick up the pieces, and soldier on. This is far and away Hana Eid's most unapologetic outpouring, as well as her moment of cinematic, soul-stirring self-empowerment.
And to think, it's only her fifth career single. With so much more to come, there's never been a better time to hop on the bandwagon of this indie rock icon in the making.
But you're upset 'cause I'm a liar
And I talk about your mouth all of the time
It's cherry red, it's saccharine
It's knowing better than to miss what could've been
It's taking what I can get
Wherever I can get it
"What It Feels Like"
by Raia Was
Hushed, hazy, and heated, "What It Feels Like" is a beautifully brooding fever dream. Driven by her own anxiety and an overwhelming sense of doom, Raia Was' first single of the year falls heavy on the ears, but it's light on the soul: An intoxicating, hypnotic track, it's thick like a fog – and just like fog, the closer you get to it, the clearer everything becomes.
The baby's crying,
she keeps me lying to myself
and I can't deny it,
run around thinking I'll need
nobody else.
But what it feels like to know this
is nothing like being in love,
and is nothing like getting caught up,
is nothing like dying.
Released March 22 via Switch Hit Records – a new musician-run cooperative record label co-founded by Was, Arthur Moon's Lora-Faye Åshuvud, and Cale Hawkins – "What It Feels Like" is the beginning of a bold new era for Raia Was. While she's released a scattering of remixes and live singles over the past two years, this is her first new song since May 2021's sophomore EP Angel I'm Frightened (B) and its breakout lead single, "You Are," which was prominently featured in Season 2 of HBO's Euphoria.
Oo, what it feels like to know this.
Oo, what it feels like to know this,
my world is shaking up,
my ego breaking up, damn!
"I wrote 'What It Feels Like' about the experience of saying exactly what I mean – the moment of free-fall where I'm positive the world will end, I'm positive abandonment lurks just around the corner, and then… nothing," Was tells Atwood Magazine. "The world is just as I left it. I'm constantly seeking to give sound to what I think of as the 'gray matter' of life, the feelings and sensations that fill our days beyond the milestones and heartbreaks that define so much of our lived experience in the world."
"This song burst the bubble for me," she adds. "It had all just felt so doom and gloom. I was super afraid to name my experiences, and then this song comes out in one bite and really made me laugh… like, that "damn" I say… I really mean it. I'm in awe. And also, it's just so silly. Pretending we know anything, thinking we know what's gonna happen to us in this life."
It's easy to shake it off once the moment has passed, but when you're deep in it and going through those worst places your mind has to offer, it helps to have a musical companion. "What It Feels Like" is unabating and intense, yet it's equally comforting and cathartic – a soothing balm in song form. The next time you feel yourself getting swept up in life's raging currents, take a listen to Raia Was. She just may cool us down before the flames engulf us whole.
And the baby's my own,
she's got me dancing with myself
and I can't deny her,
it's always easy dancing with somebody else.
But what it feels like to know this
is nothing like being alone,
and is nothing like being told that I'm wrong,
is not like dying.
Oo, what it feels like to know this…
my world is shaking up,
my ego breaking up, damn.
Feverish and dramatic, achingly intimate and unapologetically expressive, Kate Davis' third album is a captivating, immersive, and inspiring indie rock triumph: A vast and vivid record whose many layers demand repeat listens in order to be fully appreciated, embraced, and understood. Released March 24 via ANTI- Records, Fish Bowl enchants and enthralls as Davis embarks on what she has described as her very own Hero's Journey. It's a musical epic – a voyage through life's trials and tribulations, complete with a healthy dose of obstacles to be overcome, battles to be won, and lessons to be learned  – and damn, if the word "epic" isn't a perfect description.
The road to "Reckoning" (literally the name of the album's enveloping final track) is long and winding and full of stunning, hard-hitting eruptions. Lead single and album opener "Monster Mash" sets the record's tone both lyrically and sonically, introducing the album's narrator "FiBo" (an abbreviation of Fish Bowl) who embarks on a quest for change, both inside and out. Sonically, "Monster Mash" hits hard and fast, with catchy melodies and vibrant lyrics painting a provocative picture:
I wanted more
Than being left for dead in bed
At the midnight hour
One chained ankle stands in my way
I just can't control myself
I told you I can't control myself
I never could control myself
Is there anybody there
Who wouldn't be scared of me?
– "Monster Mash," Kate Davis
"This is the moment where the character is abandoned by everything that she knew," Davis explains. "And there's this feeling of isolation in living your life up to a point where you're like, 'This is what I've chosen.' But when you transition into a different phase of life, it's easy to feel like a monster, to feel like you're harmful to people, or that people are fearful of you."
"[The FiBo character is] kind of a way to mask myself when I'm having my own experience moving through this journey," the artist adds. "These songs started out being personal, vulnerable. It was an easier way to create a narrative and give it more of a shape without having to actually see myself. It's a form of self preservation. At the same time, it's kind of fun to look at FiBo and be like, 'Here is a spirit that only I understand, because I made her.'"
Fish Bowl's highs are high and plentiful: Songs like "Consequences," "People Are Doing," "Long Long Long," "Saw You Staring," and the title track "Fish Bowl" highlight Davis' talents as a performer, a lyricist, world-builder, and storyteller. Each song is incredibly raw and exposed, yet dressed in such glamorous sonics that you'd be almost forgiven for not noticing all the times Davis pours her heart and soul out.
I forgot
My wallet and my keys in a cab in the city
So I got
Down on my knees, crying out to a corporate deity
A black hole
Was tearing into me where my heart
had forgotten about fragility
And tenderness and your absentee
Without being emotional
Just going through the motions of
One big self sabotaging empty bitch
It's scary to realize the reasons why you wanna die
And that you would spare them of the consequences
– "Consequences," Kate Davis
As cinematic as it is cathartic, Fish Bowl is the roller-coaster ride of a lifetime – one that leaves us refreshed, renewed, reinvigorated, and inspired. Davis' album adventure is a reminder that real change is within reach for every single one of us, but that it takes courage, dedication, resilience, and plenty of inner strength to see through to that ever elusive inner peace.
A shot of light piercing the darkness, Robyn Froese's "Again" aches with the raw intensity of a soul ignited and exposed. The final track off the Vancouver singer/songwriter's recently-released debut EP Wasp Woman and the Haunting of Heatley is a heavy-hearted, hard-won catharsis; a visceral breath of fresh air that fills our insides with relief – but as is the case with breathing, after an inhale comes the exhale, and the weight she's been carrying comes crashing down with breathtaking force.
This song is a reckoning: An enchanting, beautiful upheaval exploring the cracks in society, our agency within this fractured world, and the ways in which we might (hope to) leave things better than we found them.
I'd fight for attention
When I could be asking
My friends that are laughing upstairs
About something that's funny
I'm sure cause they're running
On fumes that they're willing to share
The system's so messed up
And all that is left rests
To fix is to lay down and die
My privilege is hurried
Under those that I've buried
I work for the neighbours that I've gentrified
And it seems like it's going to happen all over again
For Froese, Wasp Woman and the Haunting of Heatley is a musical magnification of her innermost emotions and experiences. "It is a conceptual album of five songs with themes of mental health, addiction, and societal systemic issues," she tells Atwood Magazine. "I crafted the album with Cole Friesen from Half Light Records to create these haunting soundscapes. The creation process took place on the unceded traditional territories of the xʷməθkʷəy̓əm (Musqueam), Sḵwx̱wú7mesh (Squamish), and səlilwətaɬ (Tsleil-Waututh) peoples. I want to create art that disturbs my worldview and challenges power structures. I'm committed to recognizing and fighting against the ongoing system of settler colonialism."
"'Again' is the final track and most hopeful sounding song on this EP. It is a powerful reminder that no matter how dark things may seem, there is always hope. It's a song about understanding our place in the world and the contributions – both positive and negative – we make to society. A reminder that we are all part of a larger system and that we all have the potential to make a difference."
"I used my own struggles with mental illness and my sobering experience living and working in the Downtown Eastside of Vancouver Canada to write this record. The DTES is infamous for the overdose crisis happening there, as well as the systemic struggles of mental illness-based poverty and addiction. As an independent artist and creative, music is not my full-time job; thus I balance four jobs simultaneously. After a shift at the recovery centre I work at, I was feeling very hopeless about the cycles that seem ever-present. I was struggling with my own contributions to systemic issues and my additions to the problem of gentrification while seeing friends, clients, and other community members struggle with addiction so presently. I went home and wrote this song in my basement. Trying to live in a place with reality in front of me while wondering if anything could be done."
"I believe having the song sound brighter helps hold the balance of hope within the hopelessness with lines like 'to fix is to lay down and die.' Through this song and my EP, I hope to create space for thoughtful conversations about mental health, addiction, and societal issues. People not simply consuming music, but allowing it to change them and ask good questions."
Second is always
A willing replacement
The chips that you brought were to share
The bond of a word is
Like blood mixed with wine
That I dropped from my hand on the stairs
Froese's music is not to be taken lightly, but we can embrace the beauty in her work while recognizing and appreciating the urgency and importance of her words. Wasp Woman and the Haunting of Heatley is a powerful, evocative work of art, and as its conclusion, "Again" is a cathartic, seismic, and soul-stirring call to action. Radiant and resounding, this song truly is the spark in the dark.
The systems so messed up
And all that is left rests
To fix is to lay down and die
My privilege is hurried
Under those that I've buried
I work for the neighbours that I've gentrified
"Morse Code"
by Jealous of the Birds
When we last spoke to her around her philosophical and introspective sophomore album Peninsula, Jealous of the Birds' Naomi Hamilton had a direct message for everyone: You are here. It's an incredibly beautiful, simple statement that doesn't begin to do justice for the wonders within that epic album, but there is no mistaking its meaning. When you boil it down, Peninsula is an attempt to explore our individual autonomy and agency; what it means to be a distinct entity that is inextricably connected to the greater world.
Hamilton's writing explores the essence of humanity, and of course, there was way she'd be able to say everything she needed (or even wanted) to say within the confines of one album alone. Her first single of 2023 is a deep-diving exploration of the human condition with yet another resounding message: You are alive. A tender tempest, Jealous of the Birds' soaring "Morse Code" is an uplifting embrace of the present – a cathartic release of the thoughts that so often weigh us down.
I've stung like the nettles
that line the backyard
and feigned things were easy
when in fact they were hard.
Been burned before,
but I hide where I'm charred.
I'm a red fox in the snow and I'll run.
It's rained for five days and the starlings alight
on the buddleia when it's coming on night.
You play piano and I sit down to write.
We're ponies in a field of barbed wire.
Released March 23 via Canvasback / Atlantic Records, "Morse Code" is the lead single off Jealous of the Birds' forthcoming third album, Hinterland (out May 19). An enchantingly radiant and harmony rich production, Hamilton's return feels like a sweet breath of catharsis after a long, cold winter. Charming, energetic, and impassioned, it's an enthusiastic reminder to soak in the simple truth that we are here, right now, living and breathing, thinking and doing. It's all too easy to get bogged down and lose sight that life is beautiful, magical, and fleeting – hence the song's soulful, straightforward chorus, "You are alive." Scream it, shout it, own it!
"We often find ourselves navigating what exactly our place is in the world, especially in our twenties and thirties," Hamilton tells Atwood Magazine. "Suddenly things get serious and there's a simmering pressure to figure things out. 'Morse Code' taps into that and acts as a gentle encouragement that the only thing that really matters is the fact you're alive, so try not to overthink it and just live as best you can."
I've weighed up the options, considered the roads
that might bring me to where I'm longing to go.
Keep treating this life like I'm cracking morse code.
I'm a field mouse in the grass, so hushed.
You, you are alive.
You, you are alive.
Heavy is the head that thinks too much, and gets caught up in the fray. Whenever we start flying off the handle; whenever we start to get lost in the seas of our own creation, "Morse Code" is here to be an anchor and a guide. Yes, Jealous of the Birds' oeuvre will continue to tackle the nature of our very existence, but there's a simultaneous attempt to simplify the nuance and focus on that which matters most – and in short, that's life itself. You are alive!
"Apple Tree"
by Why Bonnie
Gently glistening and sweetly smoldering, Why Bonnie's first single of the year is a smile-inducing dream: A smoky, relaxed indie rock reverie that finds the New York by-way-of Texas band (and former Atwood Editor's Pick!) basking in a moment of tender, if just a little turbulent, tranquility. "I'll be faithful in this life of sin," bandleader Blair Howerton. "It's a flaw in the design, but it's not mine."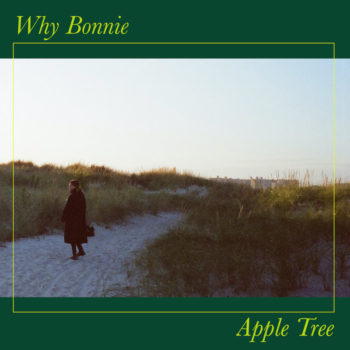 Streetlights like
angels smoking cigarettes
On a winters night.
It's a flaw in the design
But it's not mine.
You and me like Adam and Eve
Making love under Apple trees
Throw me into the lion's den
I'll be faithful in this life of sin
It's a flaw in the design
But it's not mine,
It's not mine.
Always the powerful poet (last year we praised Why Bonnie's debut album for being "an intensely intimate and visceral coming-of-age journey through life's defining memories and little moments"), Howerton's lyrics here are intense, yet soothing. The music's laid-back groove serves almost as mask for just how raw the reading of "Apple Tree" really is.
"'Apple Tree' is about the stories we tell ourselves to make sense of things," Howerton tells Atwood Magazine. "We do this with all sorts of fables (love stories, religious proverbs, etc.) and it gives us some source of comfort. We love a reference point to base our experiences off of, but what happens when the stories can't answer all of our questions?"
One could very well interpret "Apple Tree" not just as a rejection of the past, of society, and of mainstream culture, but as one soul's struggle to figure out where they fit into this great big world: What do we do when none of the stories speak to us? "Apple Tree" is, in that respect, an anthem for the outcast: A dreamy, feel-good anthem that, perhaps at its core, reminds us take a step back, relax, and let the music take us away.
Listening to this song, I can't help but be transported to a hot summer day – and I truly can't wait for the opportunity to experience this song live, hopefully in some kind of outdoor setting, just as the sun is beginning to go down. Why Bonnie could extend this into a 20-minute jam, and I'd lie back and sink into serenity.
It's a flaw in the design,
It's not mine.
— — — —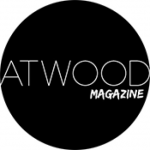 Editor's Picks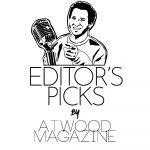 ---