Frankie Cosmos have a penchant for easily delighting an audience, and 'Close It Quietly' proves it once again with its eclectic, sweet, and alluring melodies.
•• •• •• ••
There honestly isn't a better set of words to describe Frankie Cosmos than delightfully charming. Their indie-rock and pop melodies are infectiously sweet and rife with tongue-in-cheek lyricism that will get listeners laughing, crying, and smiling, sometimes all in the same track. These feelings are exactly what Close It Quietly elicits out of listeners. It's an album filled with personal story-telling, acoustic balladry, and bustling indie-rock anthems thanks in-part to the newly formed band acting as the driving force behind many of the tracks. It's a new sound for Frankie Cosmos, and the payoff is exceptional.
Listen: 'Close It Quietly' – Frankie Cosmos
---
Consisting of bandmates Greta Kline (vocals & guitar), Lauren Martin (synth), Luke Pyenson (drums), and Alex Bailey (bass), Frankie Cosmos represents New York well with their mix of jaunty and melancholic tunes that ultimately all instill a sense of warmth with each listen. Kline has worked with bandmates before, but this time around felt different with Close It Quietly. In a recent interview with Atwood Magazine, Kline explained "this is my first album where I have someone else play guitar on a lot of the songs and parts and overall it was just a lot more sharing. It always feels collaborative, but this one you can really feel it. I think it comes through a lot more and it's not just my vision but a lot of people's ideas and such." The collaborative energy is palpable on the album, instantly grabbing hold of those listening.
With an opening track like "Moonsea," it's hard not to already be hooked on their sound. Kline opens it with her delicately soft vocals that are soon joined with an onrush of percussion and electric guitar, forming into a robust outpour of indie-rock glam. Tracks like "So Blue" opt for a slower build with a steady tempo kept by its melodic guitar playing. "The sky is so blue, it makes everything else blue," Kline sings, surrounding this somber take with a brief rush of instrumentation that, despite the sentiment, sparks life into the track.
"Rings (On A Tree)" is a tune fans will already recognize from the Haunted Items EP. The piano-laden track from the EP has been given an overhaul of sorts, incorporating a funky rhythm that transforms it into a new experience for listeners to sink into. Then there's the first single the band released, "Windows," that is accompanied by a video of Kline and company walking, cycling, and scootering through New York, enjoying themselves and the day as this track of bounce backs and persistence plays on.
Melancholic acoustic balladry makes its first appearance with "Self-Destruct," a track exploring the darker moments in Kline's life. Depression, isolation, and simply having those feelings being trapped. "Those feeling are just stuck in your head, in your brain, and you don't know where to put it," explained Kline to Atwood. "I felt trapped in the back seat of a car at night so there was nowhere to put it. And I feel that is what music is to me; a place to put it." The acoustic set is paused for now with "Last Season's Textures," offering a cool and collected rock melody that is carried by its slick bassline. And with lyrics like "how'd the world get so devastating," it's easy to see how it could have been bogged down with overly dismal playing, but the upbeat nature allows for a brief reprieve while still articulating the track's story in a thoughtful manner.
It wouldn't be a Frankie Cosmos album without a love ballad, and they certainly deliver with "Marbles." Personal and sweet without being too saccharine, "Marbles," was born out of a painful period experienced by Kline, but soon being comforted by the one she loves. It's an endearing ode to love, and, honestly, might just be the best one for 2019. Familial bonding then occurs near the close on "With Great Purpose." Joined by her father on piano and her mother with backing vocal harmonies, the track explores Kline attempting to find her place, looking to secure purpose in everyday life. It's a very human track, one many listeners can find common ground with and share in similar experiences. The album's closing track "The Swirling," is aptly named, as swirling guitar riffs oscillate throughout the track, allowing for a charismatic and jovial end to an album filled with buoyant charm.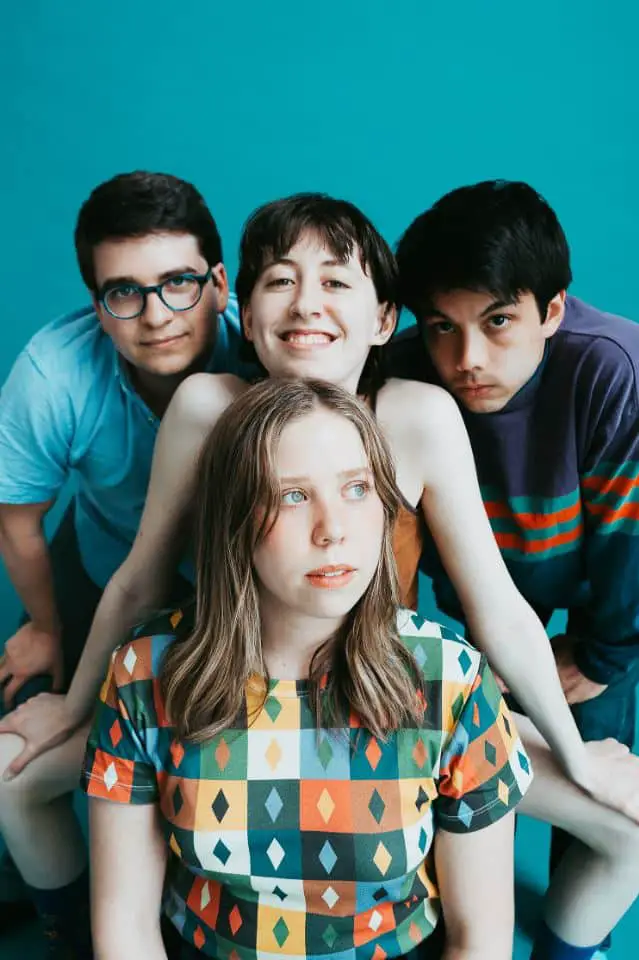 Frankie Cosmos' Close it Quietly proves once again that Greta Kline and company are masters of connecting with listeners. Despite the personal nature of many tracks, each carries a weight that all those listening can hold, making this collaborative experience all the stronger as the audience can then join in on the magic. Their musicality and craftsmanship with songwriting and creating are top-tier, making Frankie Cosmos a band to never miss.
Close It Quietly releases September 6, 2019, via SubPop Records.
— —
— — — —
📸 © 2019
:: Stream Frankie Cosmos ::
---