A bittersweet and poignant farewell ballad, The Last Morrell's debut single "Fine Now" aches with the pain of love's loss as the artist comes to terms with the end.
Stream: "Fine Now" – The Last Morrell
---
Sometimes the best way to honor the past is by letting go; at least, that's the message The Last Morrell shares in his debut single. A bittersweet and poignant farewell ballad, "Fine Now" aches with the pain of love's loss as The Last Morrell comes to terms with the end.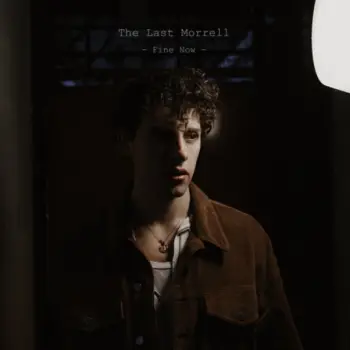 I tried from the start
Right up to the end
It's my fault I thought
I'd be in love by now
But it's not true
I don't love you
You call me out
You call me back in
With the smile of a thief
Who knows how to win
There's no victory
You have lost me
Atwood Magazine is proud to be premiering the music video for "Fine Now," The Last Morrell's debut single (independently released August 8, 2019). Actively processing a slew of emotions through song, The Last Morrell captures heartache's turbulent storm in a vivid ballad. Stirring guitars and piano evolve into a massive, synth-laden outpouring that evokes the likes of Pink Floyd and Led Zeppelin at their darker moments.
"'Fine Now' is the story of letting go and the process of coming to terms with taking someone close to you out of your life," the Yorkshire-based artist tells Atwood Magazine. "It's about the bittersweet feeling that comes with moving on, once the dust has settled. There's all that drama and emotional trauma that comes with any breakup, and I guess most breakup songs tend to be about that part; that's why I wrote this song. It's about the quietness that follows all the heartache and that weird feeling you get where you can care for someone immensely but still dislike or resent them. It's that space in-between breaking up and being ready for something new where you're a bit numb and isolated. I'm playing everything except drums on the record, which means that it properly feels like a little piece of me is in the song; hopefully that comes across. It felt like a bit of a risk putting 'Fine Now' out as a debut single, but I had a clear image in my mind of how I wanted the video to look so I just went with it. Fingers crossed."
It's that space in-between breaking up and being ready for something new where you're a bit numb and isolated.
I'm sorry, for breaking
I wasted, time thinking
I'm sorry, so sorry.
Pour me a drink
My mouth's feeling dry
And we all know how well
Wine clears your head
But it's fine now
You're not mine now.
The "Fine Now" music video features the artist and his counterpart, portrayed by Constance Sojourner, at the end of their rope. Distraught and forlorn, both individuals go through the motions of daily life, seemingly without a glimmer of hope. Their somber, solemn attitudes perfectly mirror the music's mood, amplifying this break-up story and reminding viewers how these emotions manifest in real life.
The Last Morrell explains, "The video was a really fun process. I ended up writing it myself and getting my friend Constance to appear in the video alongside me. Although I never originally wanted to be in my own music video it ended up making the most sense by the time we got to shooting. Making the first section one fluid, digital shot came out great and captured the disconnect between the two characters well I thought, my director Archie nailed it having to clamber over the bed on his knees to follow Constance at one point. We then shot the tunnel scene on film, which gave it this almost dreamlike feel, I wanted that scene to be almost like a memory of things falling apart. Shooting this scene was so much fun, Greenwich foot tunnel is like an echo chamber so you could hear the song blaring on both sides of the Thames. It's nice when it all comes back together in the bedroom and Constance is no longer there, it's so dark and lonely. I think we only did two or three takes of this bit and ended up using the first one."
The Last Morrell plays his first headline show at The Servant Jazz Quarters in Dalston, London on October 17, 2019. Stream "Fine Now" exclusively on Atwood Magazine, and stay tuned for more from this promising up-and-comer!
For now, tune into "Fine Now" for a cathartic cry and a meaningful dive into the heart of love's pain.
Watch: "Fine Now" – The Last Morrell
— — — —
? © Sara Lincoln
:: Stream The Last Morrell ::
---