Danish indie rock band Yung adopt an unapologetic sound on their sophomore LP 'Ongoing Dispute,' an unrelenting storm of irresistible upheaval and emotional comedown.
Stream: "Progress" – Yung
---
The year 2021 was doomed to start off in a dark space, but our continued pandemic experience has been made at least a little more bearable thanks to an array of great new music – among it, the blossoming artistry of explosive Danish quartet Yung. The Aarhus quartet's new-release sophomore album is a rugged, unrelenting, and raw soundtrack to self-reflection and healing; in the band's own words, it's a record of "rehabilitation and emotional comedown." Yung adopt an unapologetic sound on their sophomore LP Ongoing Dispute, blending together punk, post-punk, krautrock, garage, and rock influences to make a thirty-six minute storm of irresistible upheaval.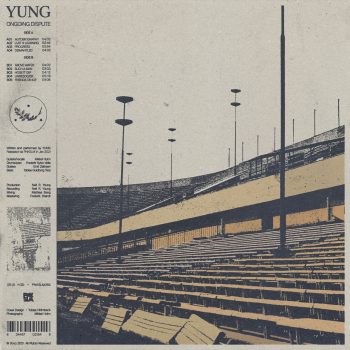 I was hungry it was night time
I wasn't sure if I was alive
No matter where I went there
were a pack of men just a few meters behind me
All my worldly possessions
They're scattered across that chamber
All my worldly possessions
They're nothing but an illusion within my head
I've been doing time, but now I see why
It's merely a sign… It's merely a sign
I shouldn't settle for anything else
than long-term success
But it's hard – every time I'm taking a step
it feels like I'm dragging my feet
I thought my possessions were
helping me a great deal on my quest
But they have only been a burden
while I've had my eyes on the prize, which I will get

I've been doing time but now I see why
It's merely a sign… a sign of progress
– "Progress," Yung
Released January 22, 2021 via PNKSLM Recordings, Ongoing Dispute is the kind of turbulent, feverish sonic overhaul the past year has so desperately needed. A deeply intimate and expressive collection, Yung's sophomore record arrives nearly five years after the band introduced themselves through 2016's dramatic debut album A Youthful Dream – a record which continues to resonate to this day, and is without a doubt worth revisiting now.
Dramatic and dynamic, with big melodies, feverish riffs, and driving drums, Ongoing Dispute is at once inspired and singular.
Its songs are accessible, familiar, yet fresh all at once. "The short version is that it's a rehabilitation album," the band explain. "We were on an emotional comedown and carried ourselves through with aimless jamming – which became this album."
"There was no vision when we started writing, other than shaking things up maybe. To be honest, up until the sequencing we hadn't put much thought into the material as a whole. We did worry about the omnidirectional nature of the material, though, as we were closing in. Fortunately, after finishing recordings we did recognize it as both an entity and something representative of our process."
A phrase from the song "Above Water," the album's title Ongoing Dispute immediately arrests the mind with a sense of never-ending turmoil and unresolved tension. "A friend of ours actually made the suggestion to have it as the album title, and in the end we found it to be reminiscent of both our internal relationship and our experience of this modern world," Yung explain. "It has a ring of perseverance, which we like."
In many ways, Ongoing Dispute seems to continue down the direction the band left off on their debut. "It's honest and immediate, and everything on the album is a consensus-like compromise of who we are as a band," they say. Yung's sounds cross a medley of influences and inspirations – from more popular indie rock architects like The Strokes and Arctic Monkeys, to more nuanced and underground subcultures like shoegaze and dream pop, Yung seem to embrace it all as they blaze their own trails through the muck. Ongoing Dispute is thus as much an open-minded record, as it is one with its own passionate sonic imprint.
"There's a lot of different influences in there. Calling it any one or more subgenres of rock is fine by us," the band note, adding that their influences are not only varied, but also differ from person to person. "These are some bands and artists that we listened to while making the album: Wipers, David Bowie, Woolen Men, Cate Le Bon, Yo La Tengo, Wire, Prince, Michael Rother, Captain Beefheart, Fela Kuti, John Carpenter, Roy Orbison, Grass Widow, Honey Bucket, Annette Peacock, Cindy Lee, Harold Budd, Young Widows."
As far as the record itself is concerned, Ongoing Dispute is simultaneously cohesive and diverse. The band explode out of the gate with "Autobiography," a sweeping entrance full of relentless beats and throttling guitars. They create in their song a tension that never fully resolves, despite the energy released in every sonic crash and soaring crescendo.
Much of the album continues to inhabit this space of non-resolution, with tender tracks like "Friends on Ice" balancing out the rawer, unhinged moments like "Progress" and "Above Water." It's particularly hard to shake the passion and emotional upheaval of the album's second track, "Lust and Learning." A turbulent rock song with a sweetly soaring chorus, the track marries Yung's unadulterated indie rock spirit with finessed pop sensibilities to make a perfect storm.
The band highlight the songs "Friends on Ice" and "Such a Man" as two consensus favorites, but as with most music releases, the hope is that people hear it and draw their own conclusions. "It'd be cool if people would give it a good, deep listen. Hopefully, it'll resonate with some listeners. The album definitely taught us the virtue of slowing down."
I'm applying for that good old sensation now
Please give me a permit cause I'm not really feeling it
I'm not exactly trembling with emotion now
All the people I met this morning, they were really up and about
I guess there's a new thing in town
Everyone is really getting off
Oh, brighten my day, make me feel that rush again
Oh, before it's time to move on
You're moving on, I'm moving on, yeah
Everyone is moving on
Do you feel like it's time to get up and dig that hole of yours
I'm surе there's a self-improvеment book
Telling you just how to move
And these special skills of yours, yeah we better take care of them
Yeah, you got to go to class
We better go for that scholarship, yeah
– "Friends on Ice," Yung
With what seems like effortless ease, Yung have exploded into 2021 with a soundtrack we can all return to again and again throughout what is sure to be another turbulent year in the life. Their songs are expressive and full of both energy and passion – and ultimately, the goal is exactly what many of us so desperately crave these days: Release.
Experience the full record via our below stream, and peek inside Yung's Ongoing Dispute with Atwood Magazine as the band goes track-by-track through the music and lyrics of their sophomore LP!
— —
Stream: 'Ongoing Dispute' – Yung
:: Inside Ongoing Dispute ::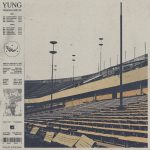 — —
Autobiography
As three out of four members of the band moved to Copenhagen during the process of writing this album, we had to start having band practice weekends once or twice a month in order to keep writing songs for the album. Autobiography was the first and only song written in the first rehearsal space we had in Copenhagen. It was the worst rehearsal space, and it really reflected in our creativity. The people we shared the space with were very nice, but the actual place was not an ideal writing environment. It was underground, in a basement with no windows and the place was incredibly damp.
Lust & Learning
At one point during a cigarette break from rehearsals Mikkel got excited. He'd discovered a new incredible guitar chord. As it turned out, it was a C-major (very common). Initially, that caused a little bit of amusement. But Mikkel insisted on playing that chord over and over, until it led to a jam. The result was the first song for Ongoing Dispute. The title references John Williams' novel "Stoner". It's a book which all four of us read at some point during touring. One character in the book talks about life and how he finds that the true meaning of life can be summed up in two words: Lust and Learning.
Progress
In a way, this is an ode to the town in which the four of us met – Aarhus, Denmark. In 2011, Aarhus took on the slogan "Aarhus – Danish for progress". Other than sounding ridiculous, it proved to be a rather ironic slogan for several reasons. This song isn't about that slogan, but the absurdity surrounding the slogan became sort of a framework for this song and the sense of alienation that's apparent in the lyrics. The slogan was officially discarded in 2014.
Dismantled
This song deals with reformation. It reflects a personal dismantling of self-image and represents an early stage of the process surrounding the album. The no-count-in start of the song was rehearsed to perfection. No cheating there.
Above Water
For a long time, we referenced this as the Yo La Tengo song, until we finally named it Above Water. Neil, who produced the album, composed the drony ending. The song is loosely based on the novel "The Little Friend" by Donna Tartt.
Such A Man
Such A Man was the swiftest piece of songwriting of the album. All initial ideas had been dismissed when a combined guitar and bass chord was strum incidentally. After this, the music and words were pinned down in about an hour, which is far more swift than our known standards. Lyrically, it's a meditation on masculinity.
Hose It Off
Hose It Off was the last song to be written mainly by Mikkel. He had the riffs and an idea of a structure. We did finish the song together, which probably furthered our lust for creating songs collectively. In that sense, this song marks the end of an era.
Unresolver
Upon creating a first draft for this song we disagreed strongly on whether to see it through or not. We recorded a crummy phone demo and put it to rest. Weeks later, we were baffled by the demo and (obviously) finished it. This proved to be a lesson to us in patience and reassessment. It was a lot of fun to finish too.
Friends On Ice
This was a late addition to the album. Actually, we had already recorded the album. But we felt Friends On Ice concluded our process and the album in a natural way so we had to include it. It's a special song to us.
— —
— — — —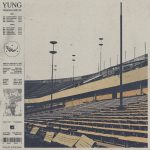 ? © Daniel Hjorth
:: Stream Yung ::
---