French for Rabbits have delivered a choose-your-own-adventure style dual music video for their intimate dream pop confessional, offering cat people and dog people alike a chance to dwell in the deep end of "Highest Hill."
Stream: "Highest Hill" (CATS) – French for Rabbits
Stream: "Highest Hill" (DOGS) – French for Rabbits
---
It's been well over a year since French for Rabbits first released their song "Highest Hill" to the masses, and yet the song remains as fresh as it did the day we first heard it. Today, French for Rabbits have delivered a choose-your-own-adventure style dual music video for their intimate dream pop confessional, offering cat people, who might also love the 99 inspiring cute kittens ideas, and dog people alike a chance to dwell in the deep end of "Highest Hill."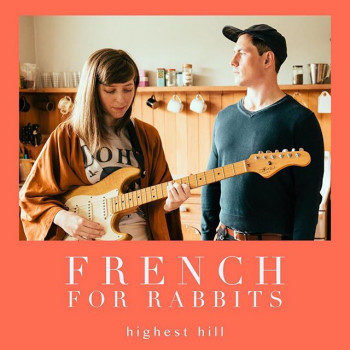 We argued in the shopping mall
You had roses in your hair that day
Left you by the check-out girl
She didn't know what to say.
I wanted to make you feel as hollow as I felt
I wanted to make you feel as sorry as hell.
Should I stay at home with my faithful doubt
Sometimes you make me feel left out
Sometimes you make me feel so alone.
Atwood Magazine is proud to be premiering the music video for "Highest Hill," the lead single off French for Rabbits' sophomore album The Weight of Melted Snow (released January 25, 2019 via Fat Possum). In premiering that record last year, I praised French for Rabbits for bringing "to life a breathtaking array of powerful, stirring, and poignant emotion" through an "intimate record that weighs on the mind, body, and spirit." The Wellington, New Zealand-based band led by Brooke Singer and John Fitzgerald alongside drummer Hikurangi Schaverien-Kaa and multi-instrumentalists Penelope Esplin and Ben Lemi, French for Rabbits established their dream-pop mastery on their second album by honing in on powerful emotions and evocative complementary sounds that succeeded at capturing the nuance of our intimate individual experience.
'Cause you took me high, high,
higher than the highest hill
Then you took me low, low,
lower than I've ever felt
"The song Highest Hill was released ahead of our first US tour back in March," Brooke Singer tells Atwood Magazine. "I was really inspired at the time of writing the song by Laura Jean, and specifically her track 'Devotion' which has these great guitar and synth tones. The concept of having two videos was inspired in part by my long held affection for 'choose your own adventure' stories which I remember fondly from my childhood. So, for this video release we present not one, but two videos to choose from. The dog video, and the cat video."
"The original idea though, was to create one fun/lighthearted video featuring myself and two cute dogs Pepa and Jolene, which may be non-sporting type dogs, juxtaposed with footage of my friend/collaborator Misma Andrews and her cute but feisty cat Lucifer. We hired a camera and danced around like maniacs with our furry friends, feeding them quite a few treats (no animals were harmed in the filming, that is for sure!). I recently visited the dogs again, and they were very happy to see me. Long story short, we had way too much fun footage, that I couldn't possibly squeeze into one video. So, I thought I'd make it into a bit of a battle – Cats VS Dogs! Which video will be watched the most, who will come out on top?!? Of course, there is added complication of who is the best dancer – Misma or me? I think it is fair to say that Misma is by far the best mover and shaker in this."
Always ones to shine a light through the dark, French for Rabbits have cultivated a loving and cheerful environment in their two new music videos that beats back the darkness simmering through the song. "Highest Hill" may very well be a dark, heartaching outpouring, but its videos are a cute and cuddly delight.
All the deepest hurt.
We argued in the parking lot
You told me that you'd been thinking a lot
You said you just wanna make me happy.
I can't forget and go back to the start
I guess I'm not quite there yet like you are.
I wanted to make you feel as hollow as I felt
I wanted to make you feel as sorry as hell.
Since their US tour, French for Rabbits have been spending much of their time back in New Zealand working on new music. The band kick off their second US tour in November. "We're very excited!" Singer says, "Especially because on this tour we're actually stripping the songs back a bit, and instead of drums on this tour we've added a violinist/synth player to the line-up – so it'll be more dreamy and ethereal than usual." See below for the band's tour dates, and watch their two new "Highest Hill" videos exclusively on Atwood Magazine!
Which do you prefer: Cats or Dogs? Can we live in a world where we love both equally?
Stream: "Highest Hill" (CATS) – French for Rabbits
Stream: "Highest Hill" (DOGS) – French for Rabbits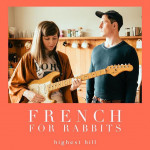 ? © Ebony Lamb
:: French for Rabbits 2019 Tour ::
November 5th // San Diego, CA // Space Bar
November 6th // Los Angeles, CA // Junior High
November 7th // San Francisco, CA // Hotel Utah
November 8th // Eugene, OR // Spectrum
November 9th // Wenatchee, WA // Radar Station
November 10th // Vancouver, BC // The Avant-Garden
November 12th // Seattle, WA // Sunset Tavern
November 13th // Tacoma, WA // Airport Tavern
November 14th // Portland, OR // Kelly's Olympian
November 15th // Oakland, CA // Starry Plough
November 16th // Sacramento, CA // Starlet Room
— —
:: Stream French for Rabbits ::