Scott Sharrard talks to Atwood Magazine about his soulful new album, 'Rustbelt'.
Stream: "Bad News" – Scott Sharrard
---
You know an artist is great when you love their music before you know who they are.
I first saw Scott Sharrard perform at Bar Chord, a local venue on Cortelyou Road in Ditmas Park, Brooklyn. I went there with my friend Lan who was visiting from Florida. Bar Chord always has very good players. I didn't know at the time that Scott Sharrard had been Gregg Allman's guitar player and arranger for several years. In addition to his solo career, Sharrard is also the newest member of the legendary Rock and Roll group Little Feat.
As they started to play that night, literally, in just a few seconds, it was clear that this was a great band and that the guitar player was amazing. Not just good. It was like he'd taken off on a rocket ship and exploded through the roof. Sharrard's soulful guitar licks were very connected to his body and to his singing. I knew I was witnessing something special. As the band kicked into a funky soul groove, Sharrard soared above it all like a bird in flight, summoning the ancient bell-tones. Slide riffs, thick and slow like molasses. Notes packed with tears and pain. It felt like a radar signal had chased up my spine and turned my brain on highline mode. And all of this was topped off by Sharrard's superb singing. Some kind of combination of Al Green and Chris Cornell.
I looked Sharrard's name up on my phone and then realized who he was and why this performance was so incredible. You can see why Gregg Allman picked Sharrard to fill brother Duane's big feet in this live recording of "These Days."
---
I loved the band so much I quickly wrote a review of the Bar Chord show and another soon after of a show at the Brooklyn Bowl for the Red Hook Star Revue.
I've seen Sharrard many times since then. After eighteen months of lockdown, the first concert I went to see was Sharrard and his band at Hometown BBQ in Industry City, Brooklyn. The Industry City show was probably many people's first concert post COVID. The band played songs from Sharrard's soon to be released album Rustbelt (September 10th). The band played their hearts out. Pure energy. You could hear how happy they were to be back on-stage performing. As the band members nodded and smiled, conversing without speaking, the vibe level was on full tilt.
Then, in mid-August, after listening to a preview of the album, I had the chance to catch up with Sharrard to talk about Rustbelt.
A CONVERSATION WITH SCOTT SHARRARD
Atwood Magazine: There's a lot of love in these songs. How would you describe this album to listeners? What do you think differentiates it?
Scott Sharrard: This album is a sonic narrative. It's an old school conceit, an album you can listen to front to back that tells a story. Since I was born in Michigan, and raised in a combo of Pennsylvania, Minnesota and Wisconsin, it has always been difficult to say where I'm from. The one thing all these Midwest states have in common is that they are considered to be part of the "Rustbelt." It's kind of a derogatory term as it refers to the rusted-out factories that symbolize a bygone industrial age that some romanticize. But it stands for a lot more. This album is a journey through my origin story into my last twenty-four years as a New Yorker. It's easily my most personal album of my career. And I've made six!
Are there players / producers that have made this album different?
Sharrard: The album was produced and engineered by my friend and collaborator for all of my solo work, Charlie Martinez. We used my road band, which was a trio in the last few years, with Eric Kalb on drums and Brett Bass on Bass. Recently we expanded to a four piece with Craig Dreyer on keys/sax. But I used a lot of my favorite players from NYC to flesh out these songs. Tony Mason and Charlie Drayton on drums, Amy Helm, Catherine Russell and Adam Minkoff on backing vocals, and Brian Charette on Rhodes piano. From the Hudson Valley we also had the great Dan Littleton play some killer guitar, and his wife, Elizabeth Mitchell, added some backing vocals. The final icing on the cake was having the legendary Bill Payne on piano on a couple songs. Justin Schipper also added some killer pedal steel to the mix.
I think the pedal steel gives a dreamy quality to the overall sound. I like your decision to have more soundscape in "Michigan Sunset." Do I hear UFO-like sounds? I also love the pedal steel jam and dreamy guitar work in "Rustbelt." Did you bring in Justin Schipper for that kind of sound?
Sharrard: Justin Schipper is one of Nashville's finest. He also has his own sound. I sought him out specifically for his atmospheric style.
Did you have someone in mind when you wrote "Too Many Losers Are Coming Up Winners?" I'm thinking Trump – you don't have to name names.
Sharrard: We had four years of psychological hell since 2016 in this country. Just painful. In the end I think most of these politicians, regardless of party, are in it for all the wrong reasons, mainly for their own gain. Trump was a devil's bargain for the American people, and it was a disaster and a tipping point for the country. His constant ability to evade justice, along with his colleagues, was an inspiration here. But really, you could plug in any tin pot dictator.
I love the whole album and really appreciate the sweet songs like "Michigan Sunset," "Gratitude," and "Ann Marie." Can you tell me what inspired these songs?
Sharrard: "Michigan Sunset" is for Scott Smith. I'm named after him. He sang in my dad's high school band and he was killed as a combat medic in the Vietnam war at the age of 19. He was a conscientious objector and refused to carry a weapon. The man literally died for his principles as the draft board forced him to serve and it cost him his life. "Anne Marie" is about my grandmother-in-law. She lived in the south of France and it was always an inspiring, loving and eye-opening experience to be in her presence. She didn't speak English, but we would communicate through music and food. I miss that gorgeous lady! "Gratitude" is for my wife. We have been together in this crazy world for over 20 years. The last few years, in particular, as we raise two young boys, have been pretty intense. She's my constant inspiration.
Are you going to drop singles until the release?
Sharrard: Yep, "Michigan Sunset" and "Bad News" have already dropped. Album is out September 10th.
---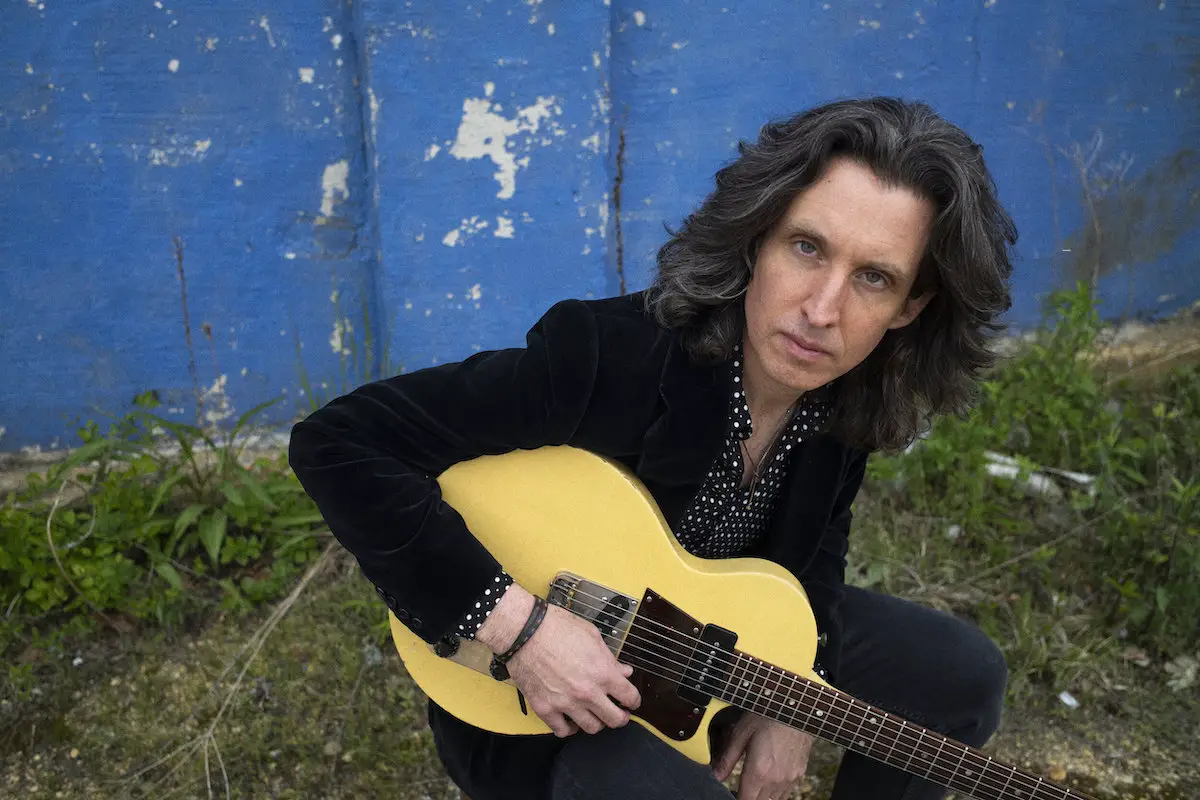 The album release show will be at Levon Helm Studios on September 11th. For more information, click here.
Click here to preorder Rustbelt today.
— —
Mike Fiorito's fourth book Falling from Trees published in early February 2021; his other books are Call Me Guido, Freud's Haberdashery Habits and Hallucinating Huxley. For more info, visit: fallingfromtrees.info
— —
— — — —
? © Danny Clinch
:: Stream Scott Sharrard ::
---