The woman, the myth, the legend FKA twigs is back for her crown after three years with "holy terrain". 
Listen: "holy terrain" – FKA twigs
For decades, and continuing today, the iconography and medieval aesthetic associated with Christianity and contemporary music seem to go hand in hand – Ariana Grande's "God is a Woman" music video to cite a recent example. Grande, however, is in no way the first to use this imagery nor is she the most recent example. The most current reference is from none other than famed, English singer-songwriter FKA twigs. twigs released the next single in the dossier for her second album Magdalene; "holy terrain", earlier this month. Although, twigs has done what she does best and touts the emblems that feel relevant to her and asides the ones that seems unnecessary for her art.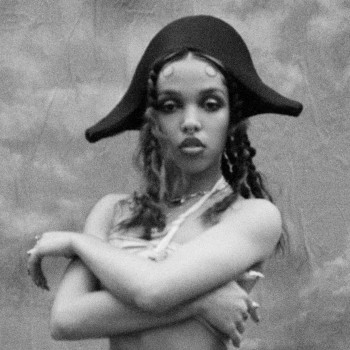 twigs' first single "Cellophane", released in April, is a slow and emphatic ballad about a fall from grace with a lover; which she then reestablishes in her music video where she physically falls from an idealized Heaven down into the 9 circles of Hell. "holy terrain" is almost the complete opposite. In her first verse, twigs says:
Day one, take me to my favourite show
Day two, hold my hand and pull me close
Next to me, kiss my cheek, just any day, yes.
twigs talks about the small and often understood trials of getting into someone's heart. Yet, by the end with "Day three, take me to a deep  river. Steal a kiss when I'm lost in the mist" she now begins what are her specific needs as it relates to depression and dissociation.
twigs furthers this notion with her pre-chorus:
Will you still be there for me, once I'm yours to obtain?
Once my fruits are for taking and you flow through my veins?
Do you still think I'm beautiful, when my tears fall like rain?
Watch: "holy terrain" – FKA twigs
Without a doubt twigs has been described as "eccentric", "bizarre" and "odd", in the way she presents herself. her art, and the symbols she resonates with. All of those traits go in conjunction with mental health as twigs is aware that she might be "intimidating" or "a lot to be with". The pre chorus lives to humanize twigs and her insecurities by saying, once you know all there is to know, will you still stay? Yet, she expertly, like on her first verse, starts to switch the narrative on the last line with "My love is so bountiful for a man who is true to me".
The chorus of "holy terrain" is nothing short of genius. As twigs just spoke about her insecurity and fears with romantic love, she now talks about exactly what she needs from a man:
For a man who can follow his heart
Not get bound by his boys and his chains
For a man who can follow his heart
And stand up in my holy terrain (I try, I try, I try, I try for you)
twigs is fervent and assertive in what she needs and will not stand for anything else. She goes so far as to personify her body and it's love as consecrated land ie holy terrain. Once again reasserting the religious allegory for her most recent artistry.
It seems important to note how time sensitive the release of "Cellophane" and "holy terrain" are in FKA twigs life. On her Instagram, in 2018, FKA twigs transparently wrote a letter to fans detailing her experience with fibroid tumors and how a "fruit bowl of pain" was removed from her uterus. She also went on to talk about "I tried to be brave but it was excruciating at times and to be honest I started to doubt if my body would ever feel the same again" and " …thank you precious body for healing, thank you for reminding me to be kind to myself, you are a wonderful thing, now go create and be other once again".
twigs has found solace and power in her body enough to glorify it as "holy" and anyone that wants love her has to show it the same piety. With a seamless blend of melodic high notes, a steady beat, and feature from Future, twigs shows her impeccable artistry and how well she knows her vision. On the precipice of her Magdalene tour, another nod to to Christianity, twigs has aligned herself with Bjork and Solange as a woman that truly breathe artistry from their visuals, to their choreographed dances, even the symbolism behind a strong and precious body.
— —
— — — —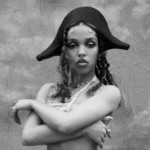 ? © Matthew Stone
:: Today's Song(s) ::
---
:: Stream FKA twigs ::