Miley Cyrus' vulnerable song "The Most" from her recent EP 'She Is Coming' is overwhelmingly tender and lovely
Stream: "The Most" – Miley Cyrus
---
"Lush," "indie," and "warm" are not the adjectives that used to come to mind when thinking of Miley Cyrus. Instead, images of Cyrus' overtly sexual "Wrecking Ball" video, her notoriously provocative live performance of "Blurred Lines" at the 2013 MTV Video Music Awards, and the child star who was essentially a covergirl for The Disney Channel with a wig and a guitar are conjured up, flashing by like loud, graphic comic book frames rather than the portfolio of a musician with a meaningful image.
Now in 2019, Miley Cyrus has owned her narrative in a way that is not only lyrically relatable, but also musically stunning, taking skeptics by surprise in the best possible way. Through the song, "The Most" from her new EP She Is Coming, Cyrus has outlined a beautiful love story, presumably that of her relationship with husband Liam Hemsworth, that captures what true love means for so many: To love you'r partner not just when they are at their best, but when they find themselves at their lowest point.
How many times have
I left you in the deep?
I don't know why
you still believe in me
"The Most" is musically reminiscent of Cyrus' godmother Dolly Parton's well-known "Jolene," both in her vocals which are laced with an edge of country vibrato, as well as in the minor key both songs strategically hit at the height of their solemn verses. Where "The Most" departs from Parton's emotional work is that rather than continuing to lead the listener down a path of sadness and uncertainty in the chorus, Cyrus' most intense lyrics about her "darkest days" and "lowest place" are cushioned by lush instrumentals that burst with a spark of hope that almost seems ironic – until she reaches the lyric the song is named for, "You love me the most."
The rhythm of the song, which breaks the almost meditative, synthesizer-created chords in the background, drives Cyrus' flawless vocals forward. The listener almost feels embraced by the music, in the same way that the story comes together: A young woman who seemed unsure about what she wanted her public persona to be found the support and grounding partner she needed to re-enter the public space.
Although the story she seems to be telling is about a celebrity with a seemingly fairytale ending, Cyrus gives the listener the relatable musical insight they need to connect directly with the words she is saying; the kind that brings a tear to the eye of anyone who has ever been uncomfortably vulnerable, or made mistakes on their road to self-discovery, and was then surprised by how forgiving and accepting the most important people can be.
Why do I hurt you so?
Is it 'cause you love me the most?
"The Most" is a true piece of artwork, with so many layers both musically and emotionally.
It is abstract in the same way a painting might be, as it links intensity with beauty, sadness with strength, and lyrical questions with musical answers, even though those juxtapositions may mean something entirely different to every listener.
— —
Stream: "The Most" – Miley Cyrus
— — — —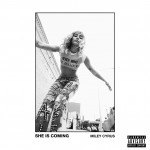 ? © 2019
:: Today's Song(s) ::
---
SHE IS COMING
an EP by Miley Cyrus