"Piece of My Soul" is a bright spot for 2021, and Florie Namir carries that torch with lush melodies and sincere vocal work.
Stream: "Piece of My Soul" – Florie Namir
---
Though fall has started, the butterflies from summer romances are eternal. Adorned with bright melodies and harmonies of a majestic quality, Florie Namir invites listeners to a true love story with "Piece of My Soul." With a jazz flair and intoxicating vocal work, the track presents love in its purest form, all wrapped in Namir's unique sonic brilliance, and Atwood Magazine is proud to be premiering it today!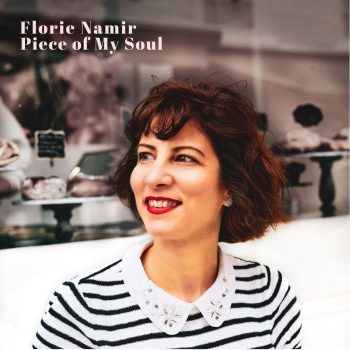 Following up 2019's "Mornings," "Piece of My Soul" goes in a new direction – one with more hustle and bustle to it. However, observant fans might recognize the tune, as an early, piano-led, version is on the London-based artist's In My Room EP released back in 2012. For the 2021 version, brass, swing, and jazz notes circulate throughout, making the track not only delicate and sweet but also roaring and lively.
She's got a piece of my soul
And I know I can make her stay.
She's got a piece of my soul
And I know I can make her stay with me
If only I would kiss her.
Namir begins the song with her dulcet tones leading listeners – percussion and piano playing softly in the background with brief touches of brass and woodwind instruments. But then the chorus begins. The percussion revs up with brass no longer sitting in the foreground. Each instrument in play here is held together by Namir herself. Her incantations are nothing short of bewitching, and listeners would be hard-pressed not to become enthralled with each lyric sung.
I remember us holding hands in silence,
Strolling narrow streets,
Nothing in the world existed but each other
My heart was falling deep
I remember what a wonderful smile you gave
Before you said goodnight.
As the second chorus begins, the tempo only continues to boom – fans' feet moving to the melody out of instinct. As Namir croons "She's got a piece of my soul, and it was gone with her that day," onrushes of emotion and instrumentation pour out, those last 30 seconds an absolute delight; a showcasing of heart and grace that only a talent like Namir could so effortlessly pull off. As the track fades out, listeners leave the romantic dreamscape Namir created, but the desire to jump right back in is universal, and most certainly worth succumbing to.
She's got a piece of my soul
And it was gone with her
That day shel left behind an open question
And I don't mind if she doesn't let me know
I'll keep what I've got from her
"Piece of My Soul" is a phenomenal balance of saccharine and poise – a song whose warmth will remain within the minds and hearts of listeners well after those 4 minutes are through. This feat is, of course, unable to be accomplished with the stunning performance of Namir. Her voice is nonpareil, and if this is any indication of what her upcoming EP I Wanna Be in Love will be like, 2021 might have just found its brightest spot.
Stream: "Piece of My Soul" – Florie Namir
— —
? © Simon Revington
:: Stream Florie Namir ::
---