In honor of Women's History Month, Atwood Magazine has invited artists to participate in a series of essays reflecting on identity, music, culture, inclusion, and more.
•• •• •• ••
Today, country artist Becca Bowen shares her essay, "The Importance of Empowering Young Women & Girls," as a part of Atwood Magazine's Women's History Month series. Within, she highlights a few of the women who have inspired her over the years, and what it means for girls and young women to have role models to look up to.
Hailing from South Carolina, Bowen introduced herself via debut single "Love It, Leave It" in 2020. She released her debut album, 'Like You've Never Been Loved', in late 2022 via Sincerely Music Group, and most recently released her new song, "Son of a Gun," in February of this year. "Son of a Gun" turns a personal experience with heartbreak into a no-nonsense, up-tempo song reminiscent of country music trailblazers like Shania Twain and Miranda Lambert. Bowen credits the country music greats before her for her musical inspiration, including Dolly Parton, George Strait, Alan Jackson, Shania Twain, and Reba McEntire.
•• ••
"THE IMPORTANCE OF EMPOWERING YOUNG WOMEN & GIRLS"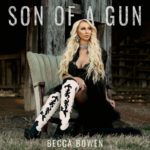 by Becca Bowen
Women's History Month is a time to reflect on the successes of many women.
A time to acknowledge those who have made a difference and an impact on others. To me it is very important to highlight these women so that young girls will be empowered and inspired to follow in their footsteps. One of the women who stood out to me in history was Mother Teresa. She selflessly gave to those in need. She started Missionaries of Charity that helped those living in poverty. The love and compassion she showed others was a true testament of her faith. She is someone I aspire to be like. Her kindness and caring nature is what left a mark in this world. I have always admired her.
Another woman that made an impact on me was Sally Ride. She was the first American woman in space. I was so taken by her story that I remember in Elementary school I did a project on her. I learned how incredibly difficult it was to train for space missions. For me, knowing that a woman was capable of pushing herself, finding strength and training for years before her first mission, gave me the confidence that anything is possible with hard work and determination.
Another amazing woman is Dolly Parton. Without her inspiration I don't know if I would be singing country music today. Her personality, story telling, strength and perseverance in the music industry is amazing. She truly has gone from rags to riches because of her hard work . She not only is a singer but an advocate for children's education. She started the Imagination Library so that children can receive books for free from birth to 5 years of age. She took her fame and popularity and used it to make a difference. That is why she is someone I look up to.
What is incredible about all of these women is the strength behind their stories. We all need role models and these ladies are some of mine. I hope to also be an inspiration and role model to others one day. We all have the opportunity to make a difference and leave a powerful legacy. I challenge us all to do just that. – Becca Bowen
•• ••
•• •• •• ••
Stream: "Son of a Gun" – Becca Bowen
— — — —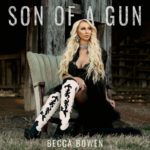 © Artisan Imagery
:: Stream Becca Bowen ::