Jackie McLean of the indie band Roan Yellowthorn grants us an inside look at the making of an album from start to finish in her 'Breaking The Record' column.
Stream: "Sacrifice" – Roan Yellowthorn
---
Hello from my house! I am writing this in the usual place, on my couch, but circumstances around me have changed quite significantly. It's a novel experience to witness the world go on a break for a while. It reminds me that we're all in this together. No matter our geographical, social, or political divisions, we are all citizens of the same world. We can all work together. We can erect a united front. We can act in solidarity. I've never seen this kind of cooperation happen at a global scale. It's sobering and, in a weird kind of way, it's inspiring, too.
I'm thinking about those most affected by this shut-down: people who work in the service industry, people whose income depends on tips, people who cannot work remotely, people who do not get paid for taking time off, people who employ themselves in jobs that require them to meet in person with other people, people whose jobs require them to travel. Musicians. I feel for the musicians who can't tour right now, whose album releases are being derailed, whose live shows are being cancelled, whose livelihoods are suffering. I am mindful of all of this. I've heard about a Chinese curse that means something like 'may you live in interesting times.' These are interesting times that we live in. Interesting times, indeed.
But you didn't come here to read about this. You came here maybe to escape the news of towns closing their borders and schools closing down. I support this. Our minds aren't meant for the constant onslaught of news we receive. It's impossible to process it all.
Just jumping into the Breaking The Record series documenting the making of our album from start to finish? Read part 1 here!
I spoke to my producer and dear friend John Agnello today. We compared notes on the preparations we were undertaking for this period of uncertainty. His daughter's school is closed for the next two weeks. My daughter's school is closed for the next five. As we were talking, he said to me, 'today is the big day!' and I didn't know what he was talking about. What day was it today?
Mastering, that's what day. Today, our new album gets mastered. The great Greg Calbi is mastering our album. He has done all of the albums I love, from Golden Hour by Kasey Musgraves to All Mirrors by Angel Olsen to Sleep Well Beast by The National to Out in The Storm by Waxahatchee (which was also produced by John!).
Today is a big day. After today, we will have the final masters of all of the songs. I don't know what else to expect, but I know I'll be able to expect this – proof of hundreds of hours of time and the result of so much hard and fun and meaningful work. And that means something to me.
We have a pretty tight timeline that we're working off of to get this album out into the world. I had an assignment from my label to get photos done over the weekend for the singles and the album cover artwork. With a little help from my friends, I got it done.
We live in northern New York, near the Canadian border, and I'm lucky to have a good friend named Sarah Valliancourt who has many talents – she is a teacher, the owner of a farm-to-table restaurant, a doula, and she's a wonderful photographer. Even though she has a lot going on in her life without the extra intensity of things lately, she came to my house and took pictures of me over the weekend. Sarah is the one who took the cover photos of me for my previous album, Indigo, and she's taken a lot of the pictures that I like best of myself. I love her and I love her work.
I sent her a few ideas via text in the morning before she came over and, when she arrived, I put on a movie for my kids to watch and we got right to work. We took most of the pictures outside in front of the blue sky. She shot upwards to give the photos a weird, dreamy vibe. And we took some pictures inside the house in front of a white wall. The whole session took an hour or less. And we got all of the pictures we needed. One thing less to do. And we keep moving forward.
Stay safe out there, you guys.
— —
— — — —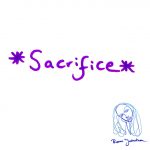 ? © Jackie McLean
:: Breaking the Record ::
---