Atwood Magazine reconnected with Joel Johnston, the Leeds-based Irish singer/songwriter, musician, and producer behind Far Caspian, to discuss his idiosyncratic songwriting methods, the importance of vulnerability, and learning to trust himself. 
by guest writer Kate Millar
Stream: 'The Last Remaining Light' – Far Caspian
---
I think, if there's any throughline in the album, it's probably vulnerability with others but also with yourself. It's so easy for us to go through the motions every day and not check in with yourself.
Poetry has been described as "raiding the inarticulate," an investigation of the things that lie below the surface of our lives. If that is so, Far Caspian's work is pure poetry. His newest album, The Last Remaining Light, shows Johnston at the peak of his poetic strengths.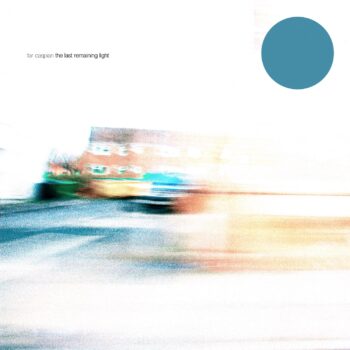 With acute attention to detail, Johnston investigates his inner world – from the self-critical voice of social anxiety in "Answer," to the mental cluttering of a daily commute in "Arbitrary Task," to his experiences of chronic illness in "Pet Architect." In the vocal, stylistic, and lyrical tradition of Elliott Smith, Johnston's music contains cryptic images and spare confessions of existential angst.
Differing from the '80s-inflected bedroom-pop of his early EPs, abounding with reverb, synthesizers, and distorted guitars, The Last Remaining Light is a deliberate stylistic departure from hook-y melodies to more stripped-back, spacious, and atmospheric soundscapes of emotion, more aligned with '90s-'00s indie rock. With a slower pace and a textured sound, Johnston invites us to come and feel our feelings with him. Despite moments of melancholy as we ruminate in these mental states, there are bursts of catharsis and lightness throughout the album. The song "Choice" is stunning in its understated confession of love:
"Never find the words to say
but even if I never found them
I would choose to be here anyway"
Just before he embarks on a UK/EU tour in late September, followed by an American tour in November, Johnston tells us that, above all, there is hope in the act of expression itself.
— —
A CONVERSATION WITH FAR CASPIAN
Atwood Magazine: You've talked a bit about your change in approach to what an album should be. Rather than it being a huge array of different styles, it's something focalized. What would you say the focus of The Last Remaining Light was?
Joel Johnston: It was definitely a guitar album, more centered around the guitars. In the past I would record loads of different layers and it would become a big, big sound, whereas with this one, I wanted to fight the urge and try my best to keep it simple. There are still embellishes, and it becomes bigger, but at the core, it's centered around three guitars because that's how many guitars we've got in the live band. It's more enjoyable to be able to hear all the parts rather than the first EP with some songs having like 20 guitars. You could only hear like three, but there were loads layered in underneath. It's a bit too much.
I think young producers tend to do that, adding and adding and not knowing when to stop. My experience is teaching me to stop way earlier. The album, in short, was me trying not to add a load of different layers and just really trying to focus, almost as if it was just the band playing in a room. I've been trying to do that especially recently in writing some new stuff.
The album's stripped back sound adds to the intimacy of the album too. It's a very sensitive album, lyrically and thematically. What was your process from music to lyrics?
Joel Johnston: I seem to always leave the vocals until the end and then just sing gibberish to try and find a melody. I'll listen to the syllables and use the shapes of the sounds to form words, and then whatever comes out, comes out.
It's funny because I'll not think the lyrics mean anything and then six months later, I'll be like, "Oh yeah, that was exactly what I was thinking about or feeling at the time." When I'm trying my best not to think about the lyrics too much as I'm writing them, it's naturally going to be whatever emotions are in the back of my head. At some point I'd like to properly sit down before I've written anything and choose a running theme. But I end up acting on instinct a lot.
It's almost like a practice of stream of consciousness. I noticed a lot of recurrence of the word "fear" throughout the album. I was especially intrigued by the idea of an heirloom or inheritance in bonus songs, "Heirloom" parts 1 and 2. The lines, "the fear I rinse" and "tell me your fears." Is fear the thing that you've inherited?
Joel Johnston: I definitely have inherited my mother's anxiety and fear. She's just like me, or I've learnt that from her. The line, "tell me your fears," is the idea of being vulnerable with someone. And I think, if there's any throughline in the album, it's probably vulnerability with others but also with yourself. It's so easy for us to go through the motions every day and not check in with yourself. I still have to remind myself to do it. I'm still figuring out what the running themes of the album really are. Most of it's about death or repetition. Probably the best way to think about it is the process of emotions and being able to be aware of them.
I wonder if some reviewers have overemphasized the melancholy of your music. "Choice," for example, feels like a hopeful and tender love song. There are moments of lightness in the album as well.
Joel Johnston: Yeah, I think so too. If all the songs were really depressing, I wouldn't have released it. I mean, I listen to a lot of way sadder music, so I know that I'm not bringing people really low down. But yeah, I think there is plenty of hopefulness in it, kind of weaved between the subjects.
It's great that you are exploring mental health, chronic illness, OCD, depression in your work too. However, do you ever feel any burden of representation?
Joel Johnston: I definitely don't feel like I have a social responsibility to talk about it. I think it's a good thing to talk about.
I've always been really open with my emotions with friends, so it's not unnatural for me to do that within music as well. It's really nice when I play shows and talk to people afterwards and they say that they went through a similar thing, that my music speaks to them in that way. The American tour made me more aware of that and made me want to speak about those things more, or more obviously.
But I don't want to come across like I'm capitalizing off those issues or taking advantage of it. I also want to try and write about the other side of mental health, working through stuff and coming out the other end. You know, be a bit more hopeful about it – not just, like, continually singing in a depressed way.
Do you have a concept in mind for the next album? Or are you just focused on the tour right now?
Joel Johnston: I don't have a concept yet, but I think I want to do the complete opposite in terms of the arrangements. A fast album, or something with just one slow song and the rest going straight in. And very drum centred. I'm originally a drummer first, so I've been recording a full drum take before everything else and then writing to that. It's really exciting because I haven't been able to do that since before the first EP. I wrote 'Blue' that way. So, I want to get back to doing that.
I've never actually heard of beginning with a drum set, that's a really cool way to layer a song together.
Joel Johnston: Yeah, it makes it feel more like you're playing with someone else, like you're writing with a drummer. I get so stuck if I'm just playing on my guitar with nothing else. I either get really distracted or I don't have enough going on for me to hear what I want in my head. Whereas if it's drums, I can almost hear something straight away to the drums. That's probably the next album, might have some mad drums going on.
The last time Atwood Magazine interviewed you, they asked you how you had grown between your first two EPs. So, a similar question, and probably harder: How do you feel you've grown over the past five years since you started releasing music?
Joel Johnston: Ah, I could be here for like two hours telling you everything. I'd say the main one is trying not to cater to listeners. In the early days, I was really focused on making music that people liked, everything needed a hook or a chorus. Some of the decisions that I made were solely based on trying to please people. It got me to the point where now I don't really connect with those songs anymore. Now I'm a lot better at making music for myself, and just hoping that people will like it. At the end of the day, if I enjoyed making it and I'm happy with the song, then that is truly what matters.
But I'm still trying to get better at that. With the second album I was just sweating the night before it came out, thinking, "Ah, people are gonna hate this!" I think I actually had a nightmare where it was just all bad comments. I'm trying my best not to think like that. I'm a lot better now than when I did that last interview, I was very self-conscious at that point. That's also just growing up.
Now I'm a lot better at making music for myself, and just hoping that people will like it. At the end of the day, if I enjoyed making it and I'm happy with the song, then that is truly what matters.
I feel that links with your change from having 20 guitars to three. It's almost like you were layering loads to try and prove yourself as a musician, and then as you grow in self-assurance and maturity, you're able to strip things back to the essentials.
Joel Johnston: Yeah, 100%. My biggest thing in life at the moment is trying to nurture my inner child. I'm the youngest of five boys, so I kind of grew up finding it very hard to trust myself with a lot of things. That's where my OCD stems from. Like, I couldn't trust myself with cooking stuff, thinking I was going to give myself food poisoning and all that kind of thing. That also comes into the creation of music and me being in this room by myself. I have to be able to trust myself and not criticize myself as I'm doing it, otherwise I'll just drive myself mad.
That's a great analogy between your art and then your life in general.
Joel Johnston: Yeah, it all runs parallel with me anyway. I'm so heavily focused on it day to day, it's my fulltime job. But that's another thing that's changed since that last interview, I'm able to separate music from life. At that point I was literally just doing music and didn't really go out much. But now I do it Monday to Friday and I enjoy the weekend like everybody else, which is really nice.
* * *
Tickets are available now for Far Caspian's upcoming tour, starting September 19, 2023. Visit farcaspian.org for more information!
— —
Kate Millar is a poet and writer from Edinburgh, Scotland, currently living in New York City. Her work appears or is forthcoming in BOMB Magazine, The Inflectionist Review, Gutter, and Ekstasis. When not writing, you can find her at an indie music gig in Brooklyn, drinking midnight coffee at Cafe Reggio, or doing arts and crafts with her friends. You can reach her via email kapmillar@gmail.com or on Instagram: @katepmillar!
— —
— — — —
 © Joel Johnston
:: Stream Far Caspian ::
---