Glass Animals have returned with a fierce, burning energy in the passion-fueled song "Your Love (Déjà Vu)," turning up the heat with a hot n' heavy outpouring of toxic tension, desire, doubt, and relief.
Stream: "Your Love (Déjà Vu)" – Glass Animals
---
A series of flute-like whirrs cascade down atop a pulsing backdrop; an intense voice chants a tale of lust and desire, uncertainty and belonging; a colorwheel of guitars and ambient textures unite in mesmerizing congruency. There's no denying the magic at the heart of Glass Animals' first album single in four years, nor is there any way to avoid the excitement surrounding the British band's long-awaited third act. Glass Animals return today with a fierce, burning energy in the passion-fueled song "Your Love (Déjà Vu)," turning up the heat with a hot n' heavy outpouring of toxic tension, intimacy, doubt, and relief that showcases everything this band does best.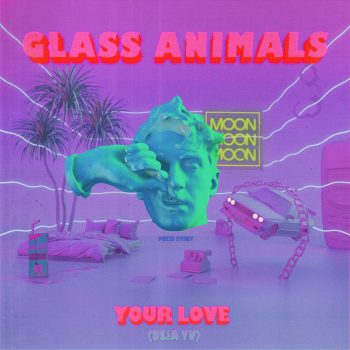 Mmm, I shut my eyes
You call, but I just cut the line
I know your style
I know that you want one more night
And I'm backsliding
into this just one more time
Too far from over you
Beams from your M2 are
blowin' through my room
And now you lay down in my shoes
You dyed your hair blue
Oh, so much deja vu
Released February 19, 2020 via Wolf Tone, "Your Love (Déjà Vu)" arrives as the lead single off Glass Animals' forthcoming third studio album (set for release in 2020). A hot n' heavy track described by the band's frontman and songwriter Dave Bayley as a "conflicted booty-call anthem," the song follows November 2019's standalone single "Tokyo Drifting" featuring Miami-based rapper Denzel Curry.
For Glass Animals and fans alike, the latest song signals a welcome return to a "new normal" after what has been a tumultuous year and a half for the band and its extended family: Drummer Joe Seaward sustained a fractured skull and broken leg, among other serious injuries, after being hit by a truck while cycling in Dublin on July 2, 2018. Seaward spent much of 2018 and 2019 in recovery, and the band played their first live set since the accident at a secret show in Oxford, England, last November.
Now Bayley, Seaward, Ed Irwin-Singer, and Drew Macfarlane are ready to get back into their full groove. That starts with today's song release, and continues into late February and early March as the band embark on a series of North American headline tour dates this spring.
Longtime fans of Glass Animals are sure to find much to love in "Your Love (Déjà Vu)." Barging into the new decade with as much intensity as their last album's lead single "Life Itself," "Your Love (Déjà Vu)" is at once similar, yet refreshingly distinct from the band's catalog. The melodic drivers mirror those implemented on 2016's How to Be a Human Being, which found Bayley and co. manipulating everyday items – from a computer fan, to a tapping nail, and more – into their own instruments with provocative and ear-catching sounds.
Just as "Your Love (Déjà Vu)" bears Glass Animals' unique sonic signature, there's no denying the vulnerability with which Bayley delivers his lines. His words paint a vivid story of late-night connection, longing, and intimacy; of burning the midnight oil while wondering what tomorrow may or may not bring.
Bayley's lyrics are immediate and urgent: He injects conflict into these moments of lust and desire, balancing intensity and intimacy on one hand with toxicity and doubt on the other.
Call it addiction, call it love – whatever that vice is, we feel its weight in full as Glass Animals hit their chorus:
And now I can feel your love
Your temporary touch
It's a hit and run
You go back there when you're done
Don't you want some more?
'Cause I can feel your love
"I think we've all found ourselves in fucked up relationships that make us feel sad and helpless," Dave Bayley shared via press release. "Not necessarily something romantic — maybe it's with a family member or a friend. A relationship that we know on some level is going to keep breaking our hearts. We let that person back into their lives over and over again, even though it always ends the same. Maybe you don't confront it because you hope it'll change with time. Or because it's easier to let it slide and never set boundaries. Maybe you think you deserve that unhappiness. Or maybe you find some strange comfort in the chaos."
Bayley continues, "This song is about that… about being addicted to chaos. About doing or allowing something self-destructive because on some level you get off on the sadness that comes of it. It's about wanting to float around and exist inside of that feeling because it has always been familiar to you. It's something that a lot of people know from growing up in a tense household… so it can feel right to create that dynamic, even if you don't realize you're doing it."
Dave Bayley's abstract, often mystifying lyrics have long been subject to endless scrutiny – a source of debate in Reddit threads and Genius posts alike.
The Glass Animals frontman has long enjoyed the mystery of his words, letting them mean what they will without diving into too much depth about them, lest he ruin the fun for everyone else. "Your Love (Déjà Vu)" finds Bayley at his most direct and his most vulnerable: The song is as honest as it gets from Glass Animals, a personal reflection on dysfunction in its darkest, most impactful forms.
"It's an unhealthy relationship, but you keep letting that person back into your life," Bayley elaborated on BBC Radio 1's Future Sounds with Annie Mac. "Either because you think it's going to change, or because something deeper, darker – you're addicted to the chaos of that relationship. That's what this is about: Being addicted to the mess."
The word addiction is sure to come up again and again in future Glass Animals interviews, just as it can be heard again and again in their new music:
That purple touch
Everyone who sees you falls in love
You eat us up
You live like you're on camera
You slide on top
Immune to all the juice in us
Bayley plunges ever deeper into himself and the intensity of this unhealthy relationship in the song's bridge:
Maybe in time
When we're both better at life
Daylight can open my eyes
And you'll still be by my side
But meanwhile
I've got my contact high
You've got your powdered lies
We've got these summertime nights
Night by night
I let you eat me alive
I want you to eat me alive
I want you to eat me alive
Glass Animals dive into the depths of emotional connection and relationship dynamics in their latest song, offering a familiar yet fresh new platform through which to experience their artistic voice.
"Your Love (Déjà Vu)" finds its natural conclusion with a wave of relief and a somewhat disquieting calm. The music may have resolved itself, but those tense emotions remain – and it is with this conflicting, invigorating energy that Glass Animals continue building anticipation toward what promises to be a busy, if not blockbuster year.
Infectiously catchy and ingenious as ever, "Your Love (Déjà Vu)" is everything it needs to be – the hit we never asked for, and the return Glass Animals deserve.
? ? ?
Stream: "Your Love (Déjà Vu)" – Glass Animals
? ? ?? ? ?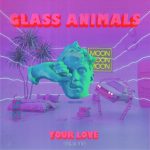 ? © Pooneh Ghana
:: Stream Glass Animals ::
---