Brooklyn-based six-piece Granite to Glass deliver breathtakingly sweet, sweeping orchestral folk in their new single "A Light | Dusk."
Stream: "A Light | Dusk" – Granite to Glass
---
Seldom have we been more certain of music's cinematic force, than when listening to the wonders of musical ensemble Granite to Glass. The Brooklyn-based six-piece deliver breathtakingly sweet, sweeping orchestral folk in their new single "A Light | Dusk."
It's all over now.
Nobody left to bother.
You have them fooled.
Now run to save face.
Haunting my dreams.
I think it is a good thing.
Just hit the light
On your way out.
Pictures of you,
Pictures of both me and you.
No matter what is next,
I'm not alone.
– "A Light," Granite to Glass
Describing their music as, "arresting lyrics with uplifting string arrangements," Granite to Glass are the sort of act you want to catch at SXSW, and then have play your wedding ceremony. Released on January 10, "A Light | Dusk" – really the double single of two songs, "A Light" and "Dusk" – arrive as the group's first release in three years, following 2017's debut album For When You Need This. The recently relaunched group consists of Jon Kohen, Jen Ho (violin), Gavin Hsu (cello), King of Nowhere frontman Jesse French, jazz multi-instrumentalist Neal Rosenthal, percussionist Sam Parsons, and string quartet members Alex Wen on viola and VS on 2nd violin. An upcoming self-released, self-titled album is set for release this spring.
Describing their collective outlook as one of "positive introspection," Granite to Glass transfer anxiety and fear, loneliness and heartache into wondrous, lush soundscapes filled with life and a vibrant effervescence. "A Light" demonstrates this, as primary songwriter Jon Kohen explains:
"'A Light' is my attempt at a love song. Everyone likes those, right? I haven't really written many. I tried to keep this one simple. This song gives me a deep sense of peace when I play it live. Especially during the instrumental bridge. The whole thing feels like one big exhale of relief to me.
A full orchestral effort, "A Light" shines with ambient positivity. It's the perfect companion to "Dusk," which immerses listeners in a moving tapestry of violins and acoustic fingerpicking while Kohen sings of aging and finding ways to not regret his life decisions:
When the sun begins to set,
you can feel the regret
Of all of the souls who have gone —
as if they refuse to move on.
I dream of becoming old,
filled with regret at my wake.
Before I pinch myself,
I'm already young and awake.
I've seen your,
I've seen your dreams.
Don't leave them them be.
"Dusk is based on a story I read online. It's about feeling unmotivated, then closing your eyes, and imagining you were on your deathbed, wishing you'd done more. All you have to do is open your eyes, and you can do the things that you will regret not doing at the end of your life. Also, fun-fact, the first verse about souls passing is based on some dialog in Twilight Princess (Zelda game)."
Recorded around a single binaural microphone in NYC Chinatown's Church of the Transfiguration and engineered by Ryan Majoris, Granite to Glass' new music is absolutely transcendent. The ensemble offer deep insights and thought-provoking ideas through a soothing lens that allows us to ponder big life questions without the stress or weight they otherwise entail. It's a striking work, and something that certainly speaks not only to this group's greater potential, but also to the notion that less can be so much more in the recording studio.
"This single project came about from meeting engineer/producer Ryan Majoris at a show, who was the sound engineer that evening," Jen Ho explains. "He heard us perform, and we immediately sought to work together, and decided 'A Light' & 'Dusk' would be a perfect choice for our idea of recording string quartet, vocals, and guitar with his binaural microphone. I decided that a church would be appropriate to record strings, in order to achieve the full atmospheric, emotional potential of these songs. I approached my parish who generously gave us their space to record, so the whole collaborative experience was a really personal, powerful moment, and a real blessing."
Granite to Glass' journey is only just beginning, but their soothing, soulful sound makes it feel like we've known them for years. Stream "A Light | Dust" below, and connect with the ensemble below!
Stream: "A Light | Dusk" – Granite to Glass
— — — —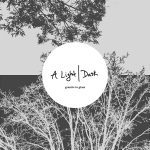 ? © 2020
:: Stream Granite to Glass ::
---