Kate Nash talks to Atwood Magazine about new album Yesterday was Forever, starring on Netflix show GLOW, mental health, rebuilding her confidence, and how her bunny rabbit changed her life.
— —
Kate Nash opens her fourth album Yesterday Was Forever, released independently today (3/30/2018), with a question: "I think about death all the time, do you think that's morbid?" it's a statement, an inquiry, but she's also daring you to respond. Right away you recognize the boldness, cheekiness, and candour of the English artist everyone grew up loving. Yesterday was Forever has been years in the making, and is the result of Nash's persistence, hard work, confidence in and love for music, and passionate fans who believed in all of the above and donated to her kickstarter campaign. The album is a gift for Nash, a gift for her fans, and for everybody. She's the non-conforming, inspiring, and empowering popstar the indie world needs.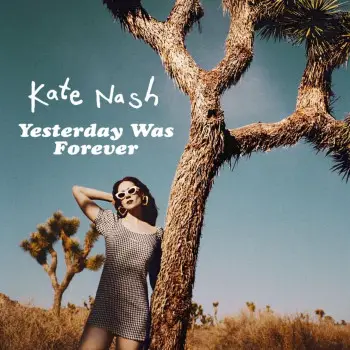 Yesterday was Forever is like a mosaic, constructed of different energies, sounds, emotions, and everything that constitutes being a multi-faceted woman. Nash's high energy and traditional pop sensibilities are beautifully exemplified in "Drink About You" and "Hate You," the former was made to be yelled and moshed to at live shows. Nash touches upon her struggles with mental health on "Life in Pink" and "Musical Theatre," which sound like polar opposites but whose lyrics are raw, gut-wrenching, heartfelt and necessary. She floats to a different darker shade of pop on "Body Heat" and "Karaoke Kiss," flirts with rock on "California Poppies," and declares her love for music on gorgeous album closer "To the Music I Belong." The album is daring and great, and its greatness rests on its complete authenticity. This is undeniably a Kate Nash album.
Atwood Magazine talked to Kate Nash about her long awaited return to music, her collaboration with HOLYCHILD on two music videos, her role on Netflix's hit show GLOW, and Nash's upcoming North American tour.
Yesterday was Forever – Kate Nash
:: A CONVERSATION WITH KATE NASH ::
Atwood Magazine: Hi Kate! How are you?
Kate Nash: I'm good, how are you?
I'm good! I want to start the chat just by personally thanking you for making "Life in Pink." I struggle with depression and anxiety too, and it's really hard to find a song out there that perfectly encompasses what it's like to be that way but at the same time isn't a pity party. And "Life in Pink" is such a strong way to address the subject, you put my and many other people's' feelings into words better than we ever could.
Kate Nash: That's so cool. Aw, thank you!
So the music video for that song is beautiful and so fun but from what I gather there are lots of different symbols, especially with the bunnies. Could you explain the concept behind it?
Kate Nash: Yeah. So bunny rabbits are very symbolic to me because I got a bunny rabbit when I was going through really bad OCD and anxiety and I didn't realise I had it. I didn't know what it was, I just went along thinking this is how my brain works and this is how everybody's brain works too. I got a bunny rabbit, Fluffy, who I then became so in love with and attached to. I grew up with dogs and I love animals, but it was weird understanding like "Oh my God, every single animal has this big personality." I'd never had a relationship with a rabbit before, and that's what turned me vegetarian. But it was also a deal with my head – my OCD got worse and worse and worse, but I went to the vet and they told me they had to do surgery on her and it was so dangerous because she was so tiny. And I just got crazy, I became out of control and really emotional and I suddenly woke up one day and went like "I'm going to be vegetarian, if I don't eat animals she's going to be okay." I made a deal with the universe. She did the surgery and it was fine. It opened my mind to many things, understanding my brain and realising how powerful that was, that I'd actually changed my diet in such a huge way. I'm actually vegan now, and I'm an advocate for that. [Becoming a vegetarian] made me conscious of [the power of the decision] and I could explore my relationship with my mental health. And then funny enough, I found out later – you know spirit animals? – it turns out that bunnies are associated with anxiety which I thought was funny because I got her at the absolute worst of my anxiety and I didn't know, and she really helped me understand that. And the video speaks to that. It's such a balance between the sane and the insane, I don't know what that even fucking means, or how you're supposed to act, how you're supposed to be – maybe part of that is good and healthy and some if it isn't. And it's striking the balance between the crazy parts that we flourish, the crazy is what makes me creative and fun and interesting and interested and wanting to learn and not conform to society, and how that's really important, to let that unleash, but if you go too far you become unhealthy. I'm both the patient and the nurse, if I go too strictly down the nurse's route and conforming too much, and also making myself unhappy and trying to fit in the box that isn't me. It's striking a balance and seeing that both sides of me can be fun and both sides of me can flourish, and too far one way or the other will be damaging, and letting go of either will be damaging too, so that's what the video represents.
Watch: "Life in Pink" – Kate Nash
And you worked with HOLYCHILD on the videos for both "Drink About You" and "Life in Pink," and yet the videos have different tones to them and don't look redundant. What's so special about this partnership?
Kate Nash: Yeah. I did a feature on a HOLYCHILD song called "Rotten Teeth" and I just liked Liz and she directed the video to that and I thought she was amazing. I just said to her casually "We should do a music video together" and while I was putting together this album – I was fucking really stressful making this record, because it took four years to figure out how to continue to be an artist – and I just wanted the visual side to be as fun and easy as possible and take the pressure off myself, really collaborate with somebody but it had to be someone who knew me as an artist and as myself. The bunny idea and that mental health thing idea have been in my head for years, so it was like "Hey Liz this is my initial idea" and then she just ran with it. "Drink About You" I just said "Let's do what you want to do, I want this to be a fun video." It's really cool to work with someone who I think has such a strong vision, and she's a woman and you know, I'm friends with her and we just have fun together.
Watch: "Drink About You" – Kate Nash
The album is full of dualities. Many songs like "Call Me" and "Twisted Up" are both at times a punch in the gut and a soft, comforting hug. Talk me through the decision to make songs that are supposed to contradict themselves and foster such opposite energies in the song but end up working so well.
Kate Nash: I think that's really me, it's very much who I am. I like contradiction, and I have conflicting feelings and thoughts. I think women are really multi-dimensional and have many sides and often we're supposed to be one thing, and that's really hard, to be able to do that. And I think it becomes really cool to find this balance in my music, that is all sides of me – I do feel like I am soft and hard, I have lots of sides to me that I want to express.
The sound on "Body Heat" and "Karaoke Kiss" is completely different from the rest of the album up to that point, and they go really well together - what was the inspiration for these tracks sonically?
Kate Nash: I just have been writing with different people, and I'm free to explore different sounds and not be held back by any genre or have to be one thing. "Body Heat" for example I just was like "Let's do something like "2 Become 1" by the Spice Girls," that sort of feeling, and "Karaoke Kiss" I just wanted to be a dark, electronic vibe, which is what the song is about. It keeps me able to write, I think, when I can experiment with sounds.
"Musical Theatre," for me, is simultaneously your last breath but also a re-birth and looks like you're finding hope again. What's the story about that song?
Kate Nash: Yeah. There's definitely that bit in it. It's the side of me that's wanting to give up and then the other side of me going "You're not going to fucking give up." So it's trying to destroy myself and save myself at the same time. Saving myself wins, and don't give up on yourself, basically.
There are so many great lyrics on this record. You're strong and in your face, but then so vulnerable as well. "Today" is the best example of that for me. Do you have a favourite lyric on the record?
Kate Nash: Favourite lyric… I can't choose one lyric. I really do like "Musical Theatre" and the way I describe feeling. It's hard to talk about mental health and not be like "My mental health issues, blah blah blah," I feel like it is a cinematic version of what it actually feels like.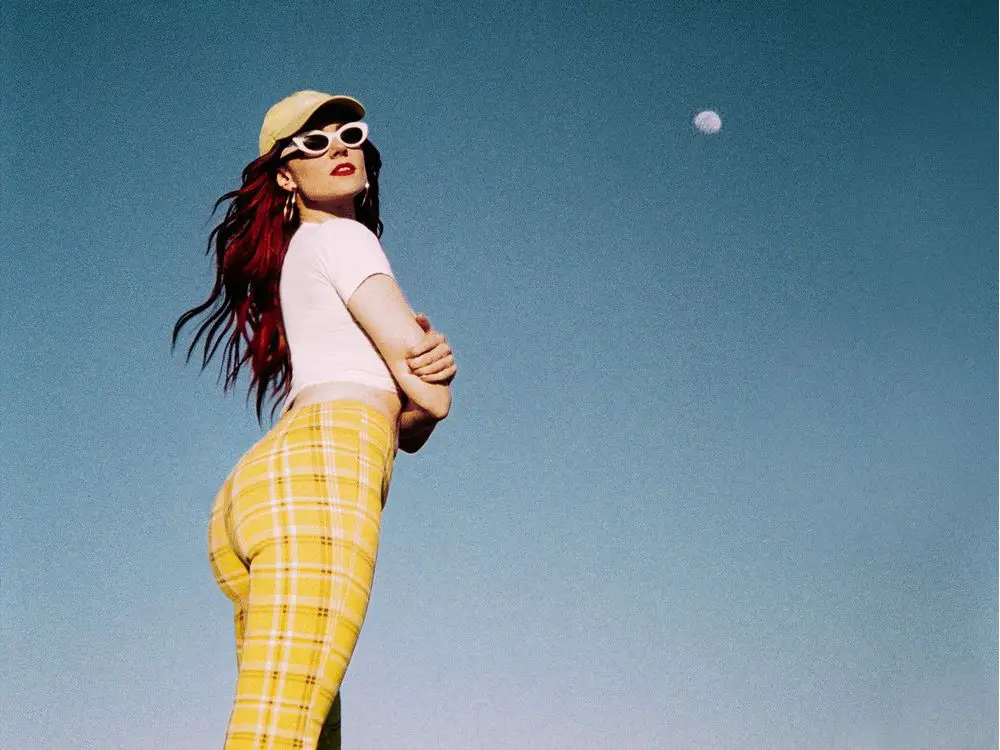 "To The Music I Belong" is a beautiful ode to music and such a great album closer. Why did you decide to write this love letter to music?
Kate Nash: Because I think that the universal connection to music is… The first thing you hear is a heart rhythm, it's rhythm, it's always going to be connected to you. Music isn't going to turn on you or anything. It's just about carrying on where you're going, but keep going and hold on to the music. Maybe for some people it's not music, it's some other thing. Whatever it is that you're holding on to, just continue, continue on.
You're touring North America again at the start of next month - what are you most looking forward to on this tour?
Kate Nash: I love being on the road and connecting with people through live shows. It's really beautiful and emotional. It's the one time in music when you have a tangible experience.
Do you think working on GLOW, such an empowering and female-driven show, influenced your music in any way?
Kate Nash: Yeah, definitely. It changed my life. Learning to be really strong, have a physical relationship with myself, it's just really empowering. It rebuilt my confidence.
Watch: GLOW Season 1 Trailer
When you're acting you're playing Rhonda, stepping into someone else's shoes, whereas when you step onstage you're Kate Nash, singing about your own life - what's your approach to each of these art forms? Do they inform each other?
Kate Nash: I think they both feed into each other. I think making that connection with people live and in the ring, I have to get some confidence for my live show and then bringing that into the ring and learning to act, having to perform. It's all strengthening each skill.
Is it liberating to not be you for a few hours a day?
Kate Nash: I find it very empowering to be Rhonda. She's such an inspiring character to play, she's had a great effect on me.
After you became a fully independent artist and had crowdfunding campaigns and fans allowing you to continue making music, did your perception of art and/or music, or the industry, change?
Kate Nash: I struggled with how to carry on and stay independent for a while. But I'm so glad that I've gotten to do that. I don't want to be on a label because I find that uninspiring, I just hear horror stories all the time, though I'm sure there's great labels out there. I like being able to make my own decisions.
You've been on both ends of the spectrum. Signed to a major label and finding success with that, and also being extremely successful as a completely independent artist. If you were to talk to an aspiring musician today, what path would you suggest they take?
Kate Nash: I think if you have a record, bring a record to a label and be like "This is my idea, this is who I am." If you're not there then don't go. If you haven't figured out who you are yet then it's not time for a label. Find out, go into sessions, see what's going to work and be confident.
— — — —
? © Kate Bellm
---
:: Stream Kate Nash ::
:: Yesterday Was Forever ::
Tour Dates
04/04 – Vancouver, BC – Imperial
04/05 – Seattle, WA – The Showbox
04/07 – Portland, OR – Hawthorne Theatre
04/09 – San Francisco, CA – The Fillmore
04/10 – Los Angeles, CA – The Fonda Theatre
04/12 – Santa Diego, CA – The Observatory – North Park
4/13 – Santa Ana, CA – The Observatory OC
04/14 – Phoenix, AZ – Crescent Ballroom
04/16 – Salt Lake City, UT – The Depot
04/17 – Englewood, CO – Gothic Theatre
04/19 – Minneapolis, MN – Fine Line Music Cafe
04/20 – Chicago, IL – Park West
04/21 – Detroit, MI – Majestic Theatre
04/23 – Toronto, ON – Mod Club
04/24 – Montreal, QC – Theatre Fairmount
04/25 – Boston, MA – Royale
04/26 – Philadelphia, PA – Theatre of Living Arts
04/28 – Atlanta, GA – Buckhead Theatre
04/29 – Charlotte, NC – The Underground
04/30 – Washington, D.C. – 9:30 Club
05/02 – New York, NY – Irving Plaza