Ganser's sophomore album 'Just Look At That Sky' showcases a strong sense of influence and innovation
•• •• •• ••
Listen: 'Just Look At That Sky' – Ganser
---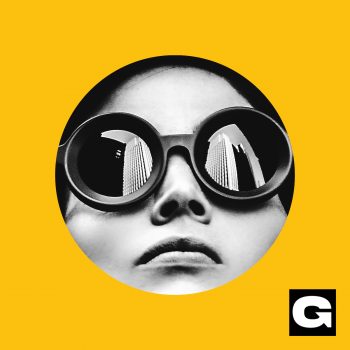 Given that Ganser, the band, shares its name with Ganser, the syndrome, and the band's Bandcamp bio reads "dissociative shouts and murmurs," it should be expected, at least on the very surface of surface levels, that the band might be a bit detached. And in the right ways, they are. Blending elements of art rock, no wave, and post-punk, Ganser are a versatile outfit that has shared the stage with current noise and experimental heavies like Daughters, Algiers, and Oh Sees. On Just Look At That Sky, the group's second full-length, Ganser continues to show off their artistic versatility and dedication to sonic dissociation.
Thought you'd be more
Thought you'd be OK
Hell of a day, kid
Hell. of. a. day.
Well drink up sonny
Drink it all up
Drink up sonny
You should be so lucky
Musically, Just Look At That Sky offers a variety of unhinged guitars, a range of noises and textures, tight rhythm section grooves, and commanding vocal performances. The first three tracks, "Lucky," "Self Service," and "Projector" show off guitarist, Charlie Landsman's ability to seamlessly cover melody and atonality. Some moments the guitar sounds wiry and manic, in others, repetitive and off the rails. Whatever the guitar is doing, or not doing discernibly, it never feels out of place or contrived, all of the noise and chaos has its place. Though the guitar is as solid at the beginning of the album as it is throughout, these tracks hit effectively and just so happen to be successive.
Watch: "Projector" – Ganser
---
As for the rhythm section, drummer Brian Cundiff and bassist/vocalist Alicia Gaines are always tight and instep with one another. From a fundamental perspective, these two components serve more to keep the songs locked in and on course, but in doing so, provide a rhythmic foundation with consistently anchored drum beats and understated, but always resourceful bass lines. Tracks like "Told You So," "Shadowcasting," and "Bad Form" are examples of everything aforementioned.
Sticking to their ethos of "dissociative shouts and murmurs," the group's two vocalists, Gaines and Nadia Garofalo, who also plays keys, expand the band's already broad sound. Garofalo, who takes lead duties on tracks like "Lucky" and "Self Service," delivers lines like "Thought you'd be more, Thought you'd be OK" and "Tell me a story, An anecdote to cure," with a combination of bold detachment and wit. Gaines on the other end, who is featured on tracks like "Emergency Equipment and Exits" and "Shadowcasting," has a warmer sounding voice, though one that is no less despondent when delivering lines like "Everything is beautiful, And nothing hurts," and "The more you look at it, The worse it gets." Together, these two voices are sharp and exasperated, though never over done. As anything else on this album, the vocal performances are executed precisely.
No yeah I'm fine
I've just been looking at the ceiling
And I can't feel my limbs
But my stomach is turning
On top of everything else, Ganser makes expert use of additional instrumentation and detailing. Halfway through "Projector," a personal favorite, something in the background that sounds like a saxophone being hysterically choked out through a distortion pedal makes itself known. Elsewhere, "Emergency Equipment and Exits" starts off with a glitchy and ominous synth section before snapping into one of the band's tightest bass and drum features, while "Bags For Life" makes use of actual, non-choking, non-hysterical, trumpets and trombones. This track closes the album and is a strong moment with its horn section harmonies, its melodies, and its extended and atmospheric outro.
Fear
Fear in real time
Take what you can (hold)
(Hold) nothing dear
For all of their self-proclaimed dissociations, Ganser comes together with a solid, well-crafted, sophomore album.
— —
Discover new music on Atwood Magazine
? © Ganser
:: Stream Ganser ::