A radiant outpouring of emotional indie pop ready to move us and groove us, Greer's 'Happy People' EP is a soaring and searing indulgence of energy, passion, and raw self-expression.
for fans of Cold War Kids, Neon Trees, COIN, Bad Suns
Stream: "Happy People" – Greer
---
Fun and frisky, spirited and stirring, Greer's sophomore EP is a youthful and feverish affair: A bit of Beatles and Britpop jingle-jangle mixed with some Cold War Kids edge, it's the kind of record you put on both in good times and bad, to revel in and soak up the highs or escape from the lows; either way, Greer promise to help you let it all out in fine form and classy fashion. A radiant outpouring of emotional indie pop ready to move us and groove us, the band's Happy People EP is a soaring and searing indulgence of energy, passion, and raw self-expression: Part therapy and part ecstasy, it's an all-around entertaining and deeply cathartic release we'll be blasting for years to come.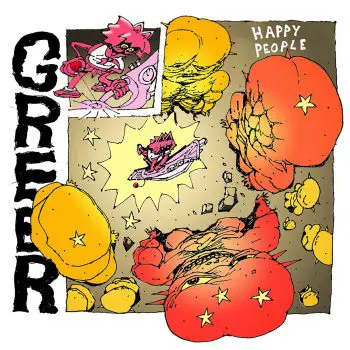 Now wait just a minute
I think I forgot what you said
And wait just one second
I think I forgot the most important part
That I probably almost had it again
And it probably hasn't happened yet
And I'm waiting for the moment
All the happy people say
(Love is everything)
But they don't say what's in between
(What's the in between?)
A bitter life that's full of hate
(And it's what you make)
And you're tearing me up
I get low, low, low
Out November 5, 2021 via Epitaph Records, Happy People is an exhilarating pop record dressed in dynamic alternative and indie rock garb. Produced by John Congleton (Wallows, St. Vincent, Angel Olsen), the second extended player from Orange County's Greer finds the band – currently a quartet of Josiah (vocals), Lucas (drums), Corbin (guitar) and Sethen (bass) – sounding tighter than ever on four songs that capture their youth, drive, and lust for life: That inescapable inner thirst for external release. The band's second EP in eighteen months finds them confidently carving out their own space in the music world and figuring out who (and what) they ultimately want Greer to be.
"Happy People is the product of a couple confusing years that we've spent both as a band and individually in both reflection and focus on what our aspirations are," vocalist Josiah tells Atwood Magazine. "It's taken some time, and even if we still don't have everything figured out, this EP is as honest as we can be to ourselves about our present state of mind. Its contents hide the more difficult things to address, beneath its skin you may find our blood and guts."
"After recording with Rob Schnapf, we had an understanding that our new material needed a different approach," he says of the record's vision. "We had caught wind that John Congleton was interested in working with us, and we knew it was an opportunity we couldn't pass up. Going into recording, we didn't know what to expect, but we knew we wanted it to be collaborative with Congleton. So going into recording we actually tried to erase all existing perceptions of what we wanted the EP to sound like, and tried to go in with an open mind to whatever it was that Congleton wanted to do. So I wouldn't say our vision was necessarily changed during recording, but it was actually formed while recording with Congleton."
I think 'Happy People' is definitely bringing a new sound compared to our previous releases. This EP is a lot more reflective of the direction we're heading in and where we are at right now creatively.
---
Mixing heartfelt lyrics and spellbinding performances with undeniably catchy lines and irresistible melodies, Happy People flies high and true: It's a confident record, and one that deftly intersperses internal angst and thoughtful introspection with pointed observations of the surrounding world, and all the many kinds of people – some inspiring, others not so much – we're sure to encounter on our travels. From the sunburst sonics of title track and EP opener "Happy People" to the kaleidoscopic grooves of "Little Echo" and the shining, musical and emotional drama of "Way Out," Happy People proves an immersive and utterly captivating twelve minutes.
"A personal highlight for us is definitely the bridge on 'Little Echo,'" Josiah says. "This is a section of the song we didn't feel too confident about going into recording. Although we knew it wasn't a bad part, we just didn't know where to go with it. But after talking with John, he had some great ideas and after some discussion it became the part it is now. It's one of those things that turns out way better than you could've hoped, and I think because of our expectations going into it we were way happier with how it turned out."
He adds, "The lyric that resonates most with me is from "Little Echo" – "Little echo tell me why I'm not who I used to be." I think in these very formative years of leaving your teens you change so much in such short amounts of time, and it's very difficult to stay in touch with your inner child while simultaneously trying to find your adult identity. I find myself wanting to go back to earlier years when these weren't even thoughts in my mind."
---
Greer's journey is only just beginning, and Happy People is the kind of set that will put them on the map for good.
The band have tapped a special balance of inescapable sounds and seductive feelings: Their buoyant, high-octane music hits hard and leaves a lasting mark.
"We want our listeners to take what we have learned from writing this EP, valuable lessons about addressing the more difficult emotions, things that might be harder to face," Josiah shares. "Nobody wants to see themselves in a bad light, but it's absolutely necessary to reflect on in order to become a better person, or to care for yourself. The more you ignore the present or your state of mind, the harder it becomes to fix things when you really need to. It ain't comfortable, but the effort is worth it, and honesty is key to giving yourself the love you need."
Experience the full record via our below stream, and peek inside Greer's Happy People EP with Atwood Magazine as Josiah Greer goes track-by-track through the music and lyrics of his band's latest record!
— —
Stream: 'Happy People' EP – Greer
:: Inside Happy People ::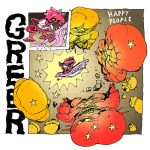 — —
Happy People
Happy people is a satirical take on the hypocrisy of bitter attitudes. It goes through the motions of self reflection and understanding, that denial and a hateful outlook only worsens your own well being, as we've all learned. Writing this song was very therapeutic and allowed us to put actions into words, then its teachings into practice. Though it doesn't mean we're cured of our evil little gremlins, we're well aware of them.
Little Echo
Little Echo is about looking at past successes and comparing it to the achievements you have currently, and feeling as if they aren't as great as they once were. The inspiration for this song came when we first gained success with Song for Me and we had an outpour of attention that we haven't received since. Sometimes it's easier to romanticize the past and focus on all the mistakes you've made leading up to where you are now, rather than focusing on the future and figuring out where you're going to be then
Way Out
Way out is a story about wanting run away from home as a child but written in a scenario where you actually go through with it. I think growing up especially when things are getting rough whether it be in school or with family, etc. A common response is to want to run away or at-least it was for me. All in all it is a sweet nod to wanting to run away.
Connect The Dots
Connect the dots is truly about your first real love and how hard it can be to let go of that person. It's about needing to leave someone because of your own struggles and issues but not wanting to which is sometimes the hardest heartbreak.
— —
— — — —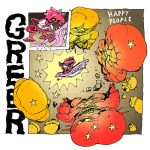 ? © Zamar Velez
:: Stream Greer ::
---