The debut LP from Dustin Currier's Lightleak project channels post-punk and mixes in somber drums, fierce guitars and sharp storytelling. The result is a fascinating release that nearly defies convention (and genre).
Stream: 'Tender Fits' – Lightleak
---
Dustin Currier's music has taken the form of two bookends, so to speak, with his 2020 D.H. Currier EP Lower Powers sitting at one end (pre-pandemic, February 2020) and his debut Lightleak LP, Tender Fits, sitting on this end of the timeline.
In the intervening months, Currier led remote music classes as a public school teacher and, very clearly, stayed busy devising the sonically intriguing palette that characterizes his new album, out now on his own label, Model Love Songs.
The name of Currier's project is quite fitting: There are swirling moments of light and dark throughout the release, with a sound that's shifting from song to song and rarely returns to the same spot twice.
The record truly has something for everyone, whether you favor the sharp speed of Fugazi or just a touch of witty lyricism, churning bass lines or soaring trombone and trumpet. The record was mixed by Chad Clark (previous credits include Dismemberment Plan) and produced by Currier himself.
Throughout the album, Ben Grigg of Geronimo! (on trumpet), alongside Logan Bloom on trombone, add a rich, warm backdrop that punctuates the tumbling drum work by Seth Engel of Options. Currier also sought to fill out the record elsewhere with vocal help from Vivian McConnell (of V.V. Lightbody), and Krystal Rosenbrock.
---
The tone is set right away, with the spiky and ferocious "B.I.D.S.I.U.," a stomper of a track lifted up by sinewy guitar. It features mystical backing vocals from Sadie Dupuis of Speedy Ortiz and Sad13, but one of many twists and turns that blend together seamlessly in kaleidoscopic form.
If you're looking for a mission statement on Tender Fits, "Asking For a Friend" showcases the album's full sonic tapestry at work. Currier weaves clever, sharp lyrics atop the brass stylings of Bloom and Grigg, deploying a sort of "call-and-response" effect with a raspy megaphone-like quality.
"Mmm Hmm Om" is one of two instrumentals on the album, a deftly moving song featuring churning drum. It's propelled along by somber brass, an intoxicating combination with a cinematic quality to it. It sounds like the kind of song to introduce the project to a live audience, a fiery ripper of a track that sets the tone for (what one imagines) to be a dramatic evening. As to how soon that plays out, well, you'll just have to keep an eye out for tour dates from Lightleak.
That instrumental leads into the buoyant "Capra-Colored Lenses," almost an homage to '90s ska bands, or the current ska revival playing out in venues across the country. It's tasteful and carried along by a deep bass line and Currier's vocal delivery, which calls to mind both Alex Turner and the punk-minded trappings of Fugazi. Again, it's an intoxicating combination.
---
On "No Icon," Currier lays plain that "all of your heroes are assholes," and shortly thereafter, implores the listener to "let go of the tether, stake your claim." It's a message Currier has taken to heart, weaving disparate influences together into a distinctive album that stands on its own. It's also another song on which Engel shines through behind the kit.
"Pardoners" starts out softly enough, with Currier strumming and reflecting deeply and painfully about a day in "May of '99," when his mother took him to get a suit at a discount store. What transpires next though, is heartbreaking: A funeral, memories of a "white casket," and "Dad, the baneful drunk," who died "with daughter's love."
From there, the assembled drink to forgiveness and the rest of the project returns to the fold. Currier is backed by additional vocals that add an almost choir-like presence to Grigg and Bloom's brass section. '
The track eventually revisits another funeral, this time in 2013, leaving you to dwell on the nature of forgiveness and perhaps, "The Pardoner's Tale" as written by Chaucer in "The Canterbury Tales."  A thematic connection between indie rock and age-old literature is just one of the many ways in which Tender Fits really makes you think.
It's a highlight of the album, with a story that sticks with you.
---
Family history stays at the forefront of "Sympathetic Vibration," right from the jump: Currier laments that "every family has its secrets," and it's perhaps no mistake that it's Currier's strongest vocal effort on the album.
His at-times anguished delivery atop a twinkling sonic backdrop reminds the listener of mid-aughts Frightened Rabbit, especially when he asks the listener if they're "mired in expectation, and will you sing a different song?"
The phrase "You are the spit, and you are the image" is also a remarkably clever turn of phrase. It's relatable and singalong-ready.
Currier channels Green Day and other post-punk prodigies on "(Boys) Must Not Be," aided by knowing female backing vocals.
The album's second instrumental track," the surprisingly light, almost tropical "Scared So" (ska influences at play again) adds yet another layer of sonic diversity.
The album's lush textures are driven home by "Salty Tongue," carried along by a warm, lovely bass line and a slinky, cinematic riff. It's a deeply sweet yet quietly sad song at times, as Currier pleads "Please, please sleep next to me so I can feel your heat." It's another track one can easily imagine going over very well live, and it very nearly epitomizes the title of the LP itself.
---
The record's closer, "Cedar, Cerulean" brings things to a surprisingly toned-down conclusion: The brass work, mixed with foggy, intertwined vocals, makes for an effect that more closely evokes the sonic stylings of The National than at any other time on the album.
It's yet another diverse marker on the winding trail that this album leads you along, and it's got all the makings of an LP that lays the groundwork for future releases. There's clearly a wellspring of inspiration for Currier to draw from, be it post-punk or buoyant bands with well-defined brass and percussion, and one hopes future releases won't shy away from doing so.
— —
— — — —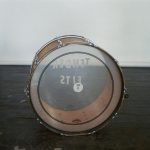 ? © Emily Dupree
:: Stream Lightleak ::
---