A stunning homecoming, the sensational 'Guarantee' EP finds Joshua Henry in his element as he spellbinds across four outpourings of cinematic sound and stirring emotion.
Stream: "Guarantee" – Joshua Henry
---
A good natured actor, Broadway performer, singer/songwriter, son, husband, and father, Joshua Henry is a multifaceted man of many talents – and he can now add "recording artist" to his extensive CV. The multi-hyphenate comes to life in his debut EP, a dazzling explosion of radiant R&B, pop, and soul that is sure to find its way into our hearts. A stunning homecoming, the sensational Guarantee finds Joshua Henry in his element as he spellbinds across four outpourings of cinematic sound and stirring emotion. It's a fast and fleeting twelve-minute enchantment – one that leaves us inspired and hungry for more.
Don't look up, just look down
They don't know what we found
I'm your dopamine. open me
I'm here right now
I like what you said
When you saw what i did
Daylight to the bed
Imma ride your hip
Keep your eyes down on me
Everything that you need
I guarantee it, I guarantee it
Run away. you do you
You gon' come right back. ooh
I guarantee it
Released March 4, 2021 via Ruby Soul / S-Curve Records, Guarantee acts as Joshua Henry's official debut EP – a showcase of the burgeoning, versatile musician's multidimensional artistry. A three-time Tony nominee, Henry is already well established in the Broadway and theater world – best known for his performances as Aaron Burr in the first touring company of Hamilton, as well as his work in The Scottsboro Boys, Bring It On: The Musical, In the Heights, American Idiot, and Carousel. Yet while he's found considerable success onstage over the past decade, music has always been Henry's defining characteristic.
"From when I was a 12 year old growing up singing in church in Miami, Florida, music has always been my first love," he tells Atwood Magazine. "I've been honing my guitar playing, producing chops, and voice since then.  While releasing my music has been a lifelong dream, other incredible dreams like film, TV, Broadway came into focus, but while I was doing them I always felt my soul saying "something is still undone." Thankfully 2020 was the wakeup call I needed to pause everything else and embrace the art form that started me off in entertainment: Music. Sharing this EP feels like coming home. I'm so grateful that people are digging this music!"
To bring his music to life, Henry collaborated with GRAMMY Award-winning producer, writer, and composer Theron "Neff-U" Feemster (Michael Jackson, Dr. Dre, Justin Bieber, Doja Cat); together, they developed a full-bodied, refreshingly upbeat, engaging and impassioned soul/pop sound that gives Henry space to flex his vocal talents, while still creating a wondrous instrumental collage and getting his messages across.
"When embarking on what would be my entry into the recording artist landscape, I wanted it to be truly authentic to who I am," he explains. "Neff-U (aka Thereon Feemster) was my incredible producer, and he really encouraged me to use my full voice – my lows, belting, high falsetto, my guitar playing. He didn't want me to think about muting any color I had coming into my first music canvas. I was inspired by artists and sounds who aren't ashamed to do just that – like Childish Gambino, Anderson .Paak, Janelle Monáe, Prince, to name a few. With that focus, the vision stayed the same throughout the process and was super fast. The entire process was less than five months, I believe."
"Honestly, when I started writing it, the music was heavier with lots of crunchy, moody chords. I have a lot to say, and it became clear that on my first EP, I should treat it like a great introduction. By that I mean, I plan on doing music for a while so with Guarantee, I changed course into getting the feel of some of my favorite artists whose music just makes you feel good. It evolved into a funky, soulful, pop that hits the sweet spot of who I am."
Henry lists D'Angelo, Stevie Wonder, Marvin Gaye, and Prince as some of his musical heroes, adding contemporaries like H.E.R. and the aforementioned Anderson .Paak to his group of inspirations as well. "Their artistry for me is the top right now," he says. "When writing some of these songs, I listened to a fair amount of Curtis Mayfield. I love the way the bass and guitar double each other in a song like "Freddie's Dead." You can hear some of that inspiration at the beginning of the track, 'Guarantee.'"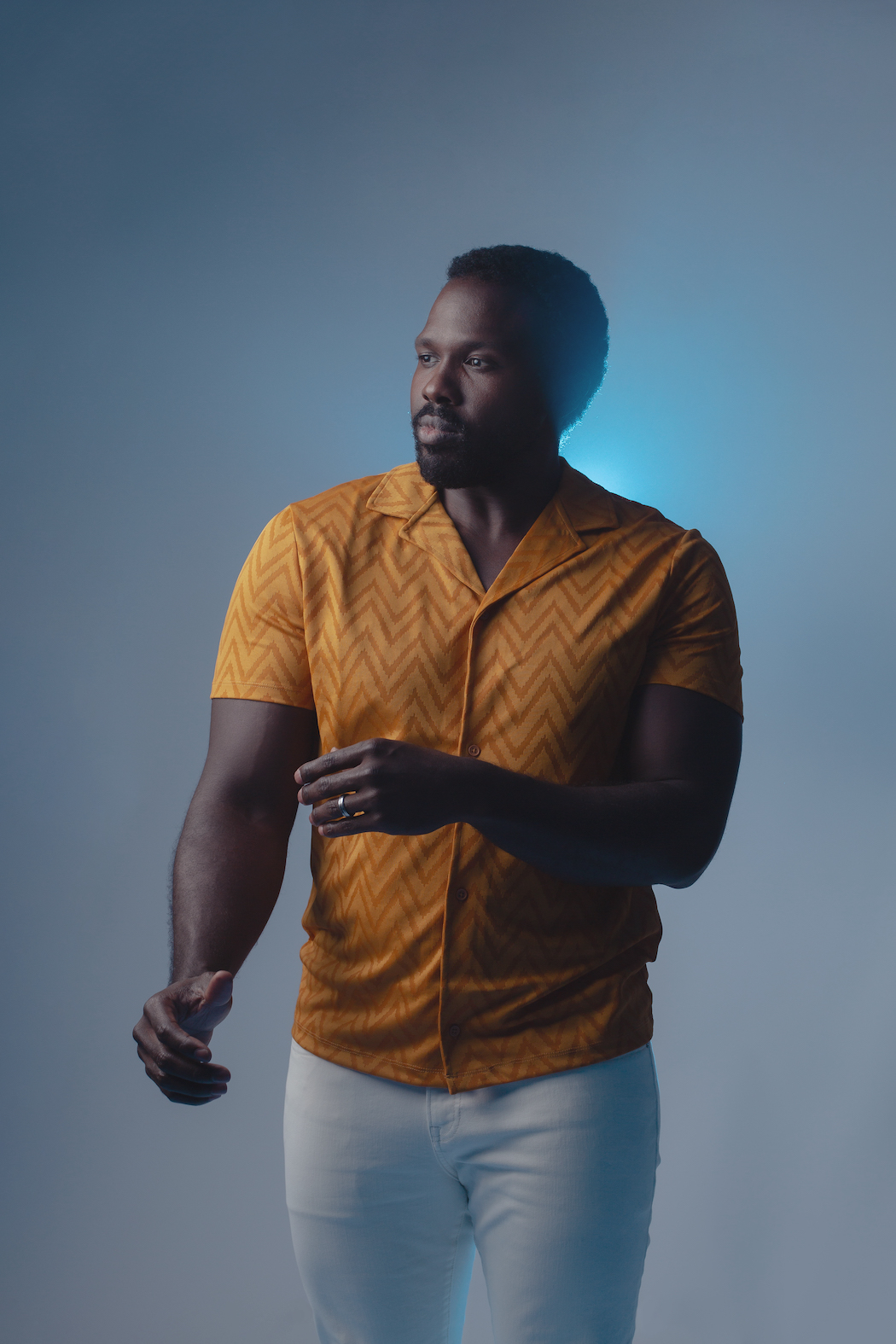 Yet for all the influence and external ideas that may have gone into it, Guarantee is its own fluid four-track invention – an electrifying, wondrous world unto itself that does as much to establish Henry as an up-and-coming force, as it does to hint at what folks can expect from him in the future. The record consists of three original compositions and a cover of legendary R&B group The O'Jays' 2019 single, "Stand Up." The title is a nod to the first track, "Guarantee," which captures some of the catalysts that brought Henry back to music-making and spurred his current direction.
"2020 pulled the rug out from under me (as a stage performer and collaborator) and it made me really ask the question, "What in my life is a Guarantee?" That jolt to the senses, made me evaluate what in my life is truly here for good. My cell phone… maybe. My IG… probably not… even though I appreciate both. For me, that answer was Love, God, Beauty, and limitless possibilities. The title song Guarantee is about things like social media that pretend to be the sure thing but that really change like the seasons. I thought it would be fun to write a song from the perspective of Instagram!" Henry laughs.
"Musically speaking, when you listen to Guarantee you hear that I'm a seasoned vocalist who understands feeling. I have a big vocal range that I'm not afraid to use. This EP shows that I take being a recording artist very seriously: It shows off my range as a singer, writer, and musician. I love Broadway, but you'll notice I'm not covering any Broadway tunes. I want people to see my heart free from any character. It also lets folks know I don't shy away from the vulnerable. That's why my first single from the EP is called "Hold Me." I know my voice, how I want to use it, and I'm bringing you great writing and (I believe) a unique perspective. As a D'Angelo fan, It also says 'hey yall' I write and produce as well. With the exception of 'Stand Up,' I wrote every word of this EP. Lastly, I think (I'm hopeful) that a mix of fun, positivity, and asking deeper questions is something [people] want to hear."
---
The title track sets the pace with its pulsing melodies and driving beats. "I would say one of my favorite lyrics I wrote for this album is the song 'Guarantee,'" Henry says. "'Don't look up, just look down. They don't know what we found. I'm your dopamine. Open me. I'm here right now.' I wrote that from the perspective of a social media app, haha!" Life may not have many guarantees, but this song promises a thrilling ride. Henry's smooth vocalizations rise and fall gently as he starts off, growing in strength through verse and chorus until he reaches the peak in an exhilarating, jaw-dropping fast-rapping breakdown:
You know you miss these bi's, these tri's, these days of our lives
Throwbacks, flashback fridays, you pray, "lord lemme get that!"
Lemme gеt you caught up. everything i bought up. woo!
Everything you can't afford
Double click this bliss. i know your wishlist
Took thе pick, fixed it to your
Every desire. look at me. i you admire
Check the blue check. these take you higher, higher!
Nah, nah baby don't run! don't we have fun?
Don't i show you what you've never done?
I need your love. thy kingdom come, thy will be done
You like this one?
The EP's lead single, "Hold Me" helped first introduce Henry's artistry back in November 2020. Smooth as molasses and dripping with heartfelt emotion, this soulful surrender finds the artist bearing all as he cries out for connection, compassion, understanding, and love. It's an outpouring of vulnerability, and a seismic overhaul of the self that brings us into this tender, fragile human core.
---
"I think the highlight for me was writing such a diverse group of songs that make you move that come from how I feel. It doesn't feel put on – for me it feels authentic to who I am," Henry smiles. "I hope to make listeners' heads nod while they wear the stank face and have their souls stirred at the same time."
Whether you're drawn to the electricity of "Guarantee" or the unbridled honesty and graceful warmth of "Hold Me," the searing intimacy and breathtaking falsetto strength of "Possible," or the intense weight and dramatic drive of the O'Jays cover "Stand Up," Guarantee is guaranteed to blow you away. Experience the full record via our below stream, and peek inside Joshua Henry's Guarantee EP with Atwood Magazine as the artist goes track-by-track through the music and lyrics of his debut EP!
Since releasing his EP, Joshua Henry has gone on to release two more singles this year: An expressive, acoustic rendition of the Annie show tune "Tomorrow," and more recently the smoldering stunner "Checking In," which also acts as the lead single off his forthcoming debut album Grow (out September 10th via BMG). Needless to say, 2021 is shaping up to be a groundbreaking, disruptive, and endlessly exciting year for Joshua Henry and his fast-growing fan base.
— —
Stream: 'Guarantee' – Joshua Henry
:: Inside Guarantee ::
— —
Guarantee
In this one, I wanted to just have fun and let a rip like Outkast did in Hey Ya! I also really wanted to ask the question, "what in life is a guarantee?" Then I thought, our social media apps often feel like guarantees- which is crazy but true. We depend on them and we lean on them so much to feel "complete."  So I ended writing a song from an apps perspective. Like if Instagram could speak, this is what she would say to us.
Hold Me
As someone who has massive dreams as an artist and loves his family, I needed to express how I need both. This was a big step for me in terms of vulnerability and expressing it openly. I'm glad it was my first single I've ever released because it probably says the most about who I am- constantly finding the balance between shooting for the stars and staying grounded.
Possible
Possible is a peak into how I view life. I try to see life and love as limitless. It's a hopeful track that has a throwback feel to it. It's a harkening back to The Temptations or Four Tops but with a new school pocket. Possible is seeing everything our senses can take in and hoping for the things we want like it's here in front of us.
Stand Up
When I heard the opening words to this O'Jays song, "turn off the tv to avoid the news", I knew I wanted to cover it. I need the reminder to shake any tendency to get jaded or complacent. The song written by Sebastion Kole  reminds me to focus on the little actions I can take in my community, art, and more to make change.
— —
— — — —
? © 2021
:: Stream Joshua Henry ::
---