A radiant, resounding record of self-discovery and inner strength, BEL's debut EP 'Muscle Memory' is a beautiful outpouring of intimate expression – a vulnerable and freeing emotional and musical release.
Stream: "Drive" – BEL
---
A radiant, resounding record of self-discovery and inner strength, BEL's debut EP is a beautiful outpouring of intimate expression – a vulnerable and freeing emotional and musical release. Catchy and cathartic, exhilarating and fresh, Muscle Memory comes to life with sweet melodies and enchanting lyrics that unapologetically delve into the depths of the self, exploring the pangs of young adulthood, first love, and all the turbulence and passion within.
In Santa Monica 
Our words flow with the breeze
It's been awhile 
Since I've been this weak in the knees 
Emotions running with the tide
Running high
I can't help but think 
We're on the brink of 
Something beautiful 
And I can't help but feel 
That this goes deeper
Than just chemical 
Cuz I, I'm so high
And I, I'm huh-high, high
Independently released July 6, 2021, Muscle Memory is as much a powerful introduction as it is a lasting imprint. BEL's debut EP shines with the inner light of a young soul in the throes of life's change, and while she doesn't find all the closure she's looking for in these five songs, somehow we know she's going to be okay.
The nom de plume of LA-based, Clovis-born singer/songwriter Isabel Whelan, BEL introduced herself and her artistry last year through May 2020's debut single "Silver Line," also premiered on Atwood, and October's follow-up track "Until the Day." Before debuting, she had already shared rooms and stages with the likes of Temme Scott, Eva B. Ross, and Jack Symes, and featured and co-written others' releases like "Fake Love" by Aaron Lindt.
"Hope and the human spirit run wild and free throughout BEL's debut single, shaking us awake not with a jolt of raw energy but with a warm wash of soothing sounds and inspiring lyrics," Atwood Magazine wrote of BEL's "Silver Line" last spring. "A stirring indie folk outpouring of reassurance in the face of doubt and despair, "Silver Line" is a haunting introduction to an artist we can't wait to hear more from in the years to come." Rising out of the emptiness, BEL's subtle acoustic guitar and intimate, impassioned voice soared on her first song, with lyrics of personal struggle and isolation speaking not only to her personally, but to all who listened from their respective COVID-19 quarantines and lockdowns.
BEL returned at the top of this year with the indie folk anthem "Treading Water," a vulnerable upheaval blending alternative and folk sounds into a lush, intimate, and compelling uproar. The track finds BEL at a personal crossroads, shouldering the weight of fateful decisions with unknown impacts. "It's a song born out of internal strife – a personal pain and relatable uncertainty," Atwood Magazine noted in our premiere, "and while BEL offers no definitive roadmap for the future, she finds balance and a sense of calm in relinquishing control and following her heart."
I've been treading water 
Now my legs are numb 
Save her if you saw her 
Or would you succumb 
To a feeling everyone denies
Plaster on a smile and bury the cries
Do I move against the tides
Let the water guide my mind 
Tried to stop the currents 
In my head 
Tell me I should let go 
And feel them instead
Tried to stop the currents 
In my head 
Tell me I should let go 
I'll feel them instead
---
Following recent singles "Something Beautiful" and "Isn't It Romantic?," Muscle Memory brings together five songs that speak to the artist's personal journey of inner and outer turmoil: Of finding healing and embracing resilience, and learning to trust oneself and believe who you are and what you have to offer.
"Muscle Memory is a collection of 5 songs I've written over the span of 4 years," Whelan tells Atwood Magazine. "From start to finish, the record tells a personal story of first love, first heartbreak, existential crisis, and finding strength and confidence on my own. After years of writing and playing shows, I decided to finally start the EP recording process in 2020. I recorded some bare bones demos with my band in a friend's living room with the goal of getting into a studio later to fully produce them. Then the pandemic hit and everything shut down. I also went through a breakup right before lockdown and was at one of my lowest points."
"I wrote some songs about it and went on with remotely co-producing the EP with my friend, Jimmy Keeley. We built off the living room demos and were able to re-record a few parts remotely. Pushing forward and getting this EP done during one of the hardest years of my life was something that truly helped keep me sane. I'm grateful for what this project means to me and what it helped me through. It feels good to come out the other side and have these songs to give to the world."
A product of change and instability, more so than it is one of the pandemic itself, Muscle Memory and its themes are both catchy and instantly relatable.
"Going into this record, I imagined it would be about the transitional period I was in at the time – that post-grad, existential crisis type of feeling," Whelan says. "But, after so many massive, unexpected things happened in 2020, the record really ended up being a lot more vulnerable and freeing than I could have imagined. It took a lot of healing and strength to finish this with all the obstacles that kept falling in the way. I learned a lot about my own resilience throughout the process and am really proud of it. I chose the title with two different meanings in mind; because I had written and played some of these songs at shows for over 3 years, they eventually became muscle memory. The second meaning has to do more with healing. There's a book, The Body Keeps the Score by Bessel van der Kolk, that talks about how trauma is stored in the body and changes our stress response. This concept came up a lot for me during this past year of making the record and working through things to prioritize my mental health, so it felt natural to make it the title."
Whelan's music is intimate, which can make it feel intense; she holds nothing back in sharing the visceral, vulnerable truths in her heart and of her world.
"I've always written from personal experience, which can be terrifyingly vulnerable at times," she explains. "Sometimes the words just pour out, while other times it takes me years to figure out how something made me feel. Because each of these songs were written at different points across 4 years, a lot of them took on new meanings as time went by. I think this project captures my essence through the intense vulnerability. Although my situations and lyrics are specific, I know a lot of people can relate to the feelings that I process through these songs. That's ultimately my goal as an artist, to express my life in a way that makes other people feel less alone in their own feelings."
Highlights abound on a short, seventeen minute soundtrack to growth, healing, and strength. For Whelan, EP opener "Something Beautiful" is an easy and definitive favorite. "It makes me so happy and is so much fun to dance to! It was one of those songs that felt like it was already written before I even finished it; I already knew how I wanted the production to sound and how it would feel playing live at shows. I knew I wanted it to be something that people could really dance to. It feels like a nostalgic summer."
Stay up talking
Feels like I've known you 
for all these years
So we dive right into 
All our deepest fears
Oh but I, I don't mind
No I, I'm so high, high
Oh yeah 
I can't help but think 
We're on the brink of 
Something beautiful 
And I can't help but feel 
That this goes deeper
Than just chemical 
Cuz I, I'm so high
And I, I'm huh-high, high
---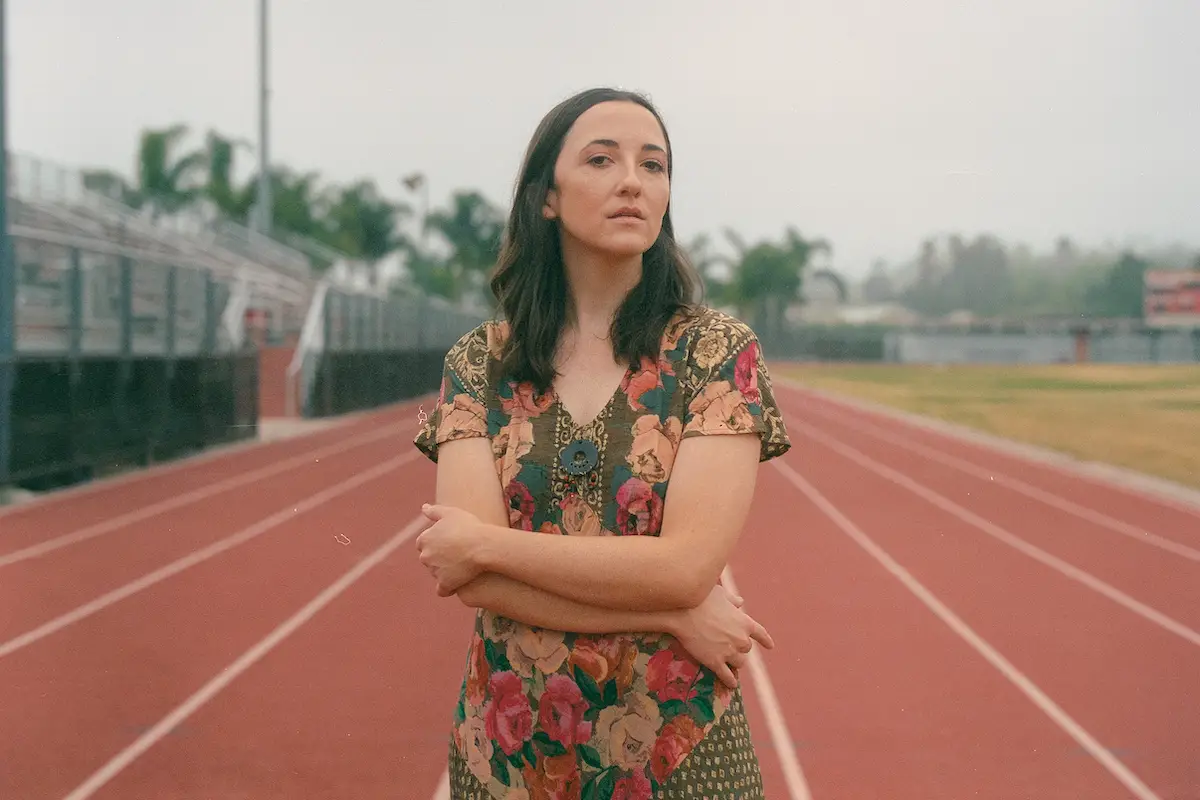 Deeper into the EP, the pulsing indie pop song "Isn't It Romantic?" pushes onward with tenderness, grace, and unrelenting drive; through stripped-down reckonings and built-up charges, BEL moves us to feel the depths of her experience. The same can be said of the 100-second long "Hey," a gentle acoustic song that soothes and stirs as the artist spills herself out:
I don't really care
About it anymore
Just don't think that it'd be fair
If you came knocking on my door
After all this time
After all this time
What do you expect me to say
Guess I could reach out
Send you something on your birthday
And say, "Hey"
Hey… Hey… Hey
As a lyrically forward artist, Whelan says that one of her favorite aspects of the EP is an unexpected bookending. "After finishing the EP, I realized "the breeze" is used in both the first and last song. Even though it was unintentional, having that lyric as the bookends for this project feels really significant. The breeze became this constant that stuck with me through to the end of the project. The first line of the first song, "our words flow with the breeze," next to the last line of the final track, "no one's outside, just me and the breeze," puts this perfect bow on the record and represents an inner peace that I found in the end."
"Drive" is, indeed, the perfect catharsis and a breathtakingly emotive, expansive send-off – for us, back into the world, and for BEL, as she venture on into her next project. Radiant and warm, it's a song "about taking the power back from my anxiety and prioritizing my happiness," she says – and she expresses such through glistening guitars, raw vocals, majestic harmonies, and sweeping melodies that coalesce in four minutes of pure passion and deep self-knowing:
No one's outside
Just me and the breeze
Bought a new record
Go for a ride
To forget my worries
I look at all these faces
But I don't know a soul
So I think of all the places
Of where I can go
Can go, and
I lose myself between these two doors
In slow motion with my pedal to the floor
I lose myself behind the wheel
I say where I go and how I get to feel
Between these two doors
And behind the wheel
---
Ultimately, BEL's debut EP showcases the best of her burgeoning talents and affirms her as an artist to watch.
It's a beautiful, heart-wrenching, stunning and stirring adventure, but the music isn't necessarily grandiose or bombastic; rather, BEL captures everything with a gentle, deft touch – blending breathtaking music with moving, meaningful sentiments and observations about herself and her surroundings.
"After years of saying I would, finally recording and finishing this EP helped me reach a point of growth and confidence in myself as an artist," she shares. "It feels good to finally let go and release these songs out into the world. I hope people can take away the same healing and strength that I felt while making this."
Experience the full record via our below stream, and peek inside BEL's Muscle Memory EP with Atwood Magazine as Isabel Whelan goes track-by-track through the music and lyrics of her debut EP!
— —
Stream: 'Muscle Memory' – BEL
:: Inside Muscle Memory ::
— —
Something Beautiful
"Something Beautiful" is about falling in love for the first time. It's that exhilarating, butterflies-in-your-stomach feeling of just giving in and letting go of the fear…when your brain feels like one big, fuzzy dance party. It's one of the happiest songs I've ever written & one of my favorites. It was as equally fun to play live at shows as it was to produce! It was a fun new side of my music to explore. I just wanted to make a song for people to dance to, and I hope that this one does that!
Treading Water
I wrote this song after graduating college earlier that year and having an existential crisis. I was feeling stuck and unhappy in my first full time job, so I decided to quit to focus on music. The song was a way of convincing myself to let go and follow my intuition even though it was pushing me into terrifying and uncharted territory. It's for anyone who's ever felt lost with what to do in life and is a reminder to follow your gut.
Isn't It Romantic?
I wrote this song after going through my first heartbreak last year. Everything the movies show about heartbreak always seemed so overdramatic to me until I went through it myself. I wrote it through a dramatic lense with some tongue-in-cheek lyrics because it really just felt so intense and silly at the same time. It's about the in-between period when you don't really have the closure you want and you're still really missing the person and their family and friends. It can feel so abrupt. I think no matter what side of the break you're on, it takes a lot of willpower not to pick up the phone and act like everything is still normal.
Hey
"Hey" is a response to "Isn't It Romantic?" coming from a place of closure and clarity. It's a transition from pain to acceptance, and feeling ok on my own again. I had finally reached a point where thinking about this person didn't cause me pain anymore. I imagined it like I was singing it in an empty dive bar after everyone's gone home for the night. It was a very healing process, exploring that echoey emptiness and filling it in with my own voice and harmonies.
Drive
"Drive" is a song for the people who, like me, plan their exit strategy at a party the second they arrive. I wrote it back in 2017 and played it at shows for a while before finally recording it this past year. It's about taking the power back from my anxiety and prioritizing my happiness. I was at a party full of people I just didn't fit in with and I was really in my head the whole time, so I wrote a song about it. I was reflecting on why I felt the need to fit in with people I didn't have anything in common with. I wanted to get out of the situation as soon as possible and just be alone and listen to music that made me feel good. It's ultimately a song about learning how to be comfortable on my own, in my own skin.
— —
— — — —
? © Cooper Leith
:: Stream BEL ::
---