From rotating around rooms to speaking in code, "Figure It Out" tells the story of Orla Gartland's perspective on anticipating breakup and hoping for something better.
Listen: "Figure It Out" – Orla Gartland
---
Fresh off a nationwide tour with English singer-songwriter, Dodie, Orla Gartland is now making her way into the spotlight with her own captivating and enchantingly honest music. Her latest single, "Figure It Out" encapsulates the feeling of restless hope and the pleasure of uncertainty as the indie-pop songstress wrestles with the idea of needing space.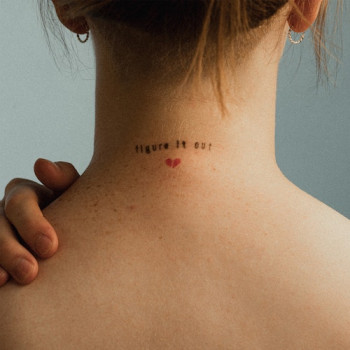 I, I know I never said it
But I thought that you'd figure it –
I see your name light up on my phone
I feel a little differently
about you than I did not long ago
You drank too much beer
and you got afraid
You don't remember typin' in my number
I say it's okay, it's not okay
In addition to 8 million streams on Spotify, Gartland has also gained herself a loyal audience of just over 220K subscribers on YouTube, where she has allowed her creativity in songwriting and alluring voice to shine for the camera. No stranger to the spotlight, Gartland has quickly become the next indie-pop artist on the rise. With her most recent EP, Why Am I like This? receiving unbelievable support from both fans and critics alike, Gartland is bringing her own flavor to the world's new wave of open and honest pop music everyone has been searching for.
'Figure It Out' is track 2 of my upcoming EP Freckle Season, a project where for the first time I allowed myself to write about a break up. I've always thought it was such a cliché topic but when I went through it myself and realised how isolating yet universal the experience can be, it felt wrong to write about anything else.
Written and produced fully by Gartland herself, "Figure It Out" is inviting. Opening with nothing but Gartland's soft tone reminiscent of a Regina Spektor sound and her guitar, the song is one that pulls listeners in, and consequently, you feel like you're dancing. Around melodies that sound as if their sung in circles and brilliant lyrical vocabulary, Gartland paints a detailed picture of a relationship that might start of slow and soft but ends with a tightness and pressure personified by rough strums of an electric guitar solo.
Gartland's tone of voice may sound soft at first, as she reveals the intricate details of things she notices about her atmosphere like the amount of "beer" that's been had, "typing in number[s]" into a phone, or "friends speaking in code." However, as the song progresses so does the volume of the music that backs her, and suddenly the song is laced over and over with tension. She takes her voice from a delicate falsetto to a booming and raging cry for hope. The line, "It's not okay," is completely confessional – a way of writing that Gartland doesn't shy away from.
Next new year's eve I'll see you there
We'll rotate around the room on different planets
I say I don't' care
But I care
On writing the track for her upcoming EP, Freckle Season, Gartland reveals that her song is about needing space, and the never-ending dance that two people in a rocky relationship can't seem to get out of. "The verses detail the frustration of us politely circling around one another in the aftermath of the breakup, seeing each other at a New Year's party, making conversation here and there… and then the tension builds towards the chorus and I just lose it," says Gartland. "I wanted the contrast in emotion between these two parts of the song to feel like night and day."
---
Night and day it is. By the track's halfway point, it becomes obvious that this song isn't your typical love ballad. Gartland's captivating melodies mirror the way an addicting pull of a kind of relationship you shouldn't be going back to, yet you find yourself searching for anyway. Her admittance to her faults in the song goes unmatched when in comparison to how listeners can truly hear how hard Gartland is hoping. It's the acknowledgment that neither parties in this song are perfect, but one clearly needs to face reality. Layered over her own harmonies, the last of the song's choruses showcase a near to hard-rock vibe for the singer.
I know I never said it
But I thought that you'd figure it out
Don't have the heart to break it
So I'm hoping you'll figure it out
When the thrill of loud guitars slowly dies away, one of the most intriguing things about "Figure It Out" is that Gartland never clearly states exactly what she's hoping the person she's singing to will realize – and what's more incredible is that her voice is one who's soft, breathy, calm tone will leave you left to wonder. When Gartland uses her voice to suddenly reveal emotion in the choruses – anger, frustration, peak tension – it's easy to see why the singer's music makes it easy for audiences to relate to and praise, as they see themselves in all the small, but impactful life moments that Gartland exemplifies through her song.
Set for release on February 21, 2020, Orla Gartland's EP, Freckle Season, will feature breathtaking songs like the fiery "Figure It Out," and her bluesy, rhythmic track, "Did It To Myself." If the success of her 2019 EP, Why Am I Like This? was any indication, you're not going to want to miss what Gartland has in store for her music in the new year.
Listen: "Figure It Out" – Orla Gartland
— — — —
? © Orla Gartland 2019
:: Today's Song(s) ::
:: Stream Orla Gartland ::
https://open.spotify.com/artist/3ajf12ub55b51qcS94d9Co?si=iGqxNdPkTBKOde2h4jFEYw