On the new album 'The Fall of Hobo Johnson', Hobo Johnson does just that.
'The Fall of Hobo Johnson' – Hobo Johnson
---
Unfortunately, being quirky isn't a personality trait. It's also not a musical genre, and someone should tell Frank Lopes Jr. On his third full length album as Hobo Johnson, Lopes attempts to ride off of charisma and the wave of success that followed his viral NPR Tiny Desk submission last year. The album, accurately titled The Fall of Hobo Johnson, is a retread of the mediocrity and freshmen English poetics of his previous album.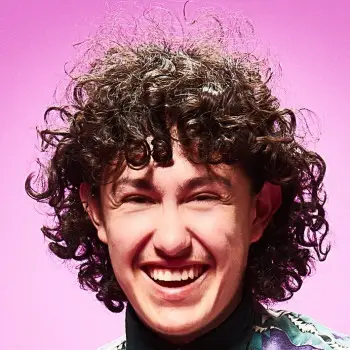 The whole of Hobo Johnson can be summed up in the album's fourth track "You & the Cockroach."  The track is an entry level atheist take down of religion and government.  Even if you agree with the points Lopes makes throughout the track, it's insufferably condescending and unfunny.  He talks like your annoying friend who does improv with content that sounds like it was written by your dorm's resident conspiracy theorist.  The instrumental could be written off as intentionally goofy, but the beats on so many of the tracks are built on jumpy cuts like here.  While this could be interesting, it seems the jumpy nature of the constantly shifting tracks is to cover up the fact that none of the songs are that interesting without Johnson's stoner stoicism over them.  "Typical Story" is built on a genuine hard rock track that just rips off "Loser," without the laidback charm.  "Subaru Crosstrek XV" is a silly attempt at trap, but Lopes' sense of humor is too obscure to be funny, and the beat is too lazy to be good.  The lack of consistency seems to articulate the larger lack of vision that Lopes has for his project.  He cannot decide if he's a rock musician who raps or a rapper with crossover appeal.  Any subject he explores in his music lacks depth.  You cannot get invested in his mental health, comments on fame, relationships, or views on religion and politics, because it seems like he doesn't seem invested either.
---
The album's high point comes in the penultimate track, "Sorry, My Dear."  Riddled with autotune, Lopes spills his heart out a la 808's and Heartbreak or "715 Creeks," and you can hear genuine emotion through the distortion.  Still, a further exploration of the track shows that the nature is a jumpy reflection on mortality, the future, and his relationship that we still know nothing about.  A further reflection on the rest of the album and his previous work The Rise of Hobo Johnson is that Lopes can do one thing good at a time.  On "Sorry, My Dear," he really bares his emotion, and it's engaging.  Throughout the rest of the album, he relies solely on personality.  Whether he's boisterous and energetic on "Ode to Justin Bieber," solemn and self-reflective on "Ugly Kid," or screaming about depression on "February 15th," you can only enjoy as much as you buy into his Hobo Johnson persona, and I don't.  He's just Hollywood Undead for people who smoke weed.
---
What Lopes doesn't realize is that seeming half-assed and being half-assed are two completely different things.  Even though an artist like Post Malone may give off a goofy, slacker image, he works hard and carefully crafts the image he wants the listener to perceive.  Hobo Johnson carry the image into their art too closely for the product to be enjoyable.  The average person's enjoyment of this album will depend solely on how much they enjoy the Hobo Johnson persona, because any traction that came with his awesome Tiny Desk submission has died down.
Plenty of artists have thrived on the philosophy of personality over songs.  For some artists, there are factions of fans that appreciate an artist's persona over their music.  Father John Misty, early Tyler, the Creator and various points of Kanye West's career all come to mind as artists who have had fans of them who may not even enjoy their music.  Still, each of these artists did have the songs to back up the image they wanted to project.  Hobo Johnson is all persona without interesting music that comes with it.  The Fall of Hobo Johnson only magnifies the issues that made The Rise of Hobo Johnson a slightly enjoyable yet flawed record.  The Fall of is a flawed, unenjoyable record that showcases the worst aspects of Hobo Johnson.  Perhaps, in the future, Lopes will be able to narrow his vision and create a cohesive album with depth.  Maybe, if he gets a dog.
— — — —
? © 2019 
:: Stream Hobo Johnson ::