Singer/songwriter Santa Chiara brings love, longing, and sweet summer nostalgia to life on her sun-kissed song "Peach Tree," a radiant indie rock dream – and her first single since signing to Kill Rock Stars!
Stream: "Peach Tree" – Santa Chiara
---
Simplicity might be the key to the golden life we want to live…
After a long, cold North American winter, the spring sun is finally heating up our lives once more. Summer is right around the corner, and with it comes a season not just of extra warmth and daylight hours, but one of ease, connection, and reverie: There's something about this time of year that makes us want to celebrate the sheer act of being alive, and in many ways, that's exactly what Santa Chiara does in her new single. A gentle, golden-hued song of love and longing, "Peach Tree" is a sun-kissed soundtrack to sweet summer nostalgia channeling relief, hope, heartache, and more into a radiant indie rock dream.
You know might be a crazy thought
but I've got a gut and I am a little cork
the bird east side is telling me to go outside
There are brighter times to be alive
not to waste anybody's time
but I think might be worthwhile
Don't you see
it is now just you and me
You look so tired darling my dear no
don't live in fear
Finally we saved this pink peach tree
I thought I'd never seen it outside
of my own dream
Atwood Magazine is proud to be premiering "Peach Tree," Santa Chiara's first release of the year and her first single since signing with legendary label Kill Rock Stars. The moniker for Italian singer/songwriter, multi-instrumentalist and producer Chiara D'Anzieri, Santa Chiara has found her niche in that gray area where the "indie rock" and "indie pop" worlds overlap. Previous tracks like "Dear Friend," "Always Before (The Fire)," and "Love Will Take You from Behind" – all from 2022 – highlight D'Anzieri's multifold talents not only as an expressive vocalist and colorful melody-maker, but also as a producer. A classically trained artist who spent her youth and teenage years studying cello in the conservatory, D'Anzieri picked up the guitar almost as an act of rebellion (the conservatory was strict about students focusing on their chosen instrument only), and immediately found with it a new voice; she has pursued a music career ever since, taking ownership over the full creative process – from writing to recording to production and beyond.
"Peach Tree" is, without a doubt, one of Santa Chiara's brightest songs to date – even if it does come with a few clouds. She wrote the music for the song back when she and husband Ron Gallo lived in Nashville, which she lovingly refers to as her American hometown (it was her first house upon immigrating to the US from Italy). The lyrics, as she explains, came later on in Philadelphia, where the two presently reside, as she dwelled in a space of heartfelt nostalgia for what now seems like such a simpler time in their lives.
"This is a song of pure nostalgia about being in Nashville and taking care of what we thought was a dead peach tree in our first house backyard," D'Anzieri tells Atwood Magazine. "Turns out, with some love, we were able to save it – and spending time there, listening to the same cardinal bird singing everyday, walking our side of town and driving around listening to our favorite music wasn't so bad of a lifestyle. This song was born in two steps: I initially wrote the music solo and it felt so joyful and had almost like a relief feeling to it. Then, three years later, I watched a video of me and Ron running around that tree and playing fetch, right before the combination tornado plus COVID hit Nashville. I felt sad, nostalgic, and happy at the same time. I wrote lyrics. Words felt right on that music."
It's a metaphor for leaving a simpler life and, last but not least, a bit of saudade about missing Nashville and our life there.
Listening to "Peach Tree," we can almost taste the warm Tennessee breeze D'Anzieri channeled into her song. She holds nothing back as in fondly remembering a not-so-distant, yet unreachable past:
Simplicity might be the key
to the golden life we want to live
drive around and walk our side of town
Our souls are just like plants and seed
they need good care some love and breeze
I feel this might be more than just a dream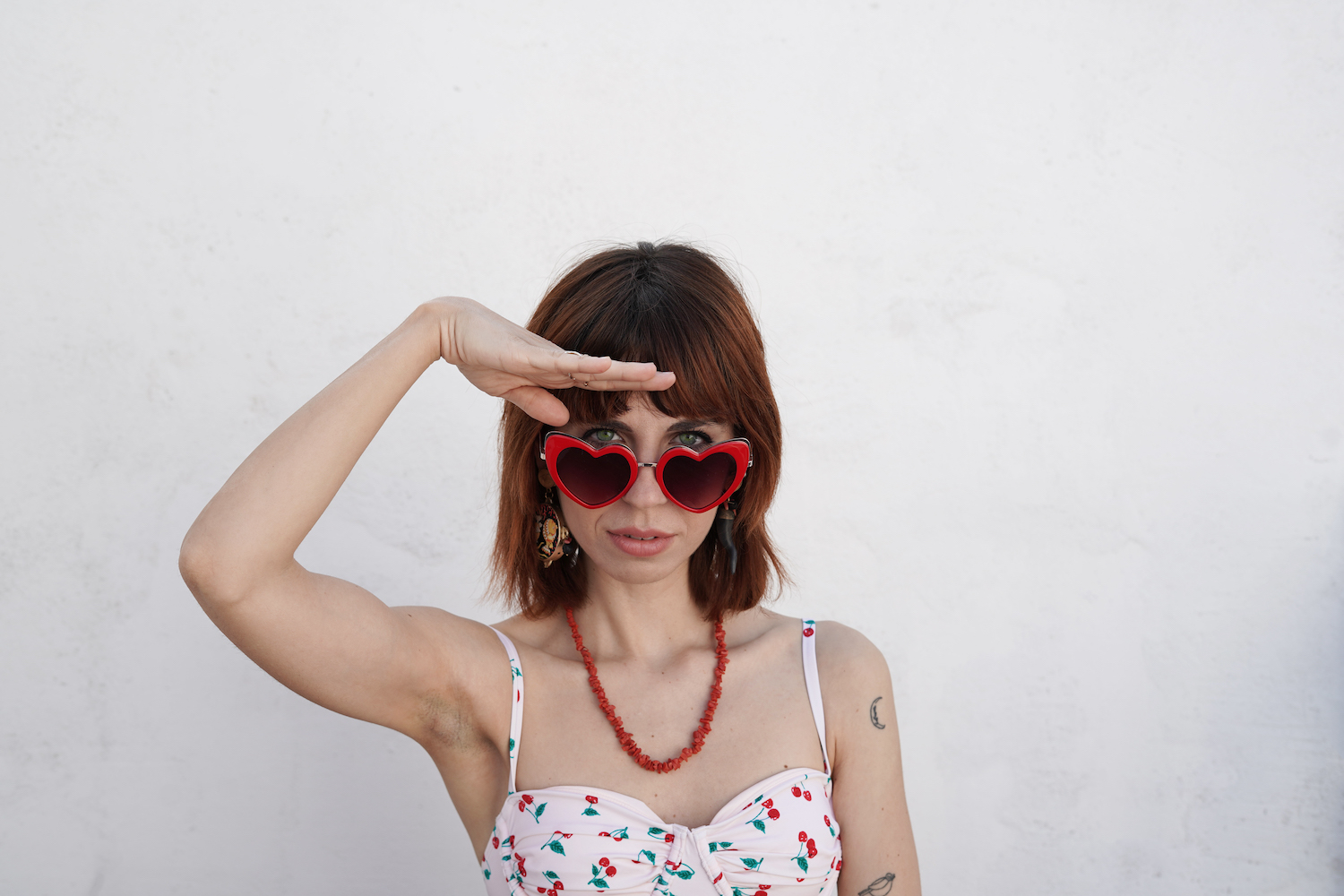 In addition to being a remarkable addition to an ever-expanding catalog, "Peach Tree" is notable as Santa Chiara's first single together with Kill Rock Stars.
For her, being with such a storied label is a dream in its own right. "Never could I imagine I'd find myself being part of Kill Rock Stars," she beams. "It is such a big deal for me. I am beyond happy and blessed to be on the same label as one of my favorite artists, Elliott Smith, someone whose music has stayed with me during so many moments of my life."
There's plenty of dreaming to go around, and it all starts with "Peach Tree." Stream Santa Chiara's beautiful new song exclusively on Atwood Magazine!
Don't you see it is now just you and me
You look so tired darling my dear no
don't live in fear
Finally we saved this pink peach tree
I thought I'd never seen it outside
of my own dream
— —
Stream: "Peach Tree" – Santa Chiara
— — — —
 © Zoe Salvucci
:: Stream Santa Chiara ::
---