If you've never heard of Iris Lune before, that's because they just released their debut single, "Bring Me The Moon," about two weeks ago. "Bring Me The Moon" is also the reason you should remember the name Iris Lune from here on out. Like a seductress, this young single lures listeners in with its enchanting, strung out Middle Eastern electro-folk influence. Lead singer Ella Joy Meir's voice is hauntingly breathy as she slowly sings the song's opening lines: "Build me a line in the ocean / I'll come there every spring / Between the codfish and the whales / Who knows what I might bring?"

Ethereal and polyrhythmic, "Bring Me The Moon" offers a new take on today's electro-folk music. It's not often we get to hear the clashing of Eastern and Western influences, but Iris Lune are definitely a step in the right direction. They build up a store of energy through two rounds of verses and choruses, pushing ever so much harder on every successive line, like they're waging a war against time and using "one very long, gradual crescendo" (Ravel's words, not mine) as their primary weapon.
The point of climax also ends up being a pivotal moment of change for "Bring Me The Moon," as the ecstasy of the second chorus overflows into a dark synth-pop bridge/post-chorus.
What?
Yep, that's right: In the midst of all the cool, Iris Lune throw in that little extra glow to make their song stand out that much further among the masses. This new direction echoes the chorus' sentiments, yet it is a wholly original section, lasting for about a minute and change with the support of synthesizers that ebb and flow like the tide itself. Were Iris Lune cognizant of this comparison at the time of the song's development? Did they make that connection? Who knows. Truthfully, is that it doesn't really matter.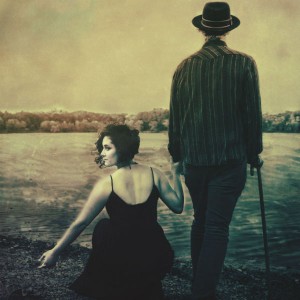 What matters is that you listen to "Bring Me The Moon" and get as excited as we are for Iris Lune's debut EP, out Fall 2015! If you haven't already listened yet, you can stream "Bring Me The Moon" via the link below. Iris Lune create a sonic cultural fusion that makes their debut single remarkably unique for this time period. "Bring Me The Moon" may lack the sort of bombastic, dynamic juxtaposition that typically makes my ears wiggle back and forth, but Iris Lune make up for that both in musical creativity and in sheer uniqueness. I am completely entranced by this song's fresh sound, so to Iris Lune's request, I reply: "Just say the word and I'll throw a lasso around it and pull it down." Hey, that's a pretty good idea…
Check out Iris Lune's "Bring Me The Moon" now and let us know what you think! Recommended if you like Radiohead, Sky Ferreira, Lana Del Ray.
Listen: "Bring Me The Moon" – Iris Lune
Like Iris Lune on Facebook  /  Follow Iris Lune on Twitter