An enchanting escape exploring intense intimate depths, Erthlings' urgent return "Irrational" is a stirring indulgence of shoegaze-y dream pop and relatable anxiety.
Stream: "Irrational" – Erthlings
---
Self-awareness is a learned trait; it doesn't come to many naturally, instead requiring practice, attentiveness, and plenty of mental effort to finesse. Nevertheless, Erthlings seem to slip effortlessly into a self-aware, self-reflective state of mind in their tantalizing new single "Irrational," a stirring indulgence of glistening dream pop and internal anxiety.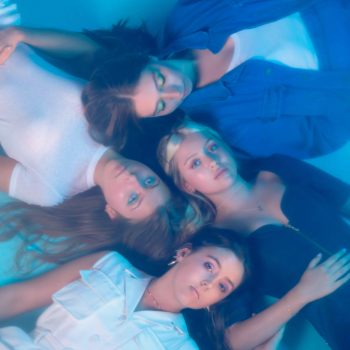 I do this sometimes shouldn't feel it
its still on my mind didn't mean it
All the rage that I felt
you know it came from somewhere else
always does
Always does
Its not what I planned
Its hard to understand
might not be justified
used to be alright
Atwood Magazine is proud to be premiering "Irrational," a fantastic return for Erthlings as their first single since 2019's debut EP, Indigo. The Sydney, Australia-based four-piece of Issy Lowe, Jessame Stepto, Taylor Shutes and Lissa Evans, Erthlings met at age 8 in Sydney, started writing songs when they were 12, and began releasing music around age 16. It feels only fitting that at 18 years, they would release a song about dread and anxiety – coming, of course, at a time when their world has literally and figuratively been on fire.
A fervent dream pop overhaul of heavy sound and deep emotion, "Irrational" finds the band in fine form as they lean into their darkness. "Releasing 'Irrational' is a bright spot in a cursed year," Erthlings tell Atwood Magazine.
"'Irrational' is probably our fave song to date!" Jessame Stepto notes. "It was one of those songs that we wrote super quickly and we had amazing people around us who made the process super fun and chill. We're so proud of how both the video and song have turned out and hope everyone will enjoy them just as much as we do!"
Lead singer issy lowe's plaintive vocals resonate in a sea of cinematic, lush shoegaze-y guitars and synths:
Get this feeling that you're questioning me
but this point of view is only temporary
you call it an irrational state of mind
I hate when you expect everything to be fine
to be fine
It's not what I planned
It;s hard to understand
might not be justified
used to be alright
It's a wall; a wash; a turbulent uproar that never reaches its crest. Rather than rise and fall with full force, Erthlings opt to dwell in the mellows – and the result is a dreamy escape exploring the depths of the self without offering that long-sought after emotional release.
"I'm very keen for the song to be out!" Lissa Evans shares. "It really just reminds me of the whole fun process of writing it, filming the video and getting to work with so many awesome people! It was the best escape from my room and studying during the HSC (High School Certificate, something all Australians must take and pass to graduate high school)!"
Taylor Shutes adds, "We first started working on 'Irrational' at the start of the year and it's been one consistent project we've been able to focus on throughout this uncertain period. Between writing, recording and filming the video, producing this song has proven to be a really great creative outlet during an already stressful year of HSC work, heightened by the impacts of coronavirus. The song's about looking back on a time where you've over reacted and recognising your mistake, an idea that seems relevant as it's all about gaining perspective, something most of us have done during 2020."
"Irrational" is a big step forward for Erthlings: They know it, and we know it, too. "Working on the 'Irrational' video shoot was crazy- everything was bigger and better than anything we'd done before," Issy Lowe says. "A bigger crew, location, everything. Everywhere we looked we saw face masks and hand sanitiser but it was so cool to be able to do something worth while during this time that is often creatively draining. The drive home from the set at 2:00 in the morning was also really interesting."
In reviewing Erthlings' Indigo EP last year, I wrote, "Their five-track debut is a dreamy, jangly delight harping on themes of love and connection, growing pains and life's change, and more. Seemingly wise beyond their years and all the better for it, Erthlings have their fingers on the pulse of modern pop; it goes without saying that they are Sydney's next "IT" artist."
Erthlings have doubled down on their sound this year, returning with an astonishing depth and timbre that captures the inner and outer angst that is, has been, and will continue to be 2020. "Irrational" speaks to all our fears, woes, and insecurities – reminding us we're not along in our plight, despite feeling alone right now.
Stream the new single exclusively on Atwood Magazine!
— —
Stream: "Irrational" – Erthlings
— — — —
? © Cybele Malinowski
:: Stream Erthlings ::
---