Making music under the name Peach Luffe, Toronto's Jong Lee weaves a beautiful, sweet tapestry of sound and hauntingly intimate sentiment in his wondrous 'Shimmer' EP.
Stream: "Shimmer" – Peach Luffe
---
The EP was inspired by shimmering light that passes through the clouds. It reminds me that the world is beautiful and gives me hope.
An artistry built out of freedom and wonder, emotion and drive, Toronto's Peach Luffe is here to enchant your ears and charm your heart.
Music has long had the power to seduce, but seldom has that seduction felt as fun and freeing as it does on Peach Luffe's first official debut EP, Shimmer (independently released today, July 29, 2020). A gorgeous encapsulation of beautiful, sweet sounds and hauntingly intimate sentiments, Shimmer is an immersive world unto itself that brings us closer to the artist than ever before – and considering the already immense vulnerability of this artist's past work, that's saying something.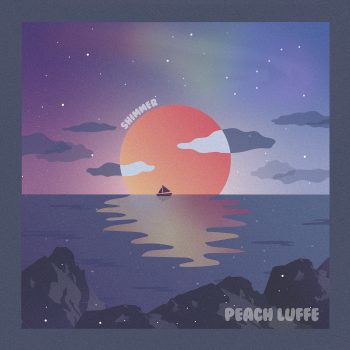 The musical moniker for South Korea-born, Buffalo-bred, and now Toronto-based singer/songwriter Jong Lee, Peach Luffe came into this world just under a year ago with the August 2019 release of "On My Side." Prior to that, Lee had been writing and releasing music under the name Jong SL. "The singer/songwriter displays his personal strife between Eastern and Western cultural identities, understanding who he is in relation to both himself and to those around him, through his vibrant, beautifully melodic and bittersweet songs," Atwood Magazine wrote back in a 2018 premiere of Jong SL's song "Old Times Sake."
According to Lee, the decision to rebrand had been some time in the making, and the name just felt right. "I always wanted an artist name but didn't think of one and just released music under my own name," Lee explains. "I finally thought of something that clicked! My favorite manga/anime characters are Luffy (from One Piece) and Goku (from Dragon Ball Z), and I felt like I relate with Luffy more so than Goku. Also I love peaches, and I like putting together things that don't match!"
Lee's reflections on his similarities with the One Piece character Luffy reveal much about his self-perception and self-identity. "[Luffy's] greatest goal is to have the most freedom in the seas. Because of my citizenship and visa, I feel like I've been shackled down all my life. I wanna be free to do whatever I want to, which is music.Personality-wise, he's kinda air-headed, somewhat like me I suppose, but it's not a bad thing! He's still amazing at what he does and his determination, just like Goku's, is unrivaled. I've been called a workaholic numerous times but hey, I'm trying to unlock my inner anime determination!"
In trading in Jong SL for Peach Luffe last year, certain aspects of Lee's new artistry were immediate and obvious: "On My Side" is a buoyant indie pop indulgence, its high-flying vocals, gilded guitars, and saccharine melodies a bright shift away from some of Jong SL's more poignant and acoustic singer/songwriter material.
---
"Here I am, trying to make the music dream come true," Lee shared at the time. "I feel like that alone is my inspiration. I want to work hard and smart so I can do what I want to do. Musically, I find the new indie pop amazing! I love how they use interesting chords that spice up the texture! I got to a point where I'm actually excited to listen to my own music. Before, I just made it, released it, then didn't listen to it. Now I'm finding joy in listening to my own music. I'm finally making music that I enjoy making, playing, and listening!"
While "On My Side" and its lush follow-up "Wave" are not present on Shimmer (consider these transition songs if you will), Peach Luffe's new EP does include more recent singles "Fairytale" and "Rollercoaster" (along with acoustic versions of both tracks). In speaking of the record's creation, Lee notes the largely organic and natural process by which this new music came to life:
"This entire record was recorded and mixed on my laptop in my apartment!" he shares. "I used an acoustic guitar, electric guitar, bass, violin, MIDI keyboard and one vocal mic to record the entire thing. I did about four revisions on each song, and this is what came out of it. I would write the first draft of lyrics and send it to my friend in Buffalo and he would help me revise it. Some of my grammar and phrasing can be really rough [laughs]. During mixing, I realized how picky I was. But looking back, some of the musical decisions like lowering the guitar by half a decibel or something doesn't even matter. For the future, I know I'll be more easy going. Special thanks to Will LaShomb for helping me with lyrics and Michael Friedman for programming drums (we used our MIDI keyboard to make the drums) and helping me with the mix and mastering it. I'm really grateful we can do it all in house."
According to Lee, this is him at his finest and Peach Luffe at its finest: Shimmer is the music through which Lee wants you to discover him.
"This is the first project that I'm genuinely proud of. I feel like I've finally found the sound I was looking for or at least I'm in the right direction. I'm proud of every single song."
I'm just happy that I made music that I would want to hear instead of making music that I think people want to hear!
The EP's track "Fairytale" immediately whisks listeners out of this plane and into the next, its introduction reminiscent of early Flaming Lips psychedelia before Lee bursts into a chorus that dazzles as it soothes:
Underground paradise
I miss the sunlight
Silence day by day
I wish you would stay
I'll drive around the town
To see you safe and sound
I'm afraid I might get lost
Along my way
Fairytales and Sunshine
Moonlight and Paradise
And I'm terrified by that
Terrified by that
Terrified by that
Can't you see?
---
Following tracks "Your Blue" and "Rollercoaster" bring melancholy emotion to the fore with soulful style and delicate, light touches of harmony and orchestral flourish. These tracks, so full of life and feeling, capture the spellbinding kind of music Lee has long aimed to create; they are vibrant, yet deep, comforting yet isolated.
Such is the case throughout this powerful extended player: "Shimmer EP is about struggling with yourself and loved ones," Lee tells Atwood Magazine. "In following my music dreams so much so that I even moved to another country, I felt a lot of self-doubt, loneliness, and heartbreak, as if I sometimes didn't deserve happiness. The EP was inspired by shimmering light that passes through the clouds. It reminds me that the world is beautiful and gives me hope."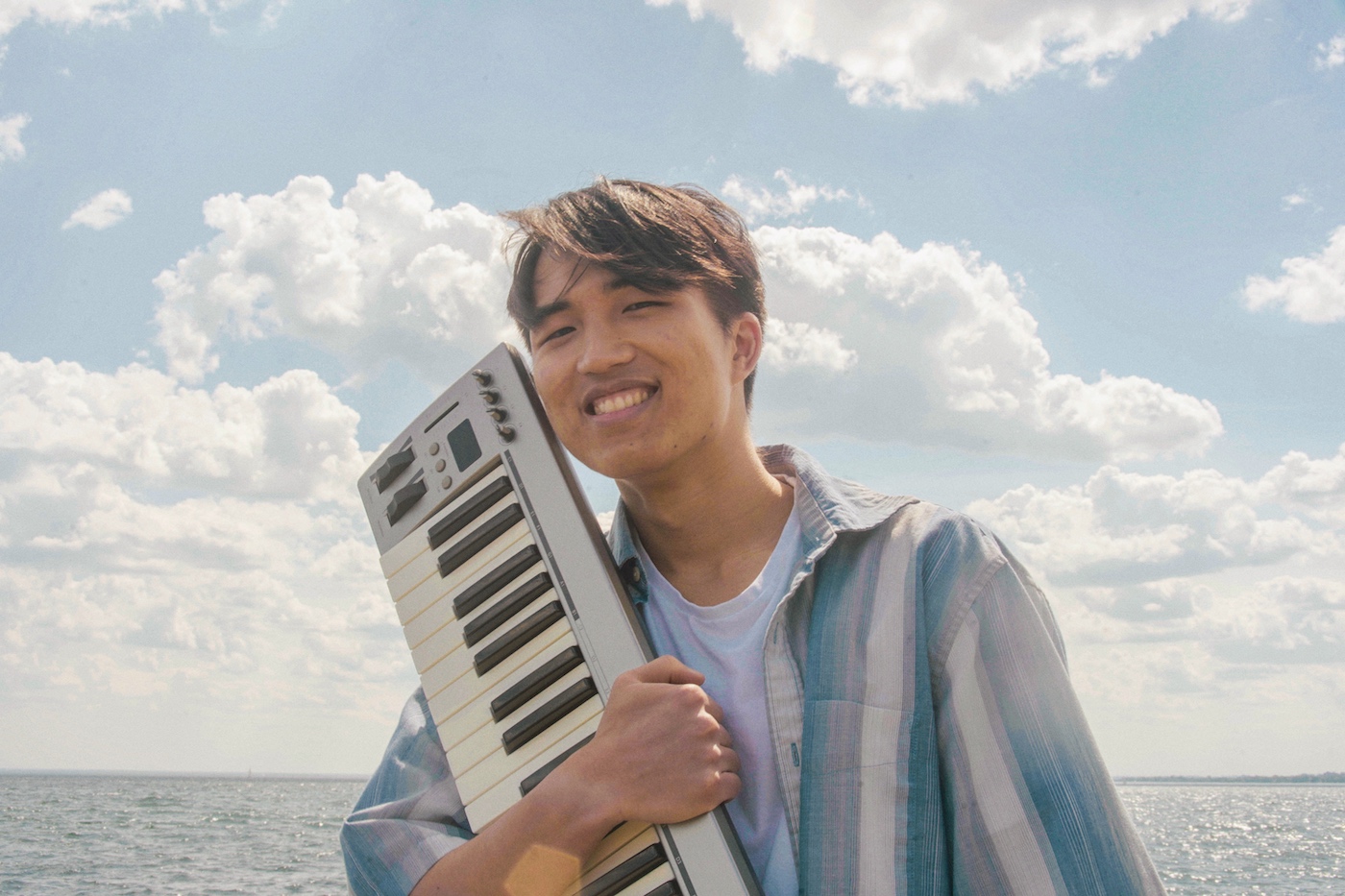 Peach Luffe self-describes as a "Melancholic Singer-Songwriter," and while the shoe certainly fits, there is so much more to Jong Lee's budding artistry than these words alone suggest. His music is an alluring, indulgent tapestry of tasteful dreamy sounds and flavorful indie pop textures that inspires the most vivid corners of the imagination. Colorful and uplifting in spite of itself, Peach Luffe reminds us that we're never alone; that life is beautiful; and that each of us has a little bit of magic in our hearts.
Experience the full record via our exclusive stream, and peek inside Peach Luffe's Shimmer EP with Atwood Magazine as the artist goes track-by-track through the music and lyrics of his sophomore EP!
— —
Stream: 'Shimmer' – Peach Luffe
:: Inside Shimmer EP ::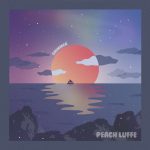 — —
Fairytale
The song is about being uncomfortable of being happy. To me, it represents a relationship that's perfectly fine but from my perspective, it's failing. In reality, I'm just sabotaging myself and creating problems that don't even exist. All because I don't allow myself to be happy and I'm afraid of losing that feeling. Recording and mixing wise, this song was the easiest but I'm not sure why. Anyways I found a really good preset on a waves plugin called J37 during this song and it's on almost every lead guitar for all my future songs. I am addicted to it. 
Your Blue
Your Blue is about being away from the ones you love. Every winter, I get jealous of those big family get togethers for the holidays. It's something I never really had. Anyways, It makes me reminisce about the old days when everything seemed alright. This song was written, recorded, mixed in a week. I challenged myself to write as fast as possible and it worked. Before I would spend a full month on each song and that's too long. Anyways I really love the violins in the song. My violin degree actually came in handy haha!
Rollercoaster
This song is about mood swings and how it affects our relationships. For me, whenever someone is feeling down, I always want to comfort them but sometimes I overstep and make the situation even worse. It's a bad trait of mine. I'm starting to understand that people sometimes want to be sad alone. This may be my most pop song yet? It's not up for me to decide. Oh, this song is the first and only song that I added a key change. I felt so cool haha!
Shimmer
I felt like the EP was missing something, then my friend Emmanuel suggested that I make an instrumental somewhere in the EP. For each record I do from now on, I'll add an interlude. This interlude represents the sunrise on the water. It contains sounds and textures I used in each of the songs such as an arpeggiator, soft piano, guitar with that J37 tape.
With Me
I thought of the idea of this song in IKEA. I was shopping and got really annoyed at something so trivial. It made me realize that I need to work on that. And that I'm extremely grateful for people in my life being so patient with me. This song had a lot of acoustic guitar but I don't think it made the cut. The song is mostly electric guitar and soft piano. I think this song was the perfect ending to the EP, it feels like closure.
— —
— — — —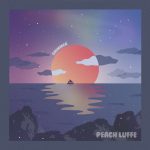 ? © Emmanuel Teji
:: Stream Peach Luffe ::
---