Lucero frontman Ben Nichols reflects on the band's twenty years of rock n' roll, diving deep into their raw and rugged tenth album 'When You Found Me' – a sweeping and expansive outpouring of dark heartland passion full of grit, charm, and a hearty dose of "deep-fried Southern soul."
Stream: "When You Found Me" – Lucero
---
Lucero has always been a balance between the soft and the loud, the delicate and the raucous.
Memphis long haulers Lucero have soared into their third decade together, wearing their charismatic grit and Southern rock soul like two hard-won badges of honor. Rugged and raw, feverish and finessed, the band sound as good as ever on their tenth album When You Found Me, a sweeping and expansive injection of dark heartland passion born out in songs steeped in reflection and connection, family, discovery, and nostalgia.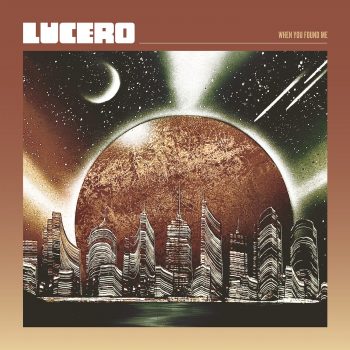 She says she's alright
The words fall from her lips
She looks into my eyes
The whole horizon shifts
Words, they ring hollow
An honest way to lie
She says not to follow
And I don't ask her why
Hey, little girl, you've got a long way to go
It's late in the night and the moon's sinking low
Doesn't matter which way you take out of town
Being good as gone ain't good enough now
Released January 29, 2021, Lucero's When You Found Me offers a wellspring of songs in which we can listeners can sit and lose themselves, if only for a while. The band of Ben Nichols, Brian Venable, John C. Stubblefield, Roy Berry, and Rick Steff continue to dwell in the special signature country blues rock space they carved out for themselves over twenty years ago, attacking their new material with an effervescence typically reserved for groups far younger and newer than them.
Incorporating synthesizers and a vast atmospheric sound, When You Found Me arrives in the wake of 2018's critically acclaimed Among the Ghost, itself a reinvigorating record that seems to have awakened something within the Tennessee quintet.
"It was both exciting and daunting starting the writing process for the new record, because Among the Ghosts is overall my favorite Lucero album," frontman Ben Nichols tells Atwood Magazine. "I  wanted to continue on the same path but also wanted When You Found Me to have its own sound and atmosphere. When You Found Me takes the classic rock elements of Among the Ghosts and runs with them. On Among the Ghosts we'd experimented with Mellotron and other sounds we hadn't used before. We pushed that further on When You Found Me. My keyboard payer Rick Steff brought in old and new synths and we messed around with those quite a bit. The songs have a certain character to them because of this that hasn't been on other Lucero recordings. I really like the mood it sets."
Nichols expresses himself with humility and excitement: He owns a certain reverence for all he and his band mates have done throughout their career, while speaking like the best is yet to come. You might say there's a twinkle in his eye.
"I thought Among the Ghosts was our best work to date, and I feel like I've just kind of figured out the best way to record Lucero songs in the studio," he remarks. "It was a lot of fun using what we've learned over the last 20 years to make When You Found Me. I'm happy to say that I still like most of our old songs and I think the old stuff is well written, but now that I'm more comfortable in the studio I can't wait to keep writing new songs so that I can get back in the studio and we can use what we've learned. We are slow learners I guess.
In addition to representing a special milestone in their career, 2021 marks the 20th anniversary of the band's self-titled album, Lucero.
"I'm very proud of our self-titled record," Nichols says. "For a bunch of young men who really had no idea what we were doing it holds up remarkably well. At the time my idea of what I wanted Lucero to be was still coming together and I think you can hear a lot of where Lucero was going to go in the stuff we tried to do on that first record. The country elements are there, but so is the refusal to be locked into one sound or genre. The songwriting is pretty simple but I think it's solid and laid a great foundation to build upon."
For longtime fans, 2001's debut album Lucero is "classic Lucero" – an album that has stood the test of time and continues to resonate to this day.
"I've always been a big fan of 'Hold Fast,'" Nichols reflects. "Short and simple, but I think it has a lot of emotion. "Better Than This" and "It Gets the Worst at Night" are two of my favorites as well. There is a lot of stuff on that album I still love to play to this day."
---
Nichols doesn't have his sights set on the past, however; his heart is in the present, and his mind already on the future. "Each album holds its own place in my heart. They are all very personal. I think Among the Ghosts might be our best synthesis of songwriting and production up until When You Found Me, but even the old records I don't think are played or recorded the best they could've been, I still hold them near and dear."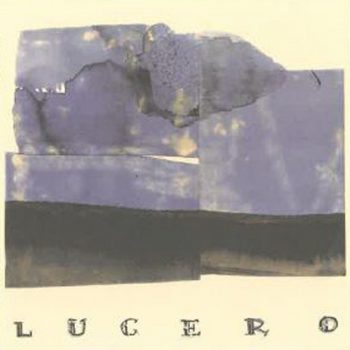 The past two decades have seen Lucero mature, grow sonically, and maybe even learn a thing or two about songwriting, arranging, and production. "We've come a long way from recording The Attic Tapes in Brian Venable's Dad's attic on a Tascam cassette 8-track," Nichols notes. "One of the lucky parts about being from a place like Memphis is having all of these amazing historic recording studios around and all these folks that have been a part of Memphis music heritage and learning from them and getting to work with them at these places that just don't exist a lot of other places. If I could go back and tell myself one thing I've learned it would simply be to ease back and take it a little easier. The voice, the tempos, the mixing process… take your time. Don't push it or rush it. Unfortunately in the old days you had no choice but to rush things sometimes. But I guess we did the best we could with what we had. I guess that's what we are still doing today. And I'm still trying to learn to ease up and not push things too hard."
Fast-forwarding through eight additional studio albums and one live DVD, and we get to the beginnings of When You Found Me. What began in the wake of Among the Ghosts took on a whole life of its own as the COVID-19 pandemic separated Nichols from his bandmates.
"By the end of 2019 it was time to think about getting back into the studio, so we booked some time for Spring of 2020 at Sam Phillips Recording Service. We had worked there before with the amazing local producer and engineer Matt Ross-Spang and knew we wanted to work there again. The studio happens to be half a block away from our rehearsal space and Matt is an old friend so it made for a very laid-back-hometown working atmosphere. Due to the lockdowns the recording got delayed for a few months and I spent extra time fleshing out the demos. That made for a slightly different experience in the studio because the focus was less on writing parts and more about stripping parts away to reveal the Lucero songs underneath these dense demos I'd made, isolated from my bandmates. But even though the process was a little different, the end result was exactly the Lucero album we needed and wanted to make in that moment."
The pandemic couldn't keep Lucero apart for long, but it certainly played some small, pivotal role in guiding When You Found Me's sound and sentiments.
"Because of the lockdown I spent a lot more time with these songs by myself before taking them to the band," Nichols explains. "These songs were written in an isolation that usually doesn't happen. Maybe the lyrics are a little more introspective because of this isolation. Lucero lyrics have always been fairly personal things and the subject of family has always been an element in the songwriting but maybe it was even more so on When You Found Me because I was home with my family around me all the time. The only song that really even looks at the outside world is "A City On Fire" and that is really more just a mood or an emotion more than a comment on what's actually happening out there in the world."
---
Nichols says his vision for the album transformed considerably over the course of writing and recording. "On the demos I'd made an overly lush and dense soundscape using a bunch of sounds that Lucero had never used before," he says. "The process of taking these to the band and then whittling away at everything until the songs revealed themselves ended up making this a unique Lucero album. It's rare that I start with so much. Too much. But editing and simplifying and boiling everything down has always been important part of the process and it worked for this album."
The poignant title track "When You Found Me" and Tom Petty-esque song "Outrun the Moon" served as the album's pre-release singles, previewing a record that combines the familiar with the new with grace, tact, and a fair amount of dirty overdrive.
"Lucero has always been a balance between the soft and the loud, the delicate and the raucous," Nichols shares. "I think "Outrun the Moon" is a great rock & roll song that also has a lot of the synth sounds that make this album unique in our catalogue. Following that single with the stripped down and more traditional sounding "When You Found Me" seemed appropriate. Everything that makes Lucero what 'Lucero is' is on this album."
---
Nichols also shares two of his own personal favorite parts of the new album: "Both are moments when a song that has been slowly building and building kicks in and lifts everything to an even higher level," he beams. "This happens in both "Have You Lost Your Way?" and "Pull Me Close Don't Let Go." In the first song it is an extra guitar that comes in at the bridge and along with the drums gives the song an impact that works really well as the first track on the album. In "Pull Me Close Don't Let Go" it is a shift in the drums that drives everything in the second half of the song. Moments like these are always what make songwriting and recording so much fun."
I found my way
Back to you
Was gone too long
But I was always true
We did not know
If we'd make it through
My love, we did
What we had to do
Pull me close – don't let go
---
Despite a few new bells and whistles, what makes When You Found Me truly remarkable is how definitively Lucero it sounds, looks and feels.
Few bands have weathered the years as well as Lucero have, and even fewer have had as influential an impact on music and culture as the Memphis heavyweights. For all their years and many achievements, Lucero continue to sound fresh, confident, and exciting: Not only do they hold the mantle as one of the 21st Century's premier independent rock bands, but they also seamless marry rock and roll with country and blues in such a way that, despite everything, continues to feel remarkably unique. It's that Lucero spark – a sound and feeling, twenty long years in the making, that continues to make this band one of the best in the business.
Experience the full record via our below stream, and peek inside Lucero's When You Found Me with Atwood Magazine as the band goes track-by-track through the music and lyrics of their tenth album!
— —
Stream: 'When You Found Me' – Lucero
:: Inside When You Found Me ::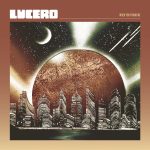 — —
Have You Lost Your Way
This first song on the album immediately lets the listener know this is a different sounding Lucero album. An orphan girl confronts the devil himself on a stormy black night. The synthesizers and guitars set a dark tone and build to an ominous crescendo that flows right into the next track and first single, "Outrun the Moon".
Outrun the Moon
Another song with a young girl protagonist, "Outrun the Moon" is a classic rock inspired murder ballad that takes place just off the interstate in rural Arkansas.
Coffin Nails
There is an old Lucero song called "The War" that chronicles my grandfather's time as an infantryman in Europe during World War II. "Coffin Nails" is an acoustic folk song about fathers and sons and veterans that takes place after that same grandfather comes back to the family farm in Arkansas, where a banshee lands on the windowsill of the farmhouse the night his father, a World War I vet, is dying. The bridge of the song references Tim O'Brien's great collection of short stories, The Things They Carried.
Pull Me Close Don't Let Go
The title of this song comes from words spoken to me by my four-year-old daughter. The sentiment fits perfectly over the composition built around synthesizer and a driving drum beat that kicks in halfway through the song.
Good as Gone
This rock & roll song about being on the run stands on its own but the lyrics are also a reflection of the events that took place in "Outrun the Moon". Coincidentally I think the two songs also happen to have the two best Brian Venable guitar solos on the album.
All My Life
This unique sounding Lucero song recounts travels from Arkansas across the Mississippi River to Tennessee and then criss-crosses the United States and finally settles up North as a love letter to my wife.
The Match
Based on folklore about a witch and a lost ring, this song follows a drunk as he gets thrown out of a roadside tavern and ends up chasing a white doe through the woods only to find himself cursed at the edge of lake. The song is about guilt and the sometimes seemingly unrelated choices we make that when added together bring about our own downfall.
Back in Ohio
This song is a simplified rock & roll version of the real life story of a guy from Toledo, Ohio named William Morgan who fought with anti-fascist guerrillas in the Cuban Revolution only to be betrayed and executed for his democratic beliefs by Castro and the Communists. Musically and thematically inspired by songs like Warren Zevon's "Lawyers, Guns, and Money".
A City on Fire
A sprawling apocalyptic rock song, "A City on Fire" was written as wildfires raged in California and racial and political tensions surged all across the country. The song itself doesn't put forth any commentary of its own political or otherwise, but it does try to capture the feeling of being surrounded by flames and the fire closing in.
When You Found Me
The title track on the new album, "When You Found Me" is a very personal song about almost not getting out alive, and how important family and relationships can be to one's health and well being. I probably wouldn't have been around a lot longer if not for my wife and kids. Now my four-year-old requests I sing this song every night at bedtime. She says, "Daddy, sing me the I'm gonna be okay song."
— —
— — — —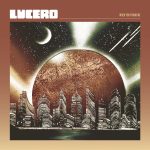 ? © Bob Bayne
:: Stream Lucero ::
---