Beautifully tender, achingly intimate, and unapologetically honest, Miki Ratsula's debut album 'i owe it to myself' is a tender tempest built on the pillars of self-love, understanding, acceptance, and vulnerability.
Stream: "i walked a mile in my room" – Miki Ratsula
---
The goal is to change the pop music industry and give LGTBQ+ love and relationships the representation they deserve. I want my music to be enjoyed by everyone, including those outside of the LGBTQ+ community. I want to be the artist I needed growing up.
Music is one of the ultimate means of self-expression: A way for us to pour our hearts and souls into something bigger than ourselves, and then share that with the whole world. While it can be all too easy to gloss over this truth in our oversaturated mainstream and Top 40 culture, artists like Miki Ratsula exist to ensure we never forget the wondrous potential of this art form. Their debut album is a pure manifestation, realization, and visceral expression of the self in song: Beautifully tender, achingly intimate, and unapologetically honest, i owe it to myself is a tender tempest built on the pillars of self-love, understanding, acceptance, and vulnerability.
I know I think too much, I do
I might as well be on the moon
I wish that you could see my head, it's a mess
I know sometimes I weigh you down
With everything I'm spilling out
I wish that I could take a breath, let you rest
But I notice it too
And I hate that I do
Will you take me as I am?
Will you love me still tomorrow?
You know this is who I am
Will you do your best to follow?
'Cause you deserve somebody
who takes care of themselves
So, I promise you, darlin', I'll go and get some help
Released March 25, 2022 via Nettwerk Records, i owe it to myself is a truly stunning, soaring, and stirring album rising up from the deepest depths of human experience. Miki Ratsula's debut album shines with a radiant inner light as the Finnish-American singer/songwriter from California shares diary-like confessionals and evocative upheavals from their 23 years on Earth. If, as the saying goes, you have all the time in the world to write your first record, then this album certainly feels like the culmination of Ratsula's youth, their adolescence, and their coming-of-age young adulthood.
"I started this record at the beginning of the COVID-19 pandemic in 2020," Ratsula tells Atwood Magazine. "I was in a pretty low place creatively, emotionally, and mentally and was navigating a lot of heavy thoughts. While building this record I came out as nonbinary, got top surgery, fired my ex manager, signed to Nettwerk, saw my dad and brother move to Europe, got engaged… a whole lot of changes. This record grounded me and gave me a place to process every emotion I was feeling and I'm so grateful for it."
"I didn't have a vision at first – I was just making a record to make a record," they add. "But as I went through all these changes, I grew immensely and woke up one day finally knowing who Miki Ratsula is as a queer person and artist. I scratched some songs off the record and wrote new ones and finally looked at the record as the truest example of who I am capable of being in the music industry. There was a newfound passion and heart for what I was making and everything that went into it. It was also around the same time I signed to Nettwerk – which gave me the resources to build the album into what I think it deserved."
In Ratsula's eyes, this album is a definitive assertion of everything they stand for – as a nonbinary artist, as a romantic partner, as a friend, as someone who experiences anxiety, and beyond. Their songs explore all of the above and more, holding nothing back in songs of self-love, self-hatred, being there for yourself and for others, and everything in-between. "For so long I was told that talking about my queer trans identity would hinder my success as mainstream musician," Ratsula says. "With this record I freed myself from those beliefs and am now in a space where I'm celebrated as a queer artist. This record also hopefully shows my capabilities as a songwriter, artist, and producer."
I quite literally owe this album to myself. I owe myself the opportunity to be vulnerable, to put out a debut record, to produce it by myself. This album encapsulates the growth I've done over the past two years.
I don't understand how something this good fell into my hands
Sitting on the sand an empty bottle
The things I used to care about I'm better off without 'em
And I don't even worry bout those problems I forgot 'em
If the days turn to weeks turn to months turn to years
I turn to you say I'm glad that you're here
As long as I got you that's where I'll stay
And I'll be okay cause
You know you're my sugarcane
On the tip of my, tip of my tongue
Sweeter with everyday
And I can't get, can't get enough
Enough of your love
---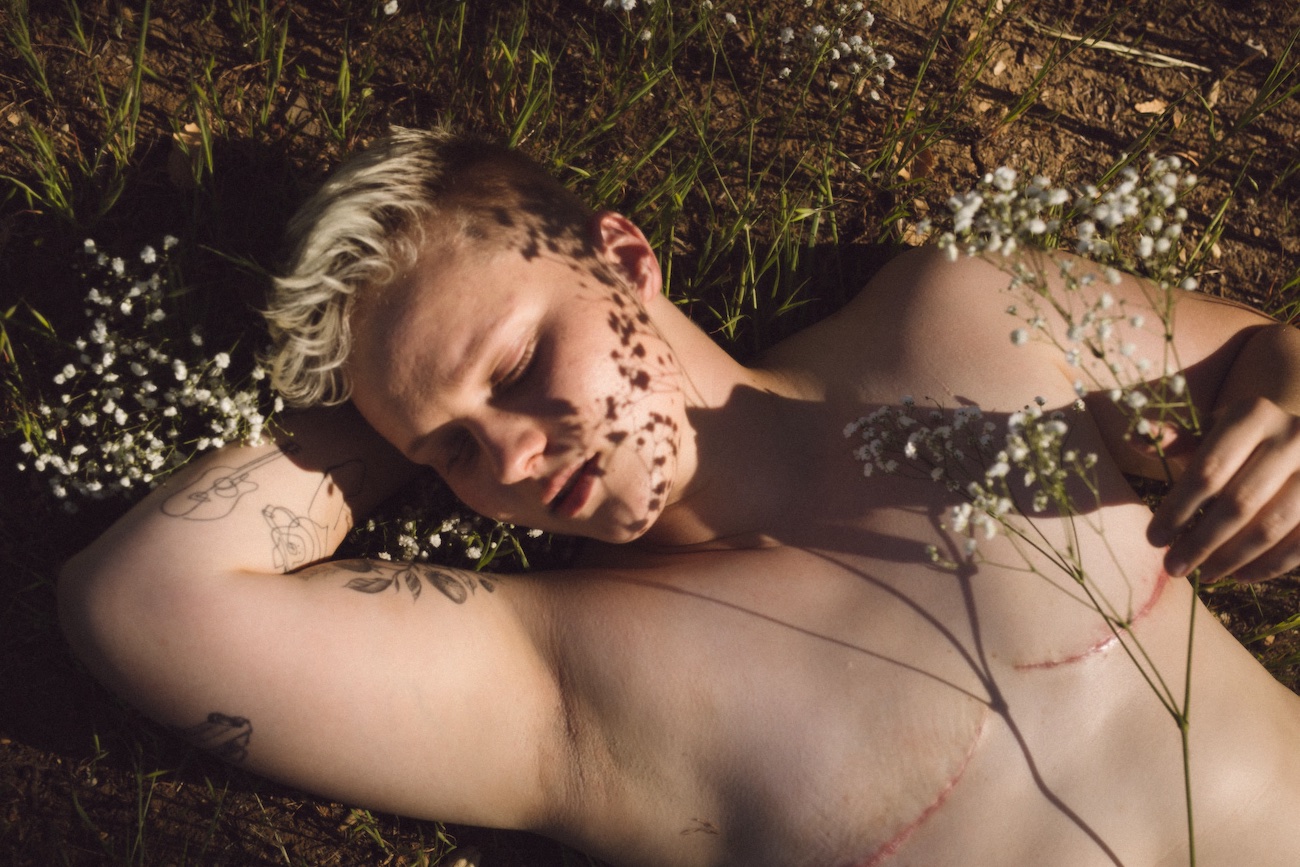 Special moments abound throughout i owe it to myself's thirteen up-close and personal songs, starting with the soft, poignant, and remorseless minute-long opener "(i hate myself sometimes)" and running straight through to the sweetly cinematic, hopeful and haunting finale, "reeboks."
"Just wanna be young and be loved, oh I wanna be young and in love," Ratsula sings at the very end of the album. "Wish I could promise you a New York apartment… I'm just getting started." Their hunger, their passion, and their potential is undeniable as they leave us to dwell in a space of trembling serenity.
Still, there's a full world of feeling and enchanting sound ahead of this breathtaking conclusion. Songs like the heavy-hearted "second" ("I just wanna love myself so I can love you better") and "grocery store" ("and i'm buzzing, all these butterflies in my stomach make me come alive…") showcase Ratsula's expressive voice and moody, dulcet pop tones. "i walked a mile in my room" aches with churning inner tension as Ratsula sings about their struggles with mental health and its impact on their loved ones. Later on in the album, "suffocate" (featuring Lauren Sanderson) and "sugarcane" (featuring Dana Williams) highlight Ratsula's talents as a collaborator: Both add fresh color and candor to the overall record experience as Sanderson and Williams lend not only their vocals, but also their hearts to Ratsula's art.
Wish I could promise you a New York apartment
kinda like the one from your favorite show
Floor to ceiling windows – we don't care who's watching
new furniture on floors of old
Yeah, that's how we'd do it, that's how we'd do it
But I'm scared of doing things I don't know
So I tear my hair out, rip my skin,
lay stone cold on porcelain
before I give it just a minute of my time
I'm caught in circles, running thin
my reeboks are caving in
How much longer of my life will I be chasing?
---
As a lyricist, Ratsula shares three of their favorite lines on the album:
"I just wanna love myself so I can love you better" – second
"I walked a mile in my room because I had a call at noon / I hope they didn't hear my breath in my chest" – i walked a mile in my room
"Shaky bones, an empty bottle / Who is there come tomorrow? /Silver skin, what do I know? / Is this my pill to swallow?" – the garden
"I hope listeners feel comforted and safe from the record," Ratsula shares. "I want them to feel seen and heard and loved. I just want to be the artist I needed growing up, and I hope I can be that for people listening. This record gave me the opportunity to know myself more than I ever have before and I will carry that with me forever."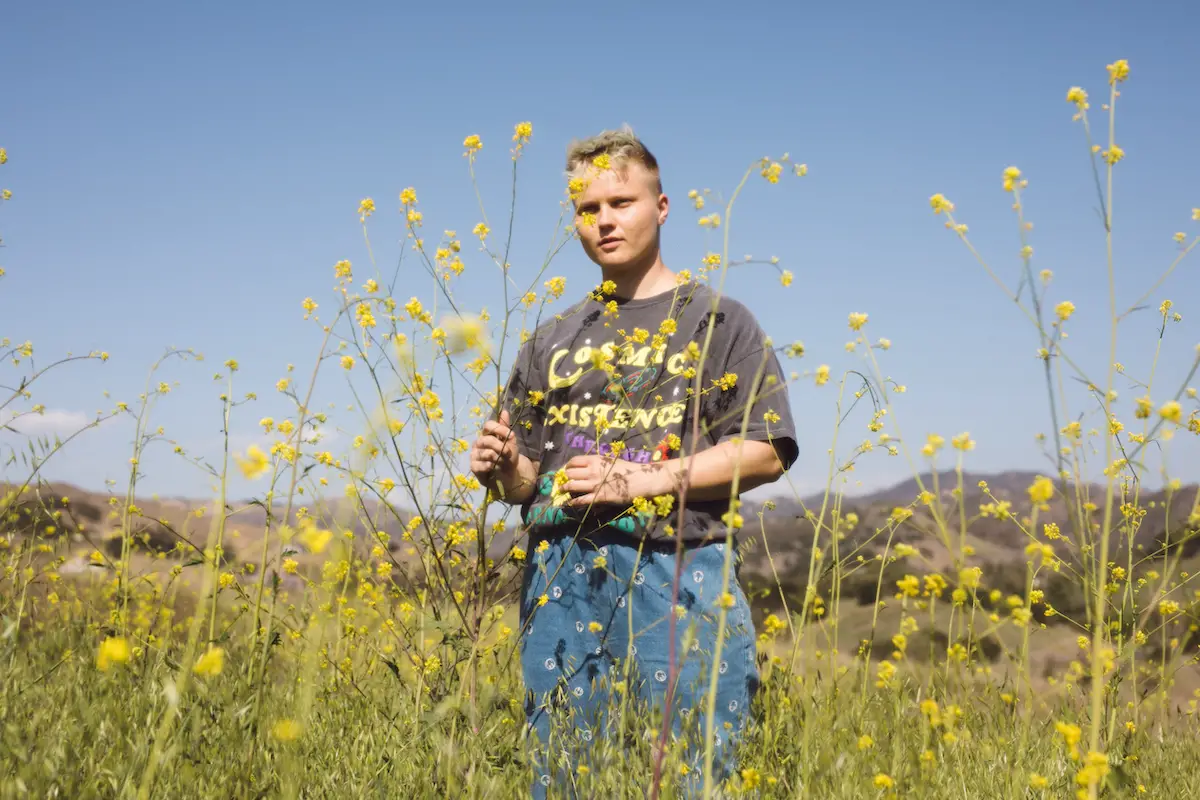 i owe it to myself is the ultimate safe space.
Mike Ratsula's debut album breathes with refreshing light, love, and warmth. It's an album that marries self-discovery with self-acceptance, recognizing that both of these activities are never over; that self-love itself is a marathon, not a sprint, and that it's okay to have bumps along the way. If Ratsula's ultimate message is that life is beautiful and worth all the pain, perhaps we can appreciate this album as the musical embrace of the full spectrum of human experience: A welcome hug that welcomes the highs and the lows, reminding each of us that we are loved and worthy of love.
Experience the full record via our below stream, and peek inside MIki Ratsula's i we it to myself with Atwood Magazine as the artist goes track-by-track through the music and lyrics of their debut album!
— —
Stream: 'i owe it to myself" – Miki Ratsula
:: Inside i owe it to myself ::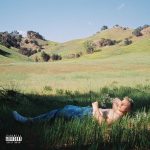 — —
(i hate myself sometimes)
I wanted to start the album from a vulnerable place with the opening lyric, "I hate myself sometimes. I hate myself forever, hating myself for things that I was going through or things that were out of my control." It's an apology to myself.
i walked a mile in my room
This track is about my struggle with mental health and its impact on the people close to me. It's an acknowledgment that I know I can work on my mental health and make sure it doesn't negatively affect those I love, while also recognizing that it's something I have to deal with and need patience from others while I work on it.
second
I'm nonbinary and am now one-year post-op from top surgery. I wrote this song back before I had the surgery about my fears over if my fiancée would still love me after the surgery and after my body looked different. While that fear is there, I also write that I'm doing this to love myself better, which will, in turn, help me love her better. I also know deep in my heart that she will love me unconditionally and that to an extent my fear was irrational. She also sings in the chorus at the very end with me to represent that realization that she will always be there for me.
by tomorrow
I have a complicated relationship with someone close to me who struggles with their mental health and drinking habits. This song is me reaching out to them from a place of love and hurt over my relationship with them, and how I wish I could help them love them the way that I do, but also acknowledge where I need them to do better for me.
grocery store
This song is about being a hopeless romantic. Specifically, seeing my girlfriend in the grocery store and just falling in love with her all over again.
in the middle
My entire life, my parents have had a pretty bad relationship. They got secretly divorced five years ago and went public about it two years ago. Since I was a young kid, I've been stuck in the middle, either mediating their arguments or feeling like I had to please one over the other.
suffocate (ft. Lauren Sanderson)
Most of the friendships and relationships I've had, I tend to give more than I receive, leading me to burn myself out and not take care of myself. I use a road trip metaphor in this song, asking my friends if they're alright with me being slow this time because I need to fuel myself up. I acknowledge the toll it can take on me always to put others' needs first.
timeless
My fiancée and I talked about how we want to have lasting impacts in both of our careers; to be timeless. That moment I knew I wanted to write a song about just conquering the world with her and being timeless together.
sugarcane (ft. Dana Williams)
"sugarcane" is about the type of love that is just as enjoyable and as effortless as eating your favorite dessert. You can't believe something so good can exist, and you just can't get enough of it.
(milo's interlude)
My girlfriend and I adopted a two-month-old pug for my birthday. We named her Milo. We only had her for 72 hours before she suddenly became sick with parvovirus. We spent 6 hours at the vet hospital and lost her that same night. It was one of the hardest things I've gone through. To have something you love so much, to watch her suffer and leave you. This song is an ode to our special girl, Milo, and how I will never forget about her.
the garden
This is the most ambiguous song on the album. I wrote it from the perspective of struggling with mental health and wanting to find a place of peace finally. However, it can be interpreted in many ways, and that's what I love so much about it.
I didn't know any better
I got my bachelor's in psychology from SDSU in 2019. My parents both went to college in Finland, so they didn't know anything about the American system. I had to figure it all out by myself while at the same time being unhappy being in school. I had people from the music industry reach out to me, but most didn't want to work with me because I was still in school. At one point, I got so worried about not making it in music that I thought I should change my major (adding a year) to make getting a job easier. I had an epiphany and realized I needed to pursue my dreams rather than spending so much energy preparing for a backup plan.
reeboks
"reeboks" is a song about being so anxious for the future that I end up just running myself into the ground. I don't want to dwell on such mundane things, as I'd rather be excited about future things. At its roots, it is just a song about anxiety and the weight it carries on us.
— —
— — — —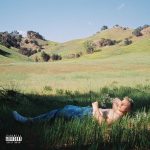 ? © Ashley Osborn
:: Stream Miki Ratsula ::
---