Jackson Harris learned not to take his career path for granted.

"The best thing I can say about all the music I've made and the people I've worked with and the tours I've been lucky enough to do, is that it's always a learning experience," Harris notes. "I try to soak up as much as I can from whoever's around me."

Harris first emerged into the pop music world back in 2010, when he posted a video to YouTube covering Jay-Z and Alicia Keys' "Empire State of Mind." The video eventually amassed over 200,000+ views, and catapulted Harris into a realm of pop possibility he had only once dreamt of. Since then, he's released an album and two EPs, and is constantly creating new content. He's toured with pop heavyweights like Fifth Harmony, Betty Who, Cody Simpson, and Cher Lloyd, showcasing his prowess to audiences across the globe.

As of late, Harris has been working closely with Atwood favorites PHANGS and Brett Truitt, curating a more adult look and sound for his brand. His most recent single "In The Dark," for which Atwood Magazine is proudly premiering the music video today, follows this new theme, explicating a love – or lack thereof – that cannot ostensibly exist in the daytime. Harris' vocals feel matured, overlaid with the track's synthpop beats and complementing its overall narrative; the performance of the song is not remiss to its content. With his music growing and changing, Jackson Harris has masterfully embodied pure pop goodness that never feels ephemeral; but rather, he has curated a lasting imprint that will only further prove his ever-growing notability.

In the video for "In The Dark," directed by PHANGS' Jake Germany, Harris parades around New York, mirroring the story seamlessly. Harris wanders a bodega and dances through the city streets of Brooklyn before finally arriving to his neon-soaked destination, where his love interest awaits. The video feels like an homage to NYC and all of its escapades, and Harris, a native New Yorker, allows viewers to fall in love with his city as well. This love letter isn't without purpose, as Harris acknowledges New York's significance to him and his craft.

"It pushes you to do more," Harris explains. "Because I am surrounded by lots of different creatives and business people in New York City, [I] always want to be on [my] A-game, for whatever it may be."

Watch the video for "In The Dark" exclusively on Atwood Magazine, and read below our interview with Jackson Harris.

Watch: "In The Dark" – Jackson Harris
A Conversation with Jackson Harris
Atwood Magazine: I'd love to hear more about this new music video, and why you decided to take the artistic direction that you did and what kind of inspired the visuals and all of that?
Jackson Harris: For sure. So "In The Dark" itself is a song that is probably my most "adult" and sexual song, which, for me, is the most vulnerable I can be. And the song kind of explains that, because I can't say "I love you" in the daytime, like it's too personal. The video itself is more… kind of a mish-mash of "Singin' In The Rain" and "The Way You Make Me Feel." I want to kind of capture that energy of getting to your lover's place, and trying to get that end-of-night, sexual vibe in there, and I think that we accomplished that and we were able to shoot it all kind of on the run, just myself, Jake [Germany], and the videographer. So I'm super proud of what kind of quality we were able to capture, you know, considering it was just three guys running around New York City for two nights straight.
Where in New York did you shoot, mostly?
Jackson: We shot the first half of it at The Standard Highline Hotel downtown, then a few different places in the West Village, and then the second night it's in Washington Square Park, and then over to Brooklyn, shooting til like four in the morning there.
Nice, you really committed to it. And you kind of touched on the inspiration for the single a little bit; has a lot of your newer stuff been like this, or is it just a complete one-off?
Jackson: Well, I mean, I started… this is the second song of what I would like to call like, Jackson Harris 2.0. You know, I've been making music for the last six or seven years professionally, and have had great success and toured with a lot of great artists, but everything was very pop-centric. And not that there's anything bad with that, but it limited me in how far I could stretch into other genres without alienating a younger fan base. And now after a few years of touring and writing and kind of knowing myself better, I'm able to write from a more honest place. So the first song I did, "Losing My Mind," which came out in August, is kind of the beginning of that rebrand; so this is a follow-up to that, to I guess elevate myself to a place where I make music that I would listen to. So it's definitely an evolution, and the song following this one, which will come out in December I believe, is kind of like the full-circle story; if "Losing My Mind" was the beginning of the relationship, and then "In The Dark" is in the middle, this is kind of like the final act, if you will.
Got it. So do you think that the previous successes that you've seen, like on YouTube and with your tours and the people you've toured with and just the recognition in general, has kind of in a way helped you figure out how you're going to guide the future?
Jackson: Oh, yeah. The best thing I can say about all the music I've made and the people I've worked with and the tours I've been lucky enough to do, is that it's always a learning experience. And I try to soak up as much as I can from whoever's around me; whether that's a fellow creative like Jake, or when I was touring with Betty Who last summer, or playing my first show in Nashville and knowing how to engage different audiences, and how to treat your fans, and how much of the music world is now about social media and connection, and so many other forms of content to get your music out there. I definitely think it was a great few formative years in the industry.
I wanna try and capture hearts and minds of those people that are into the stuff I'm into, and are willing to watch someone's journey of trying to achieve what it is they love.
Do you think that social media has overall helped versus hindered you in terms of the music and success?
Jackson: For sure. I mean, I think people like to shortchange social media, because there are a lot of people and artists that come from social media that don't, I feel like, have music as their best interest, or are their truest self. But I also feel like it's allowed us to discover so many artists that would have normally never made it conventionally. And if you would have told me five years ago the biggest pop star in the world's gonna be a tattooed-face, scraggly-haired guy named Post Malone, I wouldn't believe you. So, I love the changing landscape I think social media allows, because it's direct-to-consumer. It's the easiest way to grow a fan base; but it is daunting, because you're a tiny fish in a huge universe of an ocean.
Right. And with that, too, you're from New York City, which is also like big pond, lots of little fish; how do you think that has sort of shaped you as a musician being on the grind?
Jackson: It pushes you to do more. Because I am surrounded by lots of different creatives and business people in New York City, [I] always want to be on [my] A-game, for whatever it may be. So whether it's the music, the production, the videos, it's kind of instilled in me this work ethic that New York is notorious for; that's why it's refreshing to go to a place like Nashville, where the creativity is still there, but it's not like the end of the world if you don't get to a session on time. It's a bit of a different dynamic, but as New York is slowly becoming more creative, Nashville is just so welcoming, that it's like a second home for me, so I love going down there and being able to get creative and get weird with all the other artists down there.
Nice. So what sort of message are you hoping people connect with in your music?
Jackson: I think nowadays it's more about the personal connection. I want to be able to connect with a fan on a level of, you know, they may just love the videos I make and not care for the music and appreciate that artistry, or they may love the music and not care for the video; I wanna try and capture hearts and minds of those people that are into the stuff I'm into, and are willing to watch someone's journey of trying to achieve what it is they love. I think that's the interesting thing to me, as a fan of other artists, is watching the growth. I'm just hoping that whoever listens connects with whatever I'm making, and they wanna grow with me.
What sort of further growth do you hope to have, let's say in the next six months to a year? Where do you see that going?
Jackson: I definitely want to do… start having as many song releases as possible, because the whole landscape of releasing music and EPs or singles has completely changed, so I just wanna be able to flood the market with as much good, quality songs and content as I can. I would definitely love to get back out on tour, for the U.S. and for Europe, and then hopefully also being able to collaborate with some other great artists that I've discovered, whether in Nashville or through social media, and try to elevate them as well. I wanna see if there's other artists out there that I think are great that haven't gotten the spotlight that I think they deserve.
Do you have any plans for an EP or an album?
Jackson: Yeah, we're slowly building to releasing an EP or an album. I'd like to go back to the days of full concept albums, where there's kind of a full story there. One of my favorite albums growing up was My Chemical Romance's Black Parade album. I want to create a library of singles that people get to know who I am, and then once I have enough of an audience watching and listening, to be able to create a fully-formed story, or focus in on a concept and have that body of work album. So, probably, maybe, this time next year I'd hope to have enough content for an album, but who knows what we'll be listening to on what devices through what streaming platforms. So, who knows? It all depends on what Spotify thinks.
…now that I have the opportunity to be my authentic self, I want to share that with whoever is willing to listen or watch.
So why do you make music in the first place? What sort of drives you to wake up in the morning and write a song, or been in the studio and produce something?
Jackson: I'm driven by the adventure of it, the willingness to kind of step out into a vast uncharted landscape and try to create something or make something. And 99% of the time you don't, and you're just trying to stay afloat, and the one time that you get that lyric or that idea or that hook, it's like you've just caught the biggest fish in the craziest ocean. And that high, that adrenaline, of turning the phrase or figuring out a line that you feel like connects with something that happened to you or someone else, it's just such a rush. And complementing that with actually being able to have played shows and seeing how music makes people feel, as corny as it may sound, those are the moments I remember the most. And if I can do that, and kind of capture that and put that in a pill and bottle it, then I would do that every day. It helps that I have, you know, a great family that loves what I do, and they're always cheering me on at all the shows, that's always at the core there, too, the support I have.
Do you typically start with lyrics first, or a hook, or something else? Or does it kind of depend on the song?
Jackson: It usually depends on the song; lately, I've been doing a lot of writing as an exercise of just poetry, in the morning, and I just try to free write and puzzle-piece some ideas into a song. Other times, I hear some line or a loop that a producer has sent over, and I'm immediately drawn to it. I wish I knew the method to the madness, but right now it's just more of a madness. But that's half the fun, is figuring out, how am I gonna do it today?
Awesome. And to wrap up, what is one thing that people should know about you, or what's one thing that you want people to know about you as an artist and as a creative?
Jackson: That… I guess it's hard to put into one thing, but the biggest thing I always come back to is my honesty with whatever I create, that nothing I ever make is inauthentic. Everything I make I try to have it be some extension of myself, whether it's a song, a video, a photo; because I know that for most of my life, and for a lot of the artists I grew up loving, a lot of that was almost manufactured. And now that I have the opportunity to be my authentic self, I want to share that with whoever is willing to listen or watch.
— — — —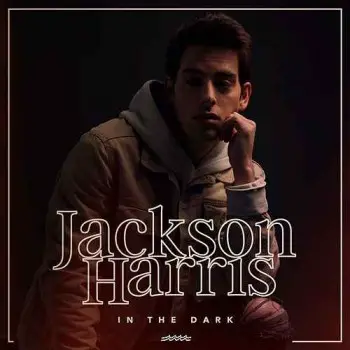 :: In The Dark ::