'If I Never Hit Land', NYC alt-R&B duo Juletta + Ishan's debut album, is a magical melding of introspective songwriting and experimental house beats, making for a sprawling, intricate collection of stories and songs.
Stream: 'If I Never Hit Land' – Juletta + Ishan
---
If I Never Hit Land, NYC alt-R&B duo Juletta + Ishan's debut album, is a sprawling, intricate collection of stories and songs, out October 15, 2020. "The album was inspired by New York City and my great grandmother Juletta," Madeline DeWalt (aka Juletta) says. "Upon moving to the city in 2017, I was immediately captivated by the sheer density of people who I could cross paths with everyday but might never meet, and I wanted to break through that to hear the stories and journeys of strangers passing." Of all the people DeWalt could've crossed paths with in New York City, one of them luckily, was Ishan.
My grandma took me to the coastline
And let the waves beat her down
She said
If you're not using your body right now
Could I borrow it for a little while?
She tells me to give myself away
And now I always will
– "But Judi, Everything Changes," Juletta + Ishan
The forming of the duo Juletta + Ishan seems to be proof that the stars do align sometimes. While the collaboration of an introspective singer/songwriter (Juletta) and a DJ/producer with an affinity for electronic music (Ishan) may not initially be expected, somehow the melding of Juletta + Ishan makes perfect sense. Though they previously released an EP, "Wild Nature" and a string of singles under Juletta's name, If I Never Hit Land finds the duo stepping into new territory with a magical debut.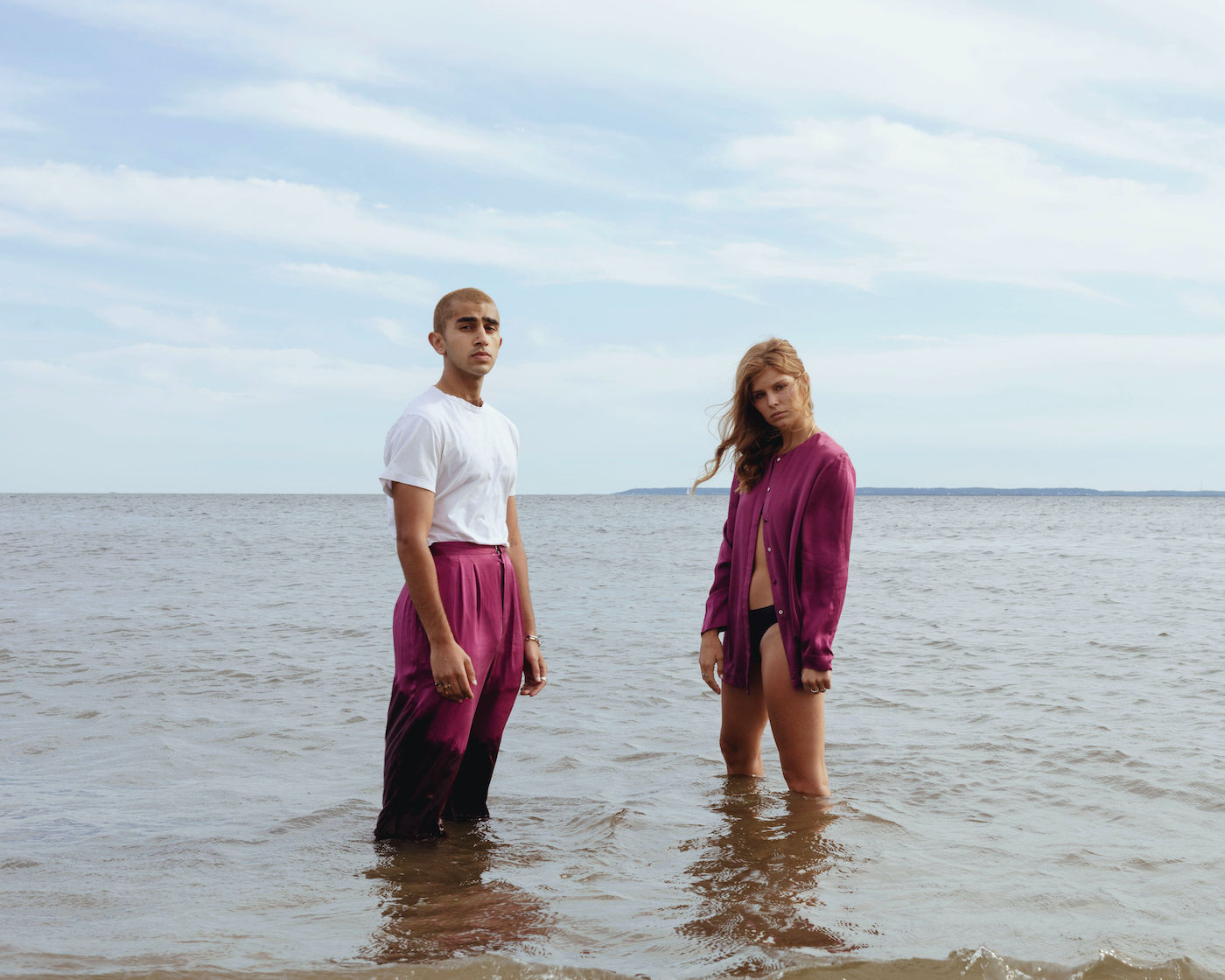 Sonically, making If I Never Hit Land was a new experience for both Juletta and Ishan. "Working with [Juletta] was like letting me loose on a playground. The beauty of her voice and her openness to my experimentation allowed me to grapple with ideas that had possessed my mind as a producer, but that I'd never had the chance to fully explore," Ishan tells Atwood Magazine," I wanted to combine music that had become part of the collective conscience, universal in a sense— The Beatles, The Beach Boys, Michael Jackson— with music that was more niche and underground— house, techno, chopped and screwed. I had a moment during the album creation process where I couldn't decide whether I was in the mood for a Joni Mitchell album or a Nicolas Jaar DJ set. At first I laughed at myself because of how different the two were, but then I realized that what I was pursuing was trying to make something that satisfied both of those urges at the same time."
My friends come in twos; we're nothing but bad news
I'd sink through your couch; I'd take to your view
If you ask me to
[Gut feeling kicks in where you at
I think I need to fix a gap]
– "Gut Feeling," Juletta + Ishan
Within its innovative soundscape, If I Never Hit Land finds the duo freshly exploring age-old themes like "growing pains, familial relationships, anger and instinct, shedding skin, forgiveness and higher powers," Then uniquely, the album also incorporates a series of interviews Juletta did with 30 women across New York City. "…I was awakening to the idea of pursuing an artist career but felt strongly that I needed to understand my history and self more deeply in order to put out a message I was proud of. I had heard stories about [my Great Grandmother's] quiet strength and wisdom throughout my life, and wanted to embody that spirit in my music. With her in mind, I decided to spend the summer of 2018 interviewing women across New York City with the mission of taking the stories and emotions they shared with me and turning them into songs," Juletta tells Atwood Magazine.
The record begins, ethereal and sparse, with "But Judi, Everything Changes," vocal distortion slowly seeping in. Then "Solstice," a poetic and danceable track injected with Ishan's token house beats, fades into "Sally Ride," which features a sound bite from an interview Juletta did with NYC photographer Kailey as she talks about her experiences with psychics.
Cut me loose
I've been doing it all for you
I need carrying too
Father shake the earth
Stagnant and still
The curse is in forgetting
I'm afraid to move
I'm afraid to lose more
– "Solstice," Juletta + Ishan
As it continues on, If I Never Hit Land is packed full of memorable songs: "Ishan's Verse" finds Juletta on lead vocals, layered and distorted, reminiscent of the best of Bon Iver, and "Wildheart," an original rendition of the Stevie Nicks song, crisp and deeply earnest. And "Gut Feeling," sweet and pop-tinged, gloriously highlights Juletta's vocals. The album fades out slowly with the piano ballads "Magdalene I" and "Magdalene II," one flowing effortlessly into the other. These two tracks serve as an ode to childhood, and to freedom, building patiently towards grandiose, while also allowing space for instrumental moments of reflection.
And I feel you racing by
I wanted that window seat
Free untethered wild
The seasons carry you far from me
Seraphim unanchored wings
– "Magdalene I," Juletta + Ishan
If I Never Hit Land is a deeply memorable debut by Juletta + Ishan. Listen to the album in full via our stream below, and take a moment to sink into its magic.
— —
— — — —
? © Alison Dias
If I Never Hit Land
an album by Juletta + Ishan
---