Jordan Lehning's cinematic third album captures a love affair with stirring alt-folk grace, and nowhere is this better expressed than in his poignant, beautiful third single "The Quarry Song."
 for fans of Laura Stevenson, Father John Misty, Paul Simon
Stream: "The Quarry Song" – Jordan Lehning
---
Jordan Lehning may be making a name for himself through music, but he just might be a playwright in the wait.
The artist's forthcoming third album is storytelling at its finest – a record written in the style of a short film, approached from a director's perspective. An intimate and expansive brush of alt-folk grace, Little Idols tells the non-autobiographical tale of an affair between a married woman and a single man, capturing listeners' fancy through stirring sonics and colorful lyricism.
It's a little world unto itself – a cinematic expression of connection and emotion, lives lived and relationships had. Nowhere is this better expressed than in the poignant "The Quarry Song," the affair's beautiful, fanciful final breath.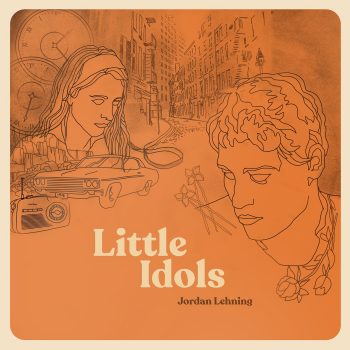 How soon do you get off of work
I talk you into leaving early
Pick you up and we get outta town
Park the car down by the quarry
When we passed Newsom Station
I saw you lookin off in the sideview
You're really not much for conversation
Atwood Magazine is proud to be premiering "The Quarry Song," the third single off singer/songwriter and producer/arranger Jordan Lehning's upcoming third album Little Idols (out August 7, 2020). Following 2014's Jordan Sings! and 2018's Long Live The Dead – described by Lehning as "collections of songs that follow a general tone and theme" – Little Idols finds a maturing Lehning approaching the concept of an album with more nuance and potential, exploring "the album as something more than just a collection of tunes," in his words.
Written with fellow Nashvillians Erin Rae and Ian Fitchuk, "The Quarry Song" is, in large part, responsible for sparking this concept. "At the time I had no intention of developing the story into a full record," Lehning says of when he wrote this track. "[It's about the end of an affair. I had a verse and a chorus written for this song and asked my friends Erin Rae and Ian Fitchuk if they'd like to help write it. We booked a morning to write, and the song emerged without much effort. This became the inception of the record and a compass for tone and the album's demeanor. It would also serve as the beginning of the final act. The piece of yarn mentioned in the end of the song becomes one of the idols for the main character. 'So to keep this memory in a place where it may linger. Over and over.'"
I wonder is there something that I can do
I know I'm no good for ya
But I can't help but think that I'm good to you
Take your hand out from under mine and say that
We can't do this anymore
No, I know I'm not surprised
I wish that there was more we could fight for
Take the key out from the ignition the engine quit turning over
Oh but wait turn up the radio I think they're playin crimson and clover
over and over
Like Little Idols' first two singles "Oolaloom" and "Little Lie," "The Quarry Song" is multi-dimensional in nature – an easy listening experience whose instrumental flourish turn what could have been a simple guitar-and-vocals performance into an illustrious, textured world of feeling. At this juncture, Lehning's music is reminiscent of Laura Stevenson and Father John Misty, as well as older folk- and classic pop-adjacent songwriters like Paul Simon. He has truly seen this interesting idea through to completion, crafting an album that flows from start to finish through sounds, lyrics, and more.
In short, Little Idols is an enchanting musical journey you can completely immerse yourself in.
Stream "The Quarry Song" exclusively on Atwood Magazine, and dive deeper into Jordan Lehning and his musical mind in our interview below!
Little Idols is out August 7, 2020.
I know I'm no good for ya
But I can't help but think that I'm good to you
take a piece of yarn and wrap it round your little finger
So to keep this memory in a place where it may linger
over and over
— —
Stream: "The Quarry Song" – Jordan Lehning
A CONVERSATION WITH JORDAN LEHNING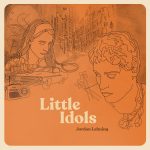 Atwood Magazine: Hey Jordan, thanks so much for your time! For starters, how do you feel Little Idols captures your music at this venture in time?
Jordan Lehning: Thanks for having me! Idols is a good representation of my current interest in the potential of the modern album.
What most excites you about this record, compared to your previous work? This is your third solo record, following releases in 2014 and 2018. What did you learn from your previous albums, that you carried forward into this most recent process?
Jordan Lehning: Jordan Sings! and Long Live The Dead are basically collections of songs that follow a general tone and theme. It doesn't really go beyond that. With Little Idols I wanted to start a dialogue that explores the album as something more than just a collection of tunes.
Your album title itself is intriguing. What inspired the name 'Little Idols'?
Jordan Lehning: The long story: last year my wife and I were heading to NYC to celebrate our 9 year wedding anniversary. At the airport our terminal was next to the gift shop and I thought of souvenirs and how they become representative of an entire experience. At this point in time I was in the middle of working on Idols and I thought souvenir would be a great title. Our second day in NYC was rainy so we looked for a matinee nearby and saw that a film with the title Souvenir was playing. Of course, that's what we had to go see. Really beautiful movie but also pointed me away from me going by the same title.  The nearest thing to the same sentiment were idols. Objects that are representative of an entire experience.
This "directorial perspective" of the album intrigues me. Can you speak more about that, and what inspired this songwriting? Do you feel that idea also played a part in your musical/sonic choices?
Jordan Lehning: I'm obsessed with film. To me, it's the great art form of our time. I got really into Ingmar Bergman. He writes about internal and personal situations and shines a light on and magnifies them. The rest of the world goes away. This voyeurism into the private lives of a few people is so deeply rich and beautiful. When working on Idols I started wondering "What would Ingmar do?". No rules. Allow space between songs. Add sound effects. Create a sense of place. Stay true to the tone. I kept the arrangement the same throughout the record. I have a little bit of synesthesia which I think really helps maintain a tone.
Had you done anything like this in the past?
Jordan Lehning: Yes. When I was about 12 I got an 8 track Tascam 488 and recorded constantly. At that time my two huge influences were Frank Zappa and The Residents who both made a lot of concept records so this idea really attracted me. I recorded several of these that would make great posthumous releases.
What about this story line between a married woman and a single man? What drove that?
Jordan Lehning: The idea's inception was "The Quarry Song." I had this scene in mind of two people breaking up at a quarry. But she was breaking up with him, ending a short and passionate affair. I wrote a verse and chorus and enlisted my friends Ian Fitchuk and Erin Rae to help me finish it. They came over to my studio and we wrote it really quickly. Erin sang the demo (beautifully) but I always sort of felt like it was the guy getting dumped and if Erin sang it the genders would switch which I thought was less interesting. At the time I had no intention of developing the story into a full record.
Your lead singles "Oolaloom" and "Little Lie" are simply gorgeous. Why did you make these your first two album teasers, and how do you think they introduce listeners to Little Idols?
Jordan Lehning: Thank you! Oolaloom is the introduction of the story and Little Lie is moment after the affair begins.
This brings us to "The Quarry Song." What part of the bigger story does this track play?
Jordan Lehning: This is the end of the affair. These 3 singles are the cliff note version of the record in sequence.
Did anything else inspire this song? Your lyrics are quite picturesque, capturing a world in words. Did real life play any part in helping you craft the visual?
Jordan Lehning: In short, no. But we've all been in situations of mixed emotions and there's a terrible beauty in that.  It feels like a memory to me where the two are driving and she's quiet looking out the window. I can feel the dead air and hear the hum of the car and the feeling of wanting to say something lite but know that it would fall on deaf ears. The feeling when you know you're about to break up and there's that deep silence and stillness around it.
"I know I'm no good for you, but I can't help that I'm good to you," you sing in the chorus. I think of "right place, wrong time" when I hear these lyrics. What do these words mean to you?
Jordan Lehning: The saying is typically about health. Something that feels good but isn't good for you. That's the sentiment here. Initially I thought it was a little corny but Erin and Ian urged me to keep it for which I'm grateful.
Can you talk about your yarn imagery? I love that lyric toward the end and would love to learn more about your intent there.
Jordan Lehning: So this is the verse that I had initially. These people were breaking up and the engine wouldn't start. And "Crimson and Clover" is on the radio. It's this beautiful quiet moment of them being together for the last time. People use to tie a string around their finger to remind them of some errand or task they have to do but he asks her to do this to keep that last moment together in her memory forever.
To me, this record feels like one big story broken up into parts, both musically and lyrically. How much of an effort did you put into making the whole thing feel this way in the moment, or did it really more come together after the fact?
Jordan Lehning: From start to finish this record took about a year to make and at the beginning it was a collection of songs with a consistent arrangement. After a few of the songs were recorded I realized it could be a story record. I hadn't yet written lyrics for a handful of the tunes so after deciding what the record could be the lyrics were guided by the story. And after I had all the songs recorded I played them in sequence but the gaps between the songs felt so abrupt and took me out of the story. I added soundscapes collected from bits of the album sometimes foreshadowing what was to come and that acted as a connective tissue and to me is one of the reasons it feels like one whole piece as opposed to a collection.
What, if anything, are your personal biggest takeaways from this record?
Jordan Lehning: This is how I'd like to continue to make albums. I'd like to go deeper experimenting not with just a sonic through line and a story but with musical themes that recur like in opera. And to also reconsider the common form of a song. Verse / Chorus / Verse / Chorus and explore alternatives there as well. I think it's so important to remember that the 2 or 3 minute song was all you could fit on one side of a single and that the 10 song album was created to fill an LP. This has become the standard. There are no longer any rules in regards to how music is created and or digested.
Likewise, what do you hope listeners take away from listening to this album? If you could describe Little Idols with three words, what would those words be?
Jordan Lehning: I want them to feel like they've gone to this world and to experience it. As for the 3 words, a line I wrote years ago describes this album to me: "Life is much like our meeting; sweet, silly, and fleeting."
Lastly, who else are you listening to right now, that you would recommend to our readers?
Jordan Lehning: Chris Cerronne is an excellent young composer that I've been enjoying. Also, Mahler, Satie, and Copeland are common go-to's.
Thanks so much!
Jordan Lehning: Thank YOU!
— —
Stream: "The Quarry Song" – Jordan Lehning
— — — —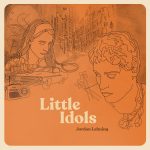 ? © Laura Partain
:: Stream Jordan Lehning ::
---