K.Flay talks about new album 'MONO,' her creative pivot after sudden hearing loss, her upcoming European tour, and rewarding artist collaborations.
Stream: "Irish Goodbye" – K.Flay
---
Songs born out of adversity are often the ones we hold close to us for the longest amount of time.
Heartbreak, loss, defeat, and the like are usually not only thematic of life's challenges, but also the possibility of a resurgence.
One of the hardest things to achieve in an album as a whole are complimentary tonal changes, ebbs and flows that keep the listener on the album's path. MONO, however, accomplishes it with such thoughtful dexterity, taking the listener by the hand and down the rabbit hole.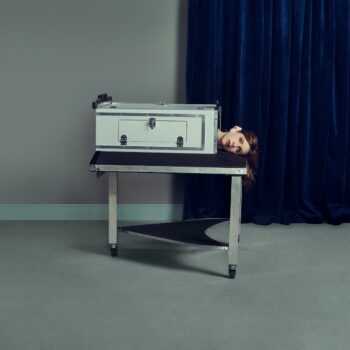 So, when Kristine "K.Flay" Flaherty awoke one morning in 2022 with sudden catastrophic hearing loss in her right ear, she not only chose to re-emerge with the new album MONO, but doubled down on that determination by completing "Raw Raw," a song she'd started prior to her condition. The official video even depicts her right ear being cut off, which feels like a defiant thumbing of the nose to what she's been forced to overcome.
The rebellious anthem "In America" has tongue-in-cheek lyrics and a fun choral cadence and should prove to keep crowds off the floor at every show (we're predicting this one as a high energy opener).
We would argue that perhaps not since "Under The Bridge" has a song painted as vivid a picture of the human journey from active addiction to sobriety and the unwelcome solitude that exists on both sides of it as "Perfectly Alone" manages to do.
A personal high point of the album, the album's final single "Irish Goodbye" sees K.Flay paired with friend and fellow artist Vic Fuentes of Pierce the Veil. In its genesis, Flaherty says she found herself screaming on the demo and that the epiphany of incorporating Fuentes was as organic as could be, especially with how much he loved the song right away.
Atwood Magazine caught up with K.Flay to learn what to expect from MONO and her upcoming European tour. MONO is out September 15, 2023 via Giant Music.
— —
Stream: "Irish Goodbye" – K.Flay ft. Vic Fuentes
A CONVERSATION WITH K.FLAY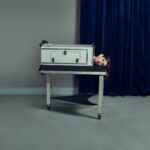 Atwood Magazine: Hey K.Flay! How was working with Vic Fuentes from Pierce The Veil on the song "Irish Goodbye"?
K.Flay: Working with Vic on "Irish Goodbye" was a really organic process. We met in 2019 when I was touring Solutions and he was in Seattle and came to a show and we formed a friendship. There's a lot of shared perspective and approach and taste when it comes to music. One thing Vic has reflected back to me is he just felt a lot of freedom to experiment and express himself.
With MONO, which songs are you most excited for in a live setting?
K.Flay: We are in rehearsal right now and are for the first time workshopping a bunch of the new material for the live show and getting ready to tour Europe. "Are You Serious" the first song on the record. We're prepping a really cool version of that. "Punisher" has been feeling really awesome, "In America." It's all feeling really good!
August 27th was the one-year anniversary of your hearing loss. When it happened, did you think a year later that you'd be releasing possibly your biggest album?
K.Flay: Did I think I'd be releasing possibly my biggest album? Absolutely not. I could barely think and was just throwing up and felt like sh*t. "Are You Serious" was the first song I wrote after my hearing loss. In my memory it was a couple months after, but I wrote it on Sept 19, not even a month after it happened. Not that long after, I was already wanting to be in a creative headspace. As I dug deeper into that feeling, I started to get the sense that I could make something really great.
Can you tell me about the meaning behind "Raw Raw" and its video?
K.Flay: That's a song about vulnerability. I started writing it before the hearing loss and finished it after, so it took on a new life and a new meaning. I was writing about emotional vulnerability when I started, vis a vis romance and when you open your heart to a new person and how scary that is. When I finished, I thought, now I'm a half deaf musician and that feels scary as hell. The resonance of that song became logarithmically deeper.
Who are you listening to right now?
K.Flay: I just listened to a true crime podcast about the financial fraud committed on Dennis Rodman. I also have an interest in the Chicago Bulls. I've been listening to Kylie Minogue's "Padam Padam," probably the greatest song of 2023. I think the new Soft Play song "Punk's Dead" is a really genius take.
On the upcoming European tour, are there any shows you're looking forward to most? We talked about Vienna and its rich music history...
K.Flay: I think Warsaw stands out because it's the first time I'll be playing there. We have a day off before the Warsaw date, so we'll get to explore the city a bit. Berlin, Hamburg, Cologne… Austria. They've been sort of day-one supporters of me. I also had one of my most cathartic and meaningful shows in Manchester.
If you could collaborate with anyone at all, LIVING OR DEAD, who would it be?
K.Flay: I gotta go Beethoven. I need another Beethoven's 5th-esque riff and then I'll just see where my mind goes! [laughs]
— —
— — — —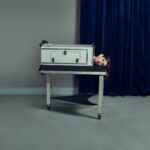 © Danielle Ernst
:: Stream K.Flay ::
---