KINGDM reflects on his journey so far, sharing the inspiration and emotion behind his vivid new single "Your Love" with Soran and Reo Cragun.
— —
Back in 2016, KINGDM released a string of enthrallingly unique tracks which displayed his incomparable style and sound. His track "Baby" featuring Beyoncé collaborator Kevin Garrett is an expansive love letter beautifully detailing feelings of longing and infatuation – while summer anthem "Can't Get Over You" expertly intertwines stirring vocals, funky piano chords, and expressive electro beats to create a track which is captivatingly addicting.
Would've never thought
I'd be something without you
Now I'm nothing without you
And I never saw
I could make it without you
And now I'm losing without you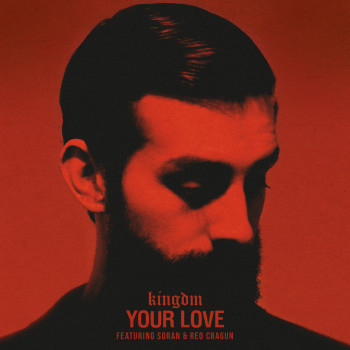 Released June 1, 2018, "Your Love" marks KINGDM's return to music, and he's recruited two of the finest up-and-coming names in music for his welcome return. Soran has been garnering critical acclaim for his enthralling pop infused with R&B tracks. Meanwhile, Reo Cragun's debut mixtape Growing Pains marked him as one of the most exciting names in hip-hop, with breakout track "Inconsiderate" showcasing his aptitude for both rapping and singing while conveying a plethora of intertwined and conflicting emotions in an emotionally raw way.
"Your Love" opens with a powerful pulsating beat before exploding with dynamic soul-laden captivatingly complex production. Reo Cragun's verse feels vibrant and expressive while Soran's delivery throughout is wistfully ardent. While the two featured vocalists impress, KINGDM's production amplifies the track's emotion to produce his most intriguingly impressive work yet.
It's your love
You got me thinking 'bout your love
It's your love
You got me thinking 'bout your love
Listen to "Your Love," out now on Capitol Records, and dive into this thrilling, intoxicating song as KINGDM shares its inspiration and reflects on his journey so far in our exclusive interview!
I generally have a clear picture of how I want the track to sound, but it's rarely related to a style…
Listen: "Your Love" – KINGDM
A CONVERSATION WITH KINGDM
Atwood Magazine: On "Your Love," you collaborate with Reo Cragun and Soran. How was the process of working with them on the track?
KINGDM: I wrote the song with my good friend Reuben James a couple of years ago during a trip to Italy. A few months before the release I discovered Soran on YouTube through a cover he did of Post Malone's "Rockstar." His voice and talent blew me away, so I reached out to him and flew him to LA where we cut his vocals.
I was writing at Capitol's studios those days and one of Reo's A&R came by to play me some of his music. That day I had the idea of adding a third verse to the song. When me and Reo got in the studio he laid down the verse within a few minutes, it was almost an impro. Reo's incredibly talented and fast! We've a couple of songs together that are gonna come out in the next few months.
The visualizer for "Your Love" is effectively simple, depicting a woman tethered to her smartphone in a simplistic apartment before a self-aware look to camera at the end. Can you explain how the visualizer links to the track?
KINGDM: The idea was to keep the visualizer pretty static and open to interpretations. It has multiple meanings when combined with the lyrics but the way to relate to it varies from people's personal experiences, so I'd rather leave it there.
You co-wrote "Your Love" with Cragun and Reuben James Butler. How was song writing process for this track? Was it different compared to your previous song writing experiences?
KINGDM: Me and Reuben co-wrote a handful of songs, we have a very special chemistry when it comes to creating. I tend to write with a very closed circle of people and Reuben is within it. I met Reo a few months ago and I can say the same for him.
The artwork for "Your Love" is a portrait photograph of yourself while your previous singles have more abstract artwork. Was this to demonstrate a new era or was there another reason?
KINGDM: It's definitely a new era. I decided to take a little break after the first body of releases, to focus on my vision, sound and on what I really want and where I wanna take the project. I've been working on lots of new music, traveling and preparing my live show.
I'm also a huge fan of your breakthrough track "Can't Get Over You." How did you initially process and comprehend the track's momentous success?
KINGDM: It was very exciting to see how many people reacted to the song considering it was the first release and that I've put the track online spontaneously without thinking too much about it.
You grew up in small Northern Italian City; how do you feel like that's influenced your music? You now split your time between Los Angeles and Europe, but does Italy still feel like an anchor for you?
KINGDM: I think, most of all, it influences my process of creating music. Growing up, I've only written with a very small group of friends. When I moved to LA, things were very different, faster and less about connecting on a personal level. People tend to bounce from session to session. I had the chance to work with many talented producers and writers, and I'm grateful for the experience and for the many things I've learnt, but after a while I felt the urge to return to Europe and keep the circle of collaborators really close. Despite I'm always traveling and love exploring new countries, Italy definitely feels like my home!
Your music infuses different genres and styles in such a unique compelling way. How's the process of infusing sometimes contrasting styles of music?
KINGDM: Most of my songs start in my head. Sometimes I hear melodies or ideas, and the first step is usually to capture them on the Voice Memo of my iPhone. When I move to production, I generally have a clear picture of how I want the track to sound, but it's rarely related to a style. The first flow of ideas is usually very quick. 90% of the song is usually done within a couple of hours. But then I spend a LOT of time editing and tweaking sounds, and I think that's when the blend of styles often happens.
In 2016 you released four tracks including "Superman," which marked your last release prior to "Your Love." How do you feel you've changed personally and musically since the release of "Superman" back in 2016?
KINGDM: The main reason I decided to take some time out and go back to the studio was to have a clear vision for the project and a purpose behind it. Now I know exactly where I want to go and where I want to be years from now. I have imagined it in my head every day. I don't know how it will exactly happen, but I just know it will.
— —
— — — —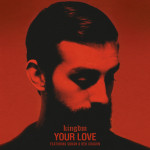 ? © Elizabeth Miranda
:: Stream KINGDM ::