Following the release of her breathtakingly beautiful debut single "Worthy", LANTA spoke to Atwood Magazine about her bold reinvention & more!
Stream: "Worthy" – LANTA
---
I am worthy of love…
Unconditional self-acceptance can often seem elusive. Acknowledging your weakness and vulnerabilities is a brutally tough process, which can completely dismantle your sense of self. While, truly recognizing your strengths can prove to be arduous, as you erode the pre-conceived notions of your abilities. Such awareness can prove revolutionary, irrevocably changing your life for the better. As you're no longer tied down to perpetually holding yourself to impossible standards, a sense of boundless freedom ensues that's wondrously liberating.
LANTA's "Worthy" chronicles abandoning an excruciatingly painful and restrictive mindset, in a boisterously bold and breathtakingly beautiful fashion, in favour of freeing self-acceptance.
But this is as far as I go
Cause I give in
All that I know
I am worthy
I am worthy of love
Sonically, the track feels entrancingly timeless while still incorporating an effervescently energizing edge that feels charmingly contemporary. From the outset, LANTA's vocal performance delicately demands your attention in a commandingly compelling way, as her voice flows gently just above the innovatively intriguing production. Her self-assured vocal performance exemplifies the resonance of this track to LANTA, with the stirring sentiment embodied within the track almost overflowing with palpable emotion.
While the track definitely has all the hallmarks of an 80's pop ballad, even a distinctive key change, "Worthy's" beauty is found in its unwillingness to conform to convention. Its electrifyingly impactful and ardently affecting lyricism isn't rooted in heartache or sorrow, but an empowering liberation. A form of salvation that leaves you feeling limitless.
It almost beckons you to stop exhausting yourself by trying to appease people who can't or don't want to accept you for who you truly are. Ultimately, the song reminds you to seek tranquil contentment through letting go of people who don't recognise your worth but also, more importantly, stop destructive behaviour through freeing yourself from setting impossible standards for yourself.
While the track itself is exceptionally unprecedented, LANTA's voice may sound hauntingly familiar. Previously using her own name, Kimberly Anne carved a name for herself, featuring on Sam Feldt's summer anthem "Show Me Love" and Lewis Watson's incredible Some Songs With Some Friends EP, alongside her own solo releases. She also quickly turned heads with her charismatic, impassioned live performances, which led to her joining the likes of Hudson Taylor on tour.
Her fierce passion for not conforming to her label's restrictive vision saw her abandon her label in search of artistic freedom. Thankfully, with "Worthy" she found it and the results are simply sensational. With more music on the horizon and a debut headline show at The Waiting Room in London on the 31st of May, LANTA spoke to Atwood Magazine about her bold reinvention.
Stream: "Worthy" – LANTA
MEET LANTA
Atwood Magazine: The sentiment of your debut -- freeing yourself from the exhaustion that accompanies trying to appease people who don't have your best interests at heart, and loving yourself for who you are -- is so impactful and resonant. What inspired you to pen "Worthy"?
LANTA: The song was a tribute to a friend of mine who was in a relationship where her partner had psychologically worn her down to the point that her self esteem was at rock bottom. She is an amazing women and I wanted to write about a scenario where she recognised and acted on her own power.
I was going through my own battles with self-acceptance at the time and although it was inspired by a friend's situation, it also resonated with some personal learning around my mental health.
Some of the track's lines, such as "you hurt me more than you had to," are really cutting and brutally honest. What was the songwriting process like for "Worthy"?
LANTA: A lot of the time I can over complicate things lyrically but sometimes describing a complex situation in a simple form can be quite universally powerful. I wanted to focus on not worrying so much about how the lyrics would be perceived and just write what I felt needed to be said.
Your vocal performance almost floats over the track's mesmerizing, alluring production. How was the process of crafting that production to complement your vocals and lyricism?
LANTA: The production process was a long but a through worthwhile journey. My original demo just had vocals, soft synth pads, arpeggiated bass, piano and simple guitar motifs. It really gave the vocal space, which was great, but it was missing some guts. I teamed up with producer Rhiannon Mair who helped flesh out the energy I was after. The demo had this victim, sad ballad feel like 'I am worthy of love' ended with a '?' and not an '!'. I wanted it to feel like it was ending on more of a statement of self-love than a 'why didn't you love me enough'. The song is ultimately a love song about the complicated relationships we have with ourselves. I didn't want the focus to be on someone else validating you.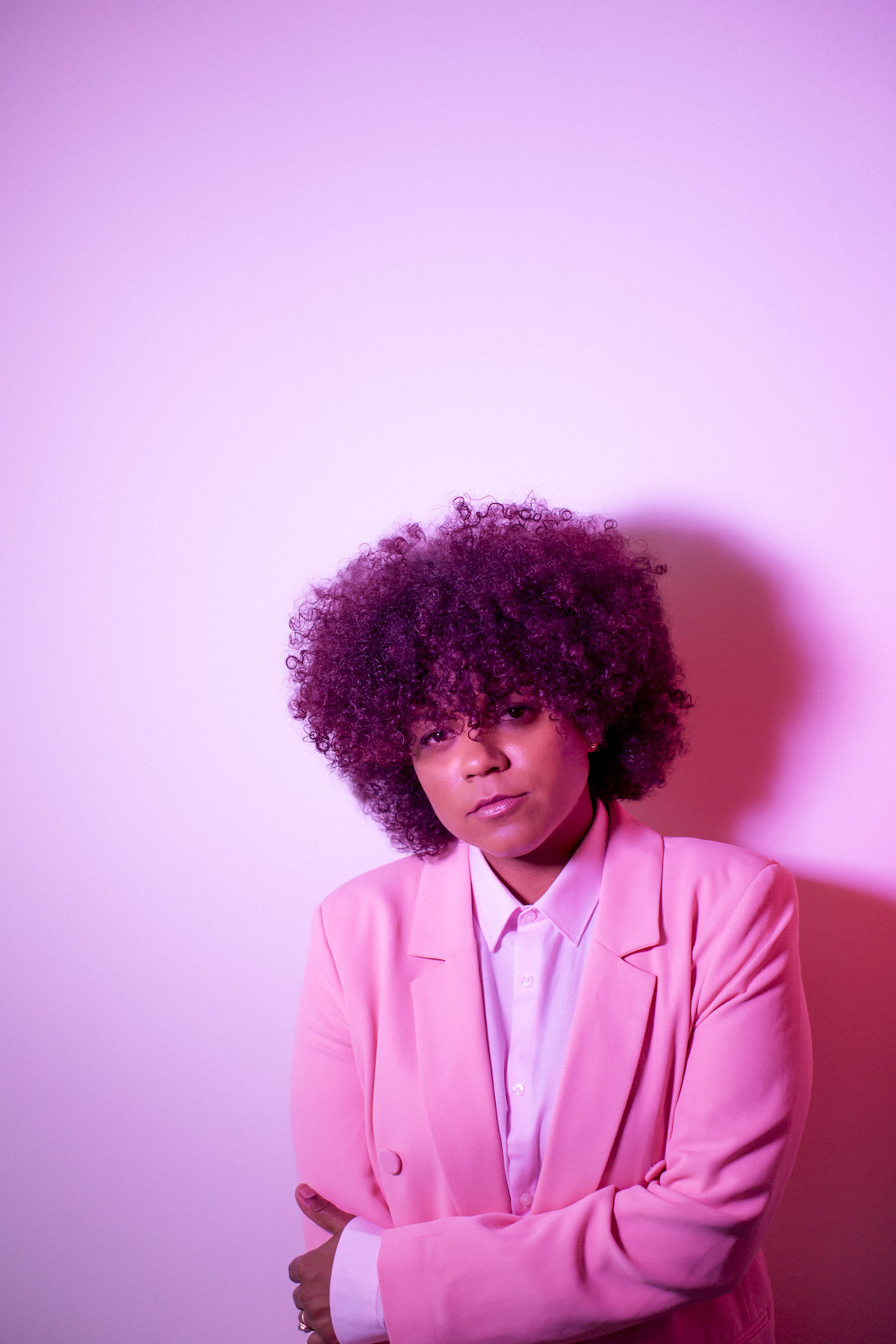 Worthy simultaneously feels excitingly contemporary while drawing sonic influences from decades gone by. Where there any specific sonic inspirations? Contemporary or otherwise?
LANTA: At the time of writing I'd just bought a record player and was donated about 100 records from the 70's and 80's by family members. I'd sit drinking cheap red wine and play record roulette listening to whatever my hand was drawn to in the pile that day.
Phil Collins, Joan Armatrading, Janet Jackson and Joyce Sims we're a few of many that I kept returning too. I had listened to them all in the past but physically sitting with their records just made me want to study them from start to finish with all of my attention.
We tried recording live drums for 'Worthy' but it drowned the tracks sentiment out a bit too much. It also made the 80's element feel too pastiche, we definitely wanted to take influence from that era but to also bring a fresh perspective on it. Rhiannon, Richard Wilkinson (who did additional production and mixed the track) and myself worked on programming drums that were just the right blend between classic and contemporary.
Sonically I was definitely influenced by Francis and The Lights, he is a king!
The artwork for "Worthy" is simple yet astonishingly effective. What was the process behind its creation and how does it relate to the track?
LANTA: LANTA is all about freedom and self-expression, I couldn't think of a more liberating way to express this than through our bodies. I have loved the work of Casey Roarty for many years and this felt like the perfect time to collaborate. I wanted colourful hand sketched outlines of different body parts on each of the singles. Once we had a few mock ups done we realised it didn't match up to the music in the way we had hoped. It was at this point I thought neon could be the way to keep to the original brief but literally illuminate it to better reflect the alternative pop character.
What's the most important thing to you as an artist?
LANTA: I think honestly is at the root of satisfaction for myself as an artist. As long as it feels real, I believe the rest will sort itself out.
What's your favourite thing about creating music?
LANTA: I never know what I'm doing, I'm constantly surprised, challenged and expanding my perception of what we are allowed to do as musicians. I'd say I'm most excited about how we can extend the musical experience further and create a world for music projects. New interactive experiences feel like an important next step for me.
How does it feel to be releasing music under a moniker, as opposed to your own name?
LANTA: What I have planned for this project just felt bigger than my name. It definitely feels like a project, like LANTA is a place not a person.
Following on from that, how did you settle on LANTA as a moniker?
LANTA: I went backpacking around Thailand two years ago and got stranded in the southern islands as a monsoon hit. During this time I was experiencing a challenging time with my mental health and that trip really helped me find some clarity and own some stuff I had been avoiding for too long. I can often be wound up quite tightly and feel anxious when things aren't planned/I'm not in control. The idea of backpacking was pretty terrifying for me but I learnt to let go a lot.
When the monsoon hit, I was unfortunately unable to visit Ko Lanta, somewhere I'd really wanted to go. I plan to return one day. LANTA is a tribute to that trip and represents somewhere I have never been before.
Your debut headline show as LANTA is at the Waiting Room in London on the 31st of May. What can people expect from it?
LANTA: It's going to be an open, welcoming and fun space open to everyone to sing, dance and enjoy feeling free. I want people to be empowered to be exactly who they are at these shows. To feel ok about buying a ticket and showing up on your own because it's more of a community.
— —
— — — —
? © 2019
:: Stream LANTA ::