Stunning surroundings, great music and an excuse for a picnic, sign me up! A review of 2019's Kew the Music, the family friendly festival which hits the spot.
— —
In recent years, London's Kew the Music has continued to blossom, emerging as an invaluable date in the festival calendar. Hosted in the idyllic grounds of Kew's Botanic Gardens, it is an event that really ticks the boxes – boasting a stellar lineup whilst still managing to appeal to people of all ages. This year, the festival played host to all manner of artists – from the social media King himself Lewis Capaldi, to classic rock band Garbage, and even R&B legend Craig David. Indeed, it was the first festival where I have seen an entire family huddle together and sway along to Rick Astley – a truly heartwarming scene!
The stunning venue is enclosed by trees and with the grass covered by picnic blankets and camping chairs, numerous screens are available to  ensure great views of the stage for all. That being said, a slight niggle of mine would have to be that with such a large section of the front dedicated to the holders of pricier tickets, it did prove harder for acts to really communicate with the audience as a whole, especially with the smaller up-and-coming support acts whose listeners weren't necessarily able to make themselves heard so far back. Yet having watched from both view points, there wasn't much to complain about either way.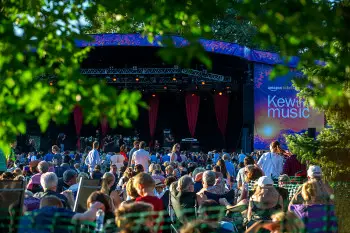 In the true spirit of the festival, I decided to bring my Mum along with me for a couple of evenings to catch Jools Holland and Rick Astley as they took to the Kew the Music stage. In typical Jools Holland fashion, the set was filled to burst with incredible guest acts who absolutely lit up the stage. An especially incredible vocal lineup saw the brilliantly talented Mabel Ray, Louise Marshall and Ruby Turner all completely knock it out of the park (or garden!) and deliver amazing solo as well as backing performances. Ruby Turner in particular left the crowd gobsmacked as usual by the power of her showstopping finale. In addition to this, the brilliantly funky Selecter brought a touch of ska to the proceedings getting the whole crowd to skank and singalong. With such a tight and polished band it was impossible not to marvel at the talented performers who provided a totally joyous evening of music.
A few nights later on returning to the festival, I was impressed by the brilliant Billy Lockett who proved to be the perfect support act for Rick Astley. The incredibly humble and hilariously self deprecating artist totally won over the crowd with his soulful vocals and he is definitely worth checking out if you have not done so yet! He was then followed by headliner Rick Astley who performed an absolutely delightful set that showed heaps of self awareness and appreciation for those around him. Often joking about his big hits from 'the eighties' and remarking on his own personal links with Kew, Astley's set was completely relatable and fun, filled with a perfect balance of old and new music.
Kew completely proved itself to be a lovely evening out with brilliant music, setting, atmosphere and most importantly, people!
— —