Ian Ferguson's 'State of Gold' is a nine-song trip back in time with slow, southern fried guitar tones and luscious harmonies resulting in a midtempo yet upbeat summer rock album.
Listen: State of Gold – Ian Ferguson
---
To be successful you have to be brave. Realizing opportunities can be great but not necessarily for you is a tough decision, and it's one that most people think you're crazy for making. Ian Ferguson is one of these brave people. The decision to break up his high school band, The Kingston Springs, with a major label deal on the table mustn't have been an easy choice—but listening to his solo debut album shows it was the right one.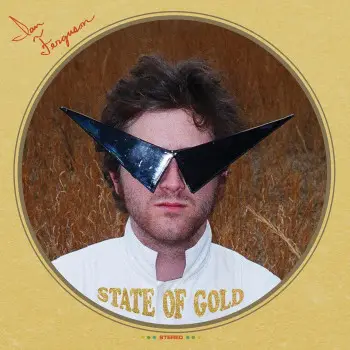 State of Gold, released July 26th via County Fair Records, is a passionate walk through the annals of rock history. However, unlike other bands who have made this voyage before them — The Sheepdogs or Greta Van Fleet for example — there's a modern flair to it that makes State of Gold feel less like a rehashing and more like a reinterpretation.
And all because his dachshund Hannah closed the basement door.
You read that right. While messing around with demos in his mom's basement the door mysteriously closed, locking him inside. "There was this faulty door at the top of the stairs that would lock itself and you had to have a key to get out, which of course I didn't have." What else was there to do then but lay down the framework to what became State of Gold: "I was home alone at the time so I started to freak out but eventually decided to make the best of it. I had this old HP computer from the 90's down there and I just went to town."
We all owe Hannah a huge thank you.
Watch: "Love Crime" – Ian Ferguson
---
If Lennon and McCartney had fronted Creedence Clearwater Revival, it would have sounded like Ferguson.  Heavy praise, but take one listen to that slow, southern fried guitar tone with those luscious, tinny harmonies and try to disagree. State of Gold is a nine-song, midtempo trip back in time, with each track borrowing from a different era. There's the psychedelic rock of T.Rex, the subtle piano of the Allman Brothers, the southern swagger of Alabama Shakes, and the low-fi charm of early Bright Eyes.
Add in a smattering of dust and grime from hours in the basement and the result is a plodding yet upbeat summer rock album—the kind of summer where it's so hot there's nothing to do other than sit back with a soda and enjoy the view. Like the 70s psych-rock albums he's channeling, State of Gold feels like you should be roaring down the highway with all the windows down, your favourite people in the back and the wind ripping through your hair. Not driving away from any worries, just driving to take in the sun.
Take "All My Days" for example. The repeated guitar melody coupled with Fergusons elongated notes creates an almost hypnotic quality, while the lyrics are almost Sgt. Pepper's Lonely Hearts Club Band-esque; a pondering of everyday life to showcase a bigger existence.
The wild ones awake,
From their crazy nights.
The others they rise for their lives
And they wipe their eyes
The parents go to work,
The kids to school
It brings them down so hard
And they're back so soon
Watch: "State of Gold" – Ian Ferguson
---
The same can be said for the rousing album opener, "State of Gold", a love song to his birth state of California. The hopeful ode feels like a glam rock rolled in dirt; it's grimy on the surface but scrub deep enough and it's all groove and good times at the core. And it's well worth the dig.
Even the first single "Tyrants Waltz"—which talks about the different shapes and forms tyranny takes—follows the same summer afternoon beat despite its pressing message. Written "before the current state of affairs," the song "represents the disconnect between the masses and those in power." Ferguson's favourite thing about the track though? "The sound of my mom's basement really shines through on this track, and I wouldn't have it any other way."
Watch: "Tyrants Waltz" – Ian Ferguson
---
There are some slow, tender moments on the record, in particular, "Late Last Night" and "I Fell Asleep Before The Night Began." Stripped of the layers that make the rest of the record so textured, these songs reveal a more vulnerable side of Ferguson. They also showcase the basement and his self-engineering, with the fuzzy backdrop serving as another instrument. These moments suit him well and its little wonder—there are few things more intimate than to be alone in a basement playing all the instruments yourself. Together they two songs create a different mood for the back half of the record.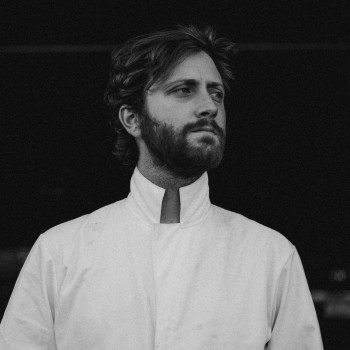 I got dressed up,
Picked up some goods,
Called all my friends,
Good night ahead,
It was understood.
I took a seat,
Good time ahead,
And I fell asleep,
Before the night began
Heard it was great,
Maybe the best,
Never will there be another,
Oh and all the rest
A fascinating blend of eras that doesn't feel stale, State of Gold is able to make you feel good and rock out at the same time—while capturing all the mundane parts of life that make it so special. It's thoughtful, elegant, and just rough enough around the edges to feel authentic. It started locked away in a basement but it should end up somewhere much bigger.
— —
— — — —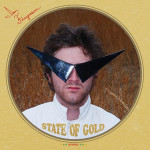 ? © 2019
State of Gold
an album by Ian Ferguson