Stockholm, Sweden's Violet Days chronicle the reassuring warmth of someone always being there for you with their crafty catchy track, "Leave But Don't Go."
— —
With sharp, assured lyricism and radiant production, Violet Days compel with their catchy ode to unwavering affection, "Leave But Don't Go."
The Swedish alt-pop project of Lina Hansson and Kris Eriksson, Violet Days' triumphant 2016 track "Your Girl" showcased their inmate songwriting abilities, as well as an affinity for crafting music crammed with refreshingly slick pop-inspired production. The ruthlessly defiant song explored a turbulent relationship that's fading away, resulting in the occurrence of heart-wrenching unrequited love. Violet Days continued to enthral with riveting insights into intricately complex emotions on subsequent singles (many to critical acclaim), and their latest release is certainly no exception.
Released September 28, 2018 via Pinksign Music, "Leave But Don't Go" is a single taken from Violet Days' highly anticipated EP, Made in My Head, which is due for release next month. Although Lina Hansson serves as the face of Violet Days, the project also encompasses revered songwriter/producer Kris Eriksson, who co-wrote The Chainsmokers' smash hit "Paris." In the vein of their previous releases, Violet Days' sound is cleverly situated in-between pop and electronica. The intriguing intersection of these two complementary, yet distinct genres results in a skillfully unprecedented sound that feels wickedly vivacious.
I don´t speak what´s on my mind that much
I know you hate that
And when you try to pull the words from my mouth
You know I hate those
The track's absorbing start serves to showcase Lina Hansson's polished vocal as her voice floats above a subdued yet vibrating beat. As the song progresses the production slowly expands and evolves, resulting in an immaculately multi-layered and playful plethora of different sounds that effortlessly interweave with one another. The result is a track that's not only full of confidence and charm but also packed with endlessly enthralling complex emotion.
"Leave But Don't Go" explores a sacred relationship where someone is always there for you, regardless of the circumstances. The track's pin-point songwriting combines vulnerability with confidence while the production hits your eardrums with a dazzling vibrancy and warmth. One of the best aspects of this track is the grounded and accurately realistic depiction of effervescent adoration that flows throughout.
All I can say is
I´m complicated
And you get what I'm like
Cause you´re staying
Even though I don´t know
(it´s so hard to explain it)
Why I say it
Want you to leave but don´t go
While the track's title is paradoxical, the Stockholm-based music project's vision is remarkably clear-cut. On "Leave But Don't Go," Violet Days embrace all varieties of romantic vulnerability in a refreshingly ingenious manner. By reflecting the true reality of love, they manage to create music that is deeply rooted in relatable affection, somehow encompassing the often-indescribable combination of passion, adulation, and yearning.
Stream: "Leave But Don't Go" – Violet Days
— —
— — — —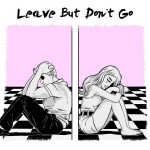 ? © Kris Eriksson
:: Stream Violet Days ::