Brash, unapologetic, and stunningly dramatic, Twist Helix's sophomore album 'Machinery' is a synth-soaked cultural critique drizzled with urgency, emotion, and anthemic alt-pop.
Stream: "Vultures" – Twist Helix
---
Brash, unapologetic, and stunningly dramatic, Twist Helix's sophomore album is a synth-soaked cultural critique drizzled with urgency, emotion, and anthemic alt-pop. A majestic and immersive bilingual journey into the bitter depths of commercialism and commodification, Machinery is a musical whiplash: A rejection of the music industry's conformist pressures and an assertion of musical individuality, autonomy, and personal ambition.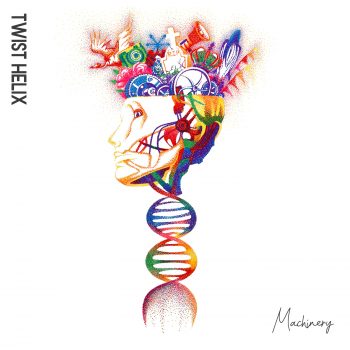 There's a man at the back
he's standing getting ready to jump your bones.
There's a man all in black
he's staring, won't rest 'til he takes you home.
He's a vulture.
Casual as he makes his offer
of the life you dream about,
sell your soul as you put pen to paper,
chews you up and spits you out.
He's a vulture.
Chews you up, spits you out, he's a vulture.
– "Vulture," Twist Helix
Released November 20, 2020 via Paul Back Music, Machinery is the fervent and finessed sophomore LP from Newcastle, England four-piece Twist Helix. The trio of Bea Garcia, Matthew Barron and James Walker, Twist Helix debuted nearly five years ago with the pulsing "Decade," and haven't looked back yet. Following 2016's Manifesto, the group released their debut album Ouseburn in late 2018, receiving praise from both BBC and Spanish radio affiliates.
"All our work has something of a self-reflexive quality," Bea Garcia tells Atwood Magazine. "That's the link between this album and the previous, Ouseburn."
Bold and cinematic, Machinery feels like Twist Helix's mission statement.
Self-described as "Ibero-Geordie electronic alt pop," Twist Helix's new music finds the group in a pique of passion. In premiering the album's opening track "Louder" this past February, Atwood Magazine writer Alicia Bugallo praised the band for their protest song in support of women: "A perfect example of unapologetic pop, "Louder" marks the band's first offering in two years and showcases their ability to create synth-heavy soundscape intertwined with captivating hooks and soaring vocals… Lighthearted in sound, yet powerful in lyrical content, "Louder" is an anthem for all the women in the music industry who have been overlooked, disrespected or ignored."
Do I have a choice?
Not one of the boys,
never make a noise,
no voice
Biting on my tongue forever,
Forever I choke back on all of my needs
I bore my heart never
Yet never I give up on all I believe
---
"We wrote this album during an artist studio residency at Sage Gateshead," Twist Helix explain. "It was the first time we'd had a dedicated space to ourselves and it really shows the whole album is a composite representation of our influences. If we had to pick a [favorite] track: 'Louder' – writing it together was the most exciting moment of the whole record."
An expansive yet incredibly tight musical set, Machinery dives hard and fast into realms of sexism, industry barriers and related frustration, the cultural reduction of music (and artists), and more. "Louder" sets a strong tone that never ceases in strength – from the roaring "Ghost" and the driving "Frida Kahlo," to the heavy-hitting "Camera" and "Good Night Little England" that mark the record's feverish finale. While definitively alt-pop/synthpop in texture, Machinery can often feel like a pop punk album thanks to Garcia's defiant, expressive vocal performance and the sheer intensity of her lyricism. Every song feels tailor-made to either get listeners up and moving, or to stir something deep inside. Never should there be a still moment.
"Machinery is our response to the workings of the music industry and the act of cultural production," Garcia explains. "It's a distillation of our experiences as a DIY band, our five years of trial and error trying to make it on our own, as an indie band within an increasingly professionalized music industry, that is not so much focussed on artistry but obsessed consumption and "the product". The album is a candid reflection on the obstacles we face, the entrenched politics within the industry, and our increasing sense of alienation from what it is we are trying to achieve. Lack of fulfillment haunts the record, and while there are glimmers of hope and fleeting moments of joy (like those we feel on stage), the prevailing theme of 'Machinery' is that of a band trying to come to terms with our fading romantic vision of music; that what we've been trying to achieve artistically is worthwhile, that the dream of creating something authentic and meaningful will be recognised for its own merit and not reduced to a throwaway commodity."
"As songwriters we want to be listened to, our words and music have a meaning. They come from ourselves and express something deeply personal to us. Coming to terms with our voice was one of the hardest things we had to do as a band, so we felt we had to open this album with an explanation of that, putting our vulnerability on display and being honest with the listener."
A bilingual record rooted in upheaval and protest, duress and defiance, Machinery is one-of-a-kind in 2020.
Twist Helix have made something special here, opening their audience's ears and eyes to the music industry's continued injustices while soundtracking a vivid musical journey for all. Experience the full record via our below stream, and peek inside Twist Helix's Machinery with Atwood Magazine as the band goes track-by-track through the music and lyrics of their third album!
— —
Stream: 'Machinery' – Twist Helix
:: Inside Machinery ::
— —
Louder
I've been overlooked, and underbooked,
my words mistook, and my confidence shook.
 'Louder' is as candid and heartfelt an opening as we could have wished for, but it's not coming from a good place and it finds no lasting resolution. For all the honesty and anguished expression of 'Louder', at the end of the track Bea's voice begins to distort with the implication that our authenticity is inconsequential; we're still not being heard as artists, the question is why?
Ghost
'Ghost' offers an answer, a rumination on the ghostly invisibility of women in the music industry. The track lays bare our intense frustration with the chauvinistic attitudes that pervade the music industry.
Heaven above remains unreachable,
its glass ceiling is unbreakable,
look at me, I'm invisible,
forever condemned to be a girl.
'Ghost' lays the blame squarely at the feet of the industry, calling out the festival bookers that perpetuate the gender imbalance on their line-ups.
A spectre, a wraith, a spook, a shade,
my name is eclipsed, impression fades.
The poster of life, the line-up is closed,
someone save me, seance my soul. 
With 'Ghost' and 'Louder' a pattern begins to emerge that is central to our artistic anxiety, the fear of being ignored or forgotten looms large. But is it merely the obstacle of gender discrimination that causes this? We shall see…
Frida Kahlo + Machinery + Alive
Shifting gear into an ebullient Europop Kitsch, we follow 'Ghost' with the saccharine cheeriness of 'Frida Kahlo', a tongue-in-cheek commentary on consumer culture where Frida Kahlo, the artist, is literally reduced to a fashion accessory. On Frida it becomes evident that the ephemeral nature of Pop culture insists upon art being meaningless and disposable. Even successful artists then are forgotten – it is nothing personal just a matter of course. Art is simply a commodity to be bought, sold and discarded on the whims of changing fashion. For Frida this means her self-portraits are no longer a representation of the artist herself, but a trinket upon which the consumer ascribes their own meaning or narrative when snapshotted in an Instagram post.
My earrings show Frida Kahlo,
is that kitsch? Well, I just don't know.
A palimpsest of text is my soul,
digital and so available.
So is that it then? Is Art meaningless of no intrinsic value and is there no higher purpose to anything we do? Not quite. Implicit within 'Frida Kahlo' and the irreverent nature of the consumption caricatured is the possibility that a more balanced relationship between artist and audience is possible. We give a hint at this next on the album's title track 'Machinery'.
Sometimes this world feels so cold,
and everyone here alone.
On their own in a dark black room,
like broken vessels in forgotten gloom. 
The song is delivered from our own vantage point, as musicians on stage catching fleeting glances of the faces in the crowd. Seeing momentarily their reactions, sensing their emotions and feeling a momentary connection with them.
They shine like machinery,
in the shadows of factories,
lights flicker in the darkness. 
It's brief, transient and intangible, but the sentiment is real and perhaps all we can hope for. We move forward as creatives, with an unflinching conviction in our own humanity. Whether we're disillusioned or just experienced it's all ultimately a matter of perspective as we make clear on next track 'Alive'.
A lifetime of tragedies have been put to rest,
departed distantly, now they shine above me.
Festival Season
Side one of the LP comes to a close with a fitting epilogue in 'Festival Season', a recollection of lost youth and the memory of a music festival. Remarking that "romance lasts like single use plastic glass", 'Festival Season' contrasts throwaway consumer culture with lost friendships, retaining a wistful sentimentality at peace with a culture that renders human relationships disposable.
And when the leaves change colour,
we will forget each other.
Transmission + Vultures
From a lost past to a lost future, side B of the album opens with an ominous and hauntological synth-wave instrumental 'Transmission' before moving into our acerbic and biting synth-punk single 'Vultures'. 'Vultures' was one of the last tracks we wrote for the album, but one which came with the easiest clarity of thought. 'Vultures' is simply about corruption, and through deliberate contextual ambiguity of the relationship between the characters links the extractive and exploitative nature of the business with a permissive culture of predatory behaviour found throughout the entertainment industry.
Chews you up, spits you out, he's a vulture.
Exposure + Camera
Vulnerability as a theme returns in 'Exposure', a warts-and-all re-telling of the band's experiences on an indie-circuit before the penultimate track 'Camera' tries to offer some reassurance that, through persistence and heightened perception, the boundaries between art and lived experience can be overcome.
My shutter, my camera,
reveals more than eyes can capture.
My shutter, my camera,
the instamatic biographer.
Good Night Little England
The album's conclusion is a bittersweet one. 'Goodnight Little England' is about cultural outcomes, and specifically Brexit as the result of a stunted cultural outlook prevalent among the English. For us, Brexit as a project is a national folly dependent upon a negative reactionary nationalism that can only define itself through opposition.
Here's a song for the North Sea, for all the things that divide you from me.
The song's opening lines set up this oppositional outlook, pairing it with our own sense of dislocation and disappointment in a culture that not only rejects others but misunderstands itself. To illustrate this, as the song develops we allude to British cultural works: the Myth of Canute and the Tide (an apocryphal myth of a Norse king who demonstrated the limits of his power to his obsequious advisors), Matthew Arnold's 'Dover Beach' (a poem about a crisis of faith, stemming from doubt in our central and special role in the universe), T.S Eliot's 'The Wasteland' (a poem about disillusion in progress) and Shakespeare's 'Tempest'.
The common thread between all of these quintessentially English works is that all have at their core European characters and events. We wanted to use these allusions to really drive home the message that exceptionalism and difference only really exists upon the surface level and that the prevailing cultural outlook is merely the result of what we chose to believe. Hence our invocation of 'Ariels song' from the 'Tempest' in the final section.
History's Tempest tide breaks in weeping waves,
a full fathom five thy myth Britannia lies.
'The Tempest' is Shakespeare's most self-reflexive work thematically dealing with drama itself. The play unfolds on an island after storm conjured by Ariel, a powerful spirit who is bound to serve the magician Prospero (who it is argued represents Shakespeare himself). At the close of the play, Prospero frees Ariel (having lifted the magic spell) and in a final soliloquy breaks the third wall bidding the audience to "release me from my bands // With the help of your good hands". With this, Shakespeare reveals that the magic of the drama was only possible through the willing participation of the audience.
Our music and our culture is pretty much the same.
— —
— — — —
? © Paul Murray Media
:: Stream Twist Helix ::
---