London's Connie Constance dives into her empowering, catchy, and cathartic sophomore album 'Miss Power,' an achingly intimate and brutally honest indie rock triumph.
Stream: "Hurt You" – Connie Constance
---
Connie Constance set upon making her new album with one vision in mind: To make the indie record of the year or decade.
And damn, if she didn't see that vision through.
Radiantly raw and cinematic, Constance's sophomore LP is an empowering and cathartic indie rock masterpiece: A visceral, vibrant world that beckons its listeners to dwell in our own depths. Achingly intimate and brutally honest, Miss Power is an unapologetic, sonically and emotionally charged triumph that sets Constance apart as a beacon of passion, connection, and unabridged self-expression.
I cut loose your prehistoric point of view
A tight noose that hung me above all I knew
You're fish food and I am not afraid of you now
I shampooed out all the dirt from your abuse
In ten moves you're gonna change your attitude
A shark tooth and you should be afraid of me now
A snake in the grass, a shark in the ocean
I couldn't trust you with my emotions
I had to become a recluse
I like me better now that I'm mad…
And now you're calling me crazy
'cause I like being bad
This is the way, uh
This is the way that I hurt you
But cutting you loose
You can't get a grip of my heart
– "Hurt You," Connie Constance
Released November 4, 2022 via Play It Again Sam, Miss Power is a captivating affair of the heart and soul; a reckoning of one's innermost self that finds Constance coming into her own as a person and an artist, owning the full spectrum of identity in what ultimately constitutes an upheaval and an embrace all at once. Described by Constance as "a bold collection of songs imbued with high voltage drums, snarling guitar riffs and anthemic feminist rage," Miss Power promises to light a fire within all who listen. The follow-up to 2019's debut album English Rose sees the Watford born, London-based indie rock artist weaving a radiant tapestry that's as catchy as it is urgent and aching – a quality that has certainly been felt throughout this year's singles "Miss Power," "Till the World's Awake," "Mood Hoover," and "Hurt You."
"It's my little bug," Constance says of the album. "Beautiful wings, poisonous sting, mushy on the inside hard on the outside, iridescent colours. I love my bug but it doesn't need to be kept safe in my bedroom as it can handle itself in the world now."
The past three years have had a massive impact on all of us, but for Constance the shake-ups have been both external and internal. "I'm very sure of who I am, for now," she says, contrasting English Rose and Miss Power in a recognition of her massive personal and professional growth. She describes the new record as powerful, outdoors, and cathartic, and isn't shy about calling it her best work: "I feel realised within this project for the first time, so not only has it empowered me, but it also felt right to use my birth name on the album," she says; for context, her "Connie Constance" is a moniker; the artist's legal name is Constance Power.
I've never been that good at talking
And you wasn't there to help me find my words
With you I feel I'm out of practice
It's not a two-way street
It's your way or the curb
Don't you wanna be the heavyweight champion?
Pick me up when the world starts falling down
Cause I haven't found the coping mechanisms
I'm still waiting at the window for you to come round
I don't know why I wait for something new
When I will change but you'll always be you
– "Heavyweight Champion," Connie Constance
Miss Power is truly as unbridled, unabridged, and as unapologetic as it gets.
"I think it travels through the inner workings of my mind through sound," Constance adds.
Please don't spit on me when you talk It's not nice
It's not what I like, I don't want to speak to you
Whispers in the night, whispers in your life
The spit on the floor in the chewing gum
Bubbling up, chewing gum dreams
Walking down the street
Chewing to think
Chewing to stay alive, chewing late at night
Chewing to keep in time, with a busy mind
Overthinking too much, too much stuff
And too many faces, too many people
Always different people, do I know you?
Do you know who I am?
– "YUCK!" Connie Constance
Whether she's dealing with her own or inherited trauma, exploring and unveiling her own fractures and faults, navigating toxic and tough relationships, or diving into her innermost depths, Constance ensures Miss Power is as engaging as it is enchanting. Highlights include the heated, hushed, and radiant opener "Till the World's Awake," the hypnotic and heartfelt "Home," the utterly brutal "Heavyweight Champion," the intensely catchy "Mood Hoover," the six-minute stream-of-consciousness freestyle "YUCK!," and the invigorating, cathartic, and inspiring "Hurt You," which Atwood Magazine recently listed as an Editor's Pick.
"Spirited and buoyant, charming and churning, "Hurt You" arrives as the soundtrack to our own redemption stories," we wrote at the time. "It's the captivating, charismatic anthem we all want to shout out loud into the darkness, whatever and whoever that is for us. 'They say that damaged people aren't afraid of danger. I'll be black, I'll be blue, still, I'll rise like the morning sun.'"
What doesn't kill us makes us stranger
They say that damaged people aren't afraid of danger
You cut, you can bruise
But I've got ten rounds for your one
What doesn't kill us makes us stranger
They say that damaged people aren't afraid of danger
I'll be black, I'll be blue
Still, I'll rise like the morning sun
Ever been in the swamp and kept rowing?
Had the weight of the world and stayed floating?
Showed up brand new when inside you're broken
The power in you, yeah, it won't go unnoticed
---
"It keeps changing," Constance says on the topic of favorites. "At the moment 'Never Get to Love You' is my favourite again, but 'Blank Canvas' and 'Heavyweight Champion' have a very special place in my heart." On the topic of lyrics, she first cites a line in the freestyle, "YUCK!": "'Crip walking on the end of the world,' Just dancing through the chaos. [Also], 'Hey green, what's blue'…. actually the whole intro on 'Never Get to Love You.'"
Hey green, what's blue?
Your forest eyes look damp
And your body overgrown
And now winter's gone
Are you after someone new?
With fresh bark for your dimming flame
Don't feel bad about the truth
I know you so well
That I know when you're not And I get it
We've been growing apart
As I no longer feel intertwined in your heart
– "Never Get to Love You," Connie Constance
---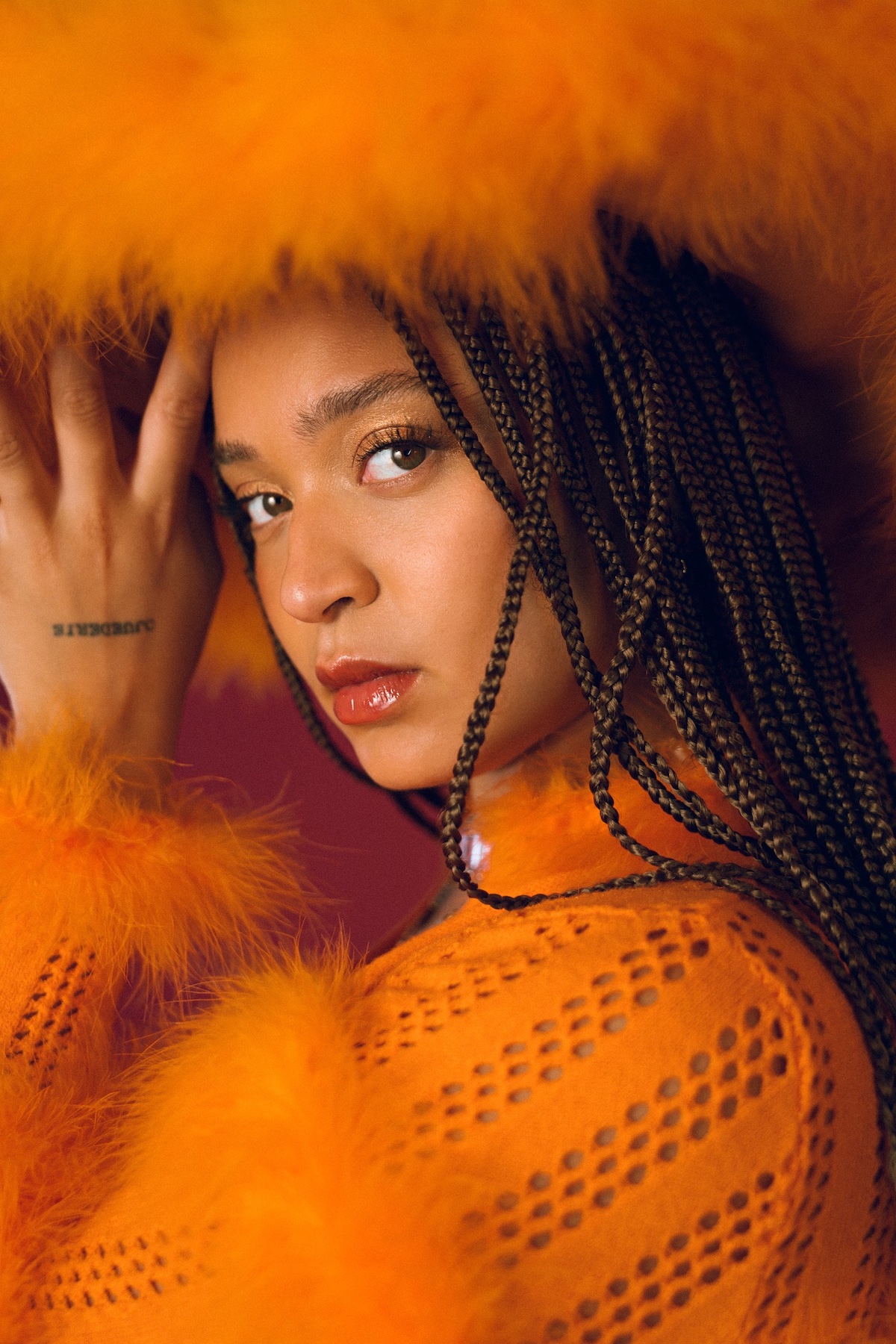 Ultimately, Miss Power is Connie Constance at her very best.
Unrestrained by industry pressures and expectations of how a song should sound or what an album should look like, she has created a stunning journey that seduces the ears, soothes the heart, and stirs the soul. It's a beautiful, visceral, brutal outpouring that hurts so good. She set out to make the indie record of the year, and she very well may have done just that!
You're not an easy peeler
You're a stubborn stone
At the bottom of my shoe
But I'm not that soft either
It takes a heavy truck to move you
But all I want is at the end of the world
To be sat next to you
And all I know is we're f***ing awesome
And they'll see it soon
And I might bring flowers in the rain for you
Fill up a bath of champagne for you
Draw our initials in cocaine for you
For better or worse, people call it love
– "Mood Hoover," Connie Constance
"I don't really hope for anything other than that it reaches the right people," Constance shares. "Criticism or compliments don't really work on me. If you love it then you're who it's made for. If you don't, then don't listen to it. And I have realised even more so how I love making albums – it's such a deep process of making music that can't really be achieved as much from one-off sessions. An album is where it all comes to the surface."
Experience the full record via our below stream, and peek inside Connie Constance's Miss Power with Atwood Magazine as the artist goes track-by-track through the music and lyrics of her sophomore LP!
— —
Stream: 'Miss Power' – Connie Constance
:: Inside Miss Power ::
— —
IN THE BEGINNING
From as early as I can remember there have been fairies scattered around my childhood home and living in the bottom of my garden. This is my invite into the world that my mother created for me.
I wanted "In the beginning" to be a non-binary introduction to an album that has a very feminist nature. Allowing everyone who listens to hopefully feel as though they can be the main character of this story, to see themselves in my fairy boots.
TILL THE WORLD'S AWAKE
The beast, The Party, The anthem. Day one of this saturated over stimulating world and everything feels possible.This song for me is the indie dance single of my dreams.
"I know that we've got enough love to give away, and they cannot replace all the moves we've made, and all the nights we've stayed up till the worlds awake". We have to work extra hard to be understood, but we will be, and until the worlds awake we have each other and no one can take that from us.
MISS POWER
The feeling when you leave everything behind and head into the uncertain but electrifying future. It's day two and we're not sure who we are, but we know now that we're in the driving seat of this Journey. It's a fairy boss bitch anthem that I actually needed myself at the time. During the pandemic I was cleaning offices and toilets once a week to have enough money to come to the studio. It can be quite hard to keep a dream in your mind whilst squirting bleach down a toilet.
 This is my empowerment anthem, I'd say a very typical Connie Constance written and Sam Knowles produced indie banger. It's for everyone that's working their arse off everyday just trying to keep their head above water. With the rise of the cost of living and no clear respite in sight I hope that this song can do for others what it has done for me, kept me motivated, strengthened my belief in myself and opened my eyes to where it's possible to take control of my fate.
NEVER GET TO LOVE YOU
If fairies had a skins themed party this would be the backing train to that scene. I think this song is where all the field recordings that we did in the new forest really shine. Me, Sam and his friend Nic went out to the country and frolicked with wild horses recording all the mystical sounds that we could muster.
Lyrically this song is about an ex lover and how we grew apart and all the dreams we made together actually will be lived out separately as we just aren't in love anymore. "Hey green, what's blue?" Green being a reference to the heart chakra and blue being a reference to sadness, this was my way of saying "hello my love, what's up?".
MOOD HOOVER
This song is our "us against the world" song. Could be your lover, or your partner in crime. It's saying that, in our unique bubble, we're the most awesome people in the world – with all our jagged edges and quirks…. People just don't know it yet, but one day they will.
HEAVYWEIGHT CHAMPION
I went to see the wonderful Ed Thomas with this concept and I had this urgency in me to write this song. Ed is the most wonderful soul songwriter so we began and the song completely flowed out like it was already written.
HURT YOU
My revenge song, this is a song for all the villains that are just a product of their environment. This is for the Joker and Harley Quinn. In this realm the villain is the people's champion and anarchy reigns.
This song is about the lowest time in my life and in my career when Connie Constance the artist was dead and buried  and it's about how I climbed out of that grave and didn't let anyone take my love of writing and my hunger to share my music away from me.
KAMIKAZE
I jumped off stage after being part of Haks electric sold out village underground show and was raring to go. Me, Sam (karma kid) and Baz (bondax) went round the corner to the studio in old street. We needed to capture the energy of that performance in a punk song for the album.
It's pretty self explanatory from the lyrics I'm talking about the western beauty standard women are expected to uphold.. especially those in the media eye. And also the idea that we're all meant to have together all the time. It's talking about Amy Winehouse and more recently Caroline Flack and how they were treated by the media instead of cared for in a time of need.
HOME
This song is my anxiety made beautiful, it's for when you're right in the thick of it. When you can't silence the intrusive thoughts and you don't really know what to do.
YUCK!
One long freestyle. We wanted to make a song for the album that was a stream of consciousness. And the only way to do it was to actually do it as a freestyle. I wrote down a couple of subjects that had been floating around my head at the time and got up to the mic and delivered the stream of consciousness from start to finish in one take.
BLANK CANVAS
This song is really a cry for peace, for a fresh start. When you just wish that you could wipe everything black and start again. This is that song.
RED FLAG
Our final harra, the big finale. It's really about that friend,lover or family member that is definitely meant to have your back but actually instead of protecting you from others they are the chaos in your life.
— —
Stream: 'Miss Power' – Connie Constance
— — — —
? © Phoebe Fox
:: Stream Connie Constance ::
---