After a year of canceled shows, co-headlining celebrated folk masters, Gregory Alan Isakov and Patty Griffin, take the stage in Northampton, MA for a night of song and story on the last leg of their 14-date tour.
— —
Under the neon red Academy of Music marquee (which currently is lit without a functioning "y" on the end of Academy, but it's dazzling all the same), it's a crisp October evening in Western Massachusetts. Lining up are fans of various ages—local New Englanders, Blundstone boot and plaid flannel wearing students, and farmers market go-ers — everyone coming together like a family to witness co-headlining folk artists, Gregory Alan Isakov and Patty Griffin. The audience gathers inside the velvety, warm theatre for a sit-down concert, a rare intimate experience where you're encouraged to leave the world outside and sink into the sound.
Grammy Award winning artist, the prolific Patty Griffin, plays her selections first setting a traditional folk standard for what's to come and introducing us to the stage dynamics. Both Griffin and Isakov perform in a duo accompanied by the bare necessities—acoustic guitars, a piano, a banjo, a synth, a harmonica, a tambourine—oh, and two glowing globes for a touch of decoration and light. Behind them a gradient backdrop drapes the stage in rotating colors, setting a mood or flickering with the beat of the music depending on the piece.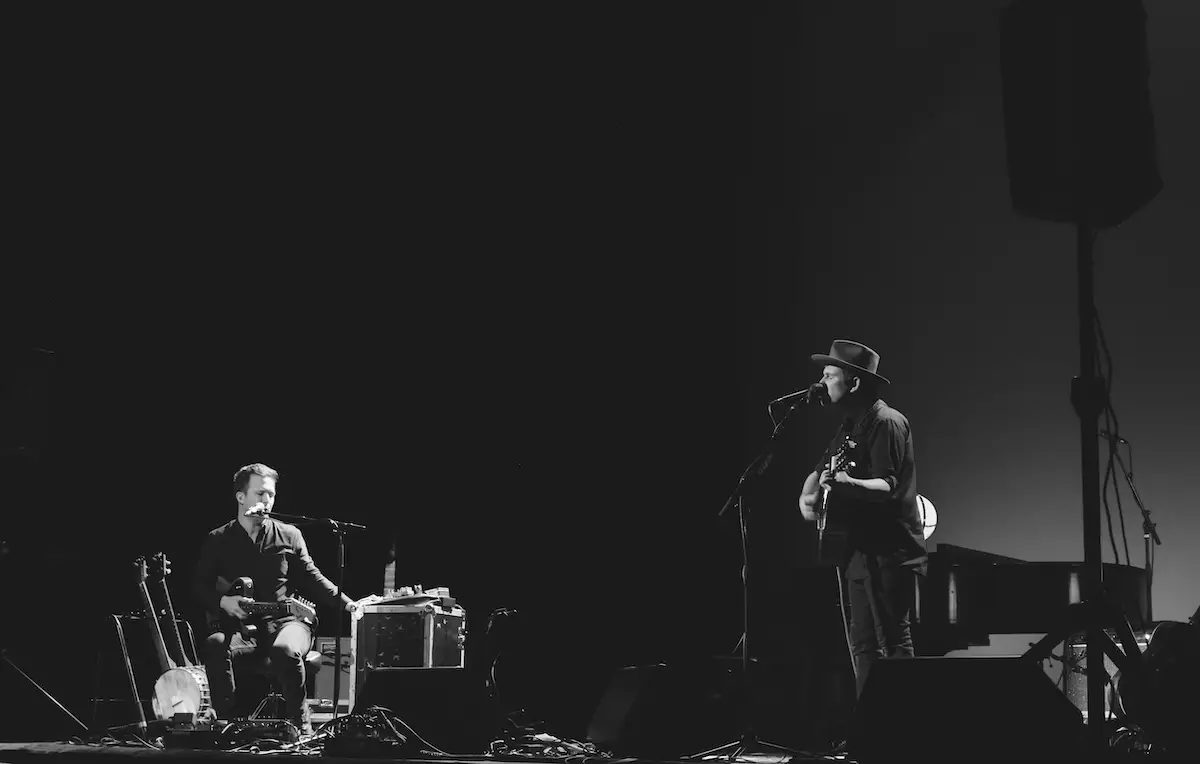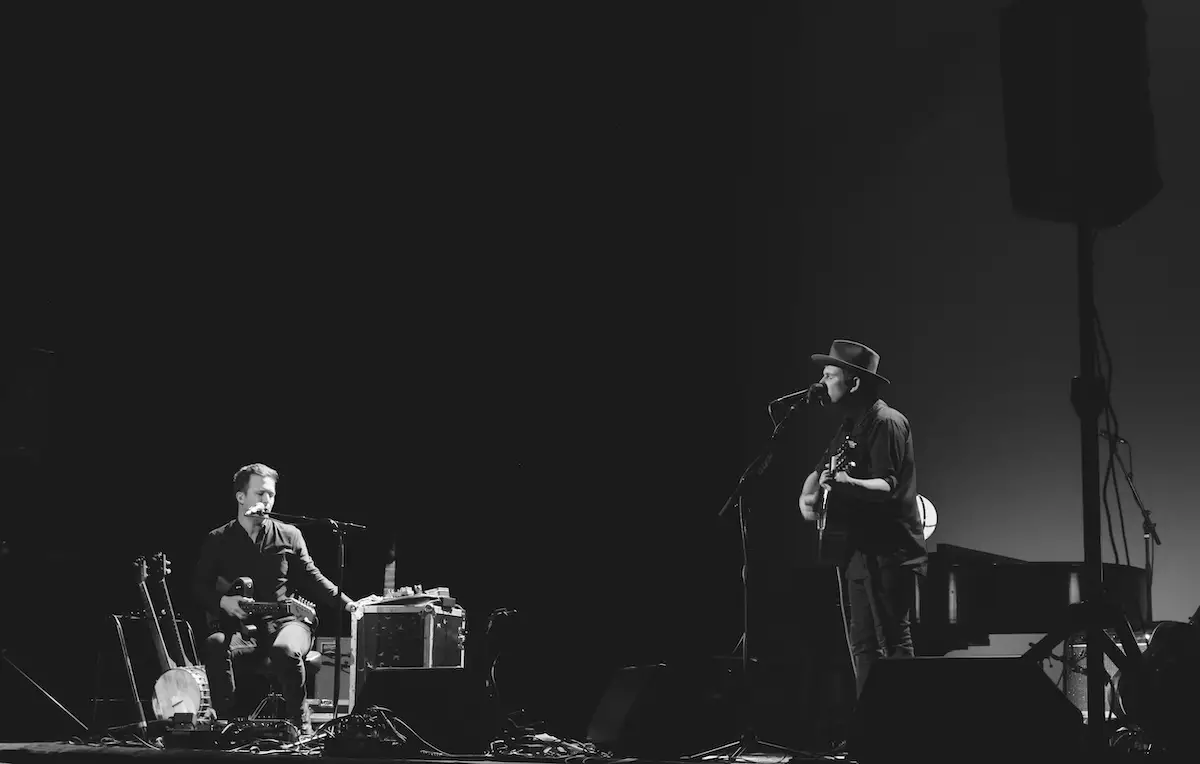 Gregory Alan Isakov played his set during the second half of the evening blowing the wildest of expectations out of the water (on his birthday, no less). His style is what I picture a Colorado sky looks like, all rich navy and star sprinkled and majestically mountain-lined. The kind of darkness that illuminates life's bigger picture a bit more clearly. Arranging a compilation of songs from Grammy-nominated album Evening Machines (2018), This Empty Northern Hemisphere (2009), That Sea, The Gambler (2007) and The Weatherman (2013) to suit a simple duo, Isokov and his right-hand man, Steve Varney, introduced us to new stripped-down interpretations of beloved favorites. Whether accompanied by sublime orchestration (Gregory Alan Isakov with Colorado Symphony, 2016) or a single acoustic guitar, Isakov's music has a spirit that transcends.
The essence of Isakov's cosmic magic is in his tone and mastery of storytelling.
The overall mood and color of Isakov's sound is focused and he maintains this tone throughout his discography. The music's often somber, reflective, country-romantic aura makes for an intimate live performance. One that doesn't fluctuate between moods, but dives deep into the dark, dark, dark. As it happens with the best folk artists, less is more. There's no need to put on airs to completely captivate. With the audience seated to absorb the sound, no one needed to move to be moved.
Towards the end of the show, Isakov played a new song and shared that we can expect a new album in the near future. These new songs written in Boulder at Starling Farm, a small farm he manages that provides produce to CSA members and local restaurants, are bound to be the kind of folk soul food that can transform poisonous memories into remedies. Behind the painful realities of Isakov's stories there lives a purity of their origin, a rawness of lyrical storytelling that is his gift. Stories harvested with intention and carried by a timeless sound, there's more of Isakov's musical pharmakon to come.
Catch Gregory Alan Isakov and the full band on a national tour the rest of this year with Israel Nebeker (of Blind Pilot) and Leif Vollebekk. And then, supporting The Lumineers on an international tour beginning in February.
— — — —
? © Andreas Aluia
:: Stream Gregory Alan Isakov ::
---