A live experience like no other, indie rock band The Backseat Lovers set out on their largely sold out 'Waiting to Spill' tour, bringing their spirited songs to life through a passionate, intimate, and unforgettable performance.

Stream: "Slowing Down" – The Backseat Lovers
---
The Salt Lake City-hailing indie rock band The Backseat Lovers, who got their start with live performances in intimate settings such as Kilby Court and The Troubadour, are small no more. The group embarked on their nationwide Waiting to Spill tour back in April, showcasing new songs off their latest record in breathtaking fashion while continuing to develop a dynamic fanbase in each and every city they visit.
I attended their sold-out Hollywood show at the Palladium on April 26 and my first reaction before even entering the venue was that of disbelief – their Los Angeles fanbase had seemed to triple in size since seeing them the year before at The Fonda Theatre.
Fans had been lined up on Sunset Boulevard with armchairs and umbrellas since the wee hours of the morning. Similar to the themes of growth and maturity captured in their latest record, I wondered if I was about to witness a turning point in the band's success.
Joshua Harmon (lead vocals and guitar), Jonas Swanson (lead guitar and vocals), KJ Ward (bass guitar), and Juice Welch (drummer and vocals) took the stage while being drowned with applause, entering what has become to be their signature live opening – an extremely passionate, intense instrumental jam session that boosts energy levels while developing a mysterious build-up into their first track.
The set opened up with "Know Your Name," one of the band's most spirited tracks off their new record, featured this past year on CBS Sunday Morning. This track contains one of the group's greatest musical build-ups featuring an ultra-dynamic guitar solo from Harmon. It was evident how excited the group was to kick off their set with such a powerful ode to growth.
---
After an immediate transition into a fan-favorite, "Pool House," the band paused to relish in the realization that the voices of the crowd were seemingly drowning out Harmon's angst-driven vocals, a testament to the exponential growth of the group's following.
Throughout the set, it was evident Harmon and the rest of the band were captivated by the fervent engagement they were receiving – cheers of support for guitarist Swanson's vocal solos – which are more present than ever on their latest record – fans energetically jumping while shouting every word to "Kilby Girl," even cries of approval for Harmon's new haircut.
---
The Backseat Lovers clearly have gotten more and more comfortable playing together live, to the point where they're not afraid to experiment and utilize various gear techniques while performing. At some points, Swanson would take a break from his guitar to essentially "play the pedals," tweaking the balance of his pedalboard setup to create eerie, sonically clashing noises that added to the atmospheric intensity of the set. These experimental additions to the live set kept a buzzing audience on their toes.
In past performances the band has tended to keep to their spunky, high-energy setlist. With more emotionally intimate, sonically intricate tracks on Waiting to Spill, they took a break from rocking out towards the end of the set and returned to pleas for an encore – but came back with a surprise.
An encore was certainly what they delivered – a live debut of "Snowbank Blues" and "Words I Used," switching to an acoustic duet between Harmon on the acoustic guitar and Swanson on keys. The vocal harmonies of Harmon and Swanson were highlighted as the audience lowered their volume out of sheer captivation from the emotionally gripping acoustic moments.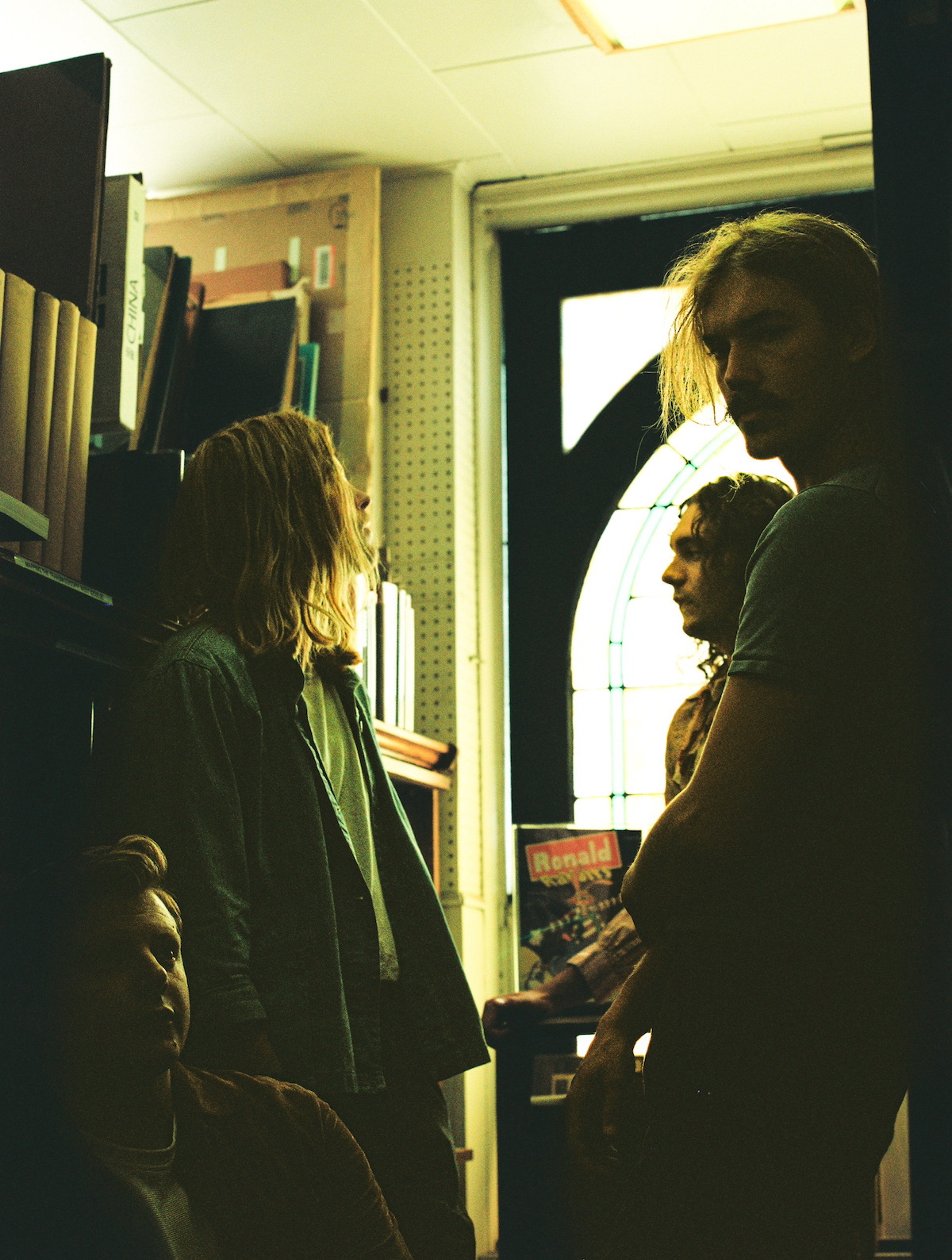 "Sinking Ship," one of the first songs the emerging band ever wrote, was the beloved outro of the set, and in similar fashion to the beginning of the show Harmon's voice was nearly drowned out with the number of fans enthusiastically shouting every word.
I'm certain that The Backseat Lovers will only continue to grow and perform in larger venues, so take advantage of each and every possibility to see them live in intimate settings. Their live performances are a mesmerizing experience that will leave you looking for any opportunity to see them again.
— —
5/18 – Dallas, TX @ The Factory in Deep Ellum
5/19 – Houston, TX @ Bayou Place
5/19-5/21 – Gulf Shores, AL @ Hangout Festival
5/22 – Orlando, FL @ House of Blues Orlando *SOLD OUT*
5/23 – St. Petersburg, FL @ Jannus Landing *SOLD OUT*
5/25 – Nashville, TN @ Ryman Auditorium *SOLD OUT*
5/26 – Charlotte, NC @ The Fillmore Charlotte *SOLD OUT*
5/27 – Raleigh, NC @ The Ritz *SOLD OUT*
5/30 – Washington, DC @ The Anthem *SOLD OUT*
5/31 – Philadelphia, PA @ The Fillmore Philadelphia *SOLD OUT*
6/1 – Boston, MA @ Roadrunner *SOLD OUT*
6/3 – Toronto, ON @ History *SOLD OUT*
6/4 – Toronto, ON @ History *SOLD OUT*
6/6 – New York, NY @ Hammerstein Ballroom
6/7 – New York, NY @ Hammerstein Ballroom
7/21 – Kansas City, MO @ Grinders KC
7/22 – Chesterfield, MO @ The Factory
7/23 – Columbus, OH @ Kemba Live! – Outdoor Amphitheater
7/25 – Detroit, MI @ Masonic Temple
7/26 – Pittsburgh, PA @ Stage AE
7/27 – Burlington, VT @ Waterfront Park
7/29 – Newport, RI @ Newport Folk Festival
8/1 – Asbury Park, NJ @ Stone Pony Summer Stage
8/2 – Portland, ME @ Thompson's Point
8/3-8/6 – Chicago, IL @ Lollapalooza
8/4 – Montreal, QC @ Osheaga Festival
9/8 – Denver, CO @ Endless Sunshine
— —
Stream: "Snowbank Blues" – The Backseat Lovers
— — — —
 © Colin Lepper
:: Stream The Backseat Lovers ::