Lauren Reiner's 'Little Rain' EP has the mysticism of early Taylor Swift and the maturity of Julien Baker.
"How many more mistakes can I make? Thought I knew better," Lauren Reiner sings in the second track off her new EP, Little Rain (out today, January 11, 2019). Throughout Little Rain, Reiner ruminates on her past with the thoughtfulness of modern day Robert Plant but the matter-of-fact nature of early Taylor Swift. It's often easy to sit and wonder why we do and feel certain things, but Reiner is able to recognize and diagnose her own emotions effectively.
Stream: 'Little Rain' – Lauren Reiner
---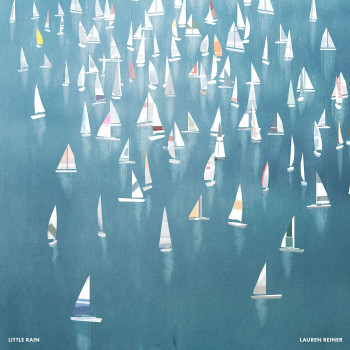 Throughout the EP's five songs, Reiner often explores heartache and closure. It opens with a kiss-off to an ex or old fling. Even though there's a lot of melancholy over the song's jazzy drums and sparse guitar, "You'd Rather" also comes with a sense of resentment that involuntarily accompanies the end of relationships:
I won't try to change your ways
Cause you'd rather love girls
Who love cocaine.
Still, Reiner's voice has a dreamy quality to it that makes every word sound sincere and graceful. Even as a song such as "Like You Used To," bring the EP to slightly more of a romp, her voice is a soothing haunt. In the chorus, she sings, "I know you never think about me, you don't miss me when you're lonely." It's a chorus worthy of emo-pop giants like Mayday Parade whistled over a country ballad.
Reiner can also build to a song that rocks in the traditional sense like in Little Rain's closing track, "Good Things." This song sees Reiner less ruminating on the past and more taking a breath and looking to the future. As she sings the final choruses of "Good things take time," her guitarist, Ben Youngblood, plays a proper hard-rock, power-ballad solo that feels as optimistic as the song is.
Despite some upbeat nature and moments of optimism, Reiner shines most in songs that are both self-deprecating and feel like their holding back an angry resentment.
No matter how hard I try
It always ends the same
Haunted by this fear
That I won't change
I thought I knew better
Reiner sounds like she's slowly breaking down, and as the chorus starts it sounds like a hangover of mistakes echoing in your head taunting you. It's one of the EP's most powerful moments. "Bad News" echoes vicious cycles of toxic relationships. Reiner takes the literal image of a newspaper and uses it to show the vicious cycle of being caught up in the aftermath of a crappy relationship. As Reiner sings, "You're just bad news," it's equal parts cutting and bittersweet. Sometimes, we're left wondering about someone we know shouldn't even be a second thought to us, but we're stuck with a melancholy curiosity.
Despite the downtrodden nature of the EP, Little Rain is the product of a thoughtful and well-meaning singer-songwriter. Lauren Reiner never comes off as over-dramatic or careless. This is an EP that feels more about wondering what to do with newfound recognition of the array of emotions that come after a breakup without really wallowing on the past. It's an EP about not being sure where to go next, and Reiner can provide some words of wisdom to anyone that feels a little stuck.
— —
— — — —
? © 2019
:: Stream Lauren Reiner ::