With the track's mixture of hazy '70s rhythms and vintage Latin pop melodies, Los Retros has made a summertime anthem that, despite its forlorn lyrics, will have listeners incessantly grooving for months on end.
"Someone To Spend Time With" – Los Retros
---
Summertime checklist: Shimmering rays of light? Plenty of them. Lazy days? Accounted for. Someone to spend them with? That's a negative. How satisfying can whiling away from dusk 'til dawn be when you're alone for all of it? Los Retros faces this dilemma of searching for summer love with their hypnotic single "Someone To Spend Time With." Laced with a hazy groove and relaxed vocals, Los Retros has crafted a track that strikes all of the right chords to create a perfect summer anthem.
Nineteen-year-old Mauri Tapia forms Los Retros, an Oxnard, California based band with heavy roots in the 70s and 80s soft rock scene along with the old school stylings of Latin pop. Despite just finishing high school, Tapia has been involved in music for years, dating back to when he was only eight-years-old. From guitars to drums, keyboard to bass, Tapia plays it all, showing his knack for musical talent and his dedication to the craft. Before Los Retros, though, he created Retrospect, the original alias of his band. "Someone To Spend Time With" was initially created under Retrospect, but after the name change and being signed to Stones Throw, a resurgence occurred. Now, the song stands as his first single with the new record label, and with it, a nostalgia-filled music video to bring the very best out of this stellar track.
Wake up alone
in the morning, with no one at my side
could it be
I've waited too long
waiting for the lucky one
Listeners are immediately hit with a groovy bassline and a guitar melody reminiscent of Brazilian singer-songwriter Roberto Carlos' "Detalles." As the vocals begin, a subdued yearning is echoed throughout, Tapia sighing over his lonely mornings and potentially missed opportunities at love. The chorus then plays out with a tinge of sadness, yet still sunny with its presentation. "My sweetheart, where are you? I need someone to spend time with. To give and share all my love," Tapia sings with a doleful tone while pleasant twangs from the nylon strings of a classical guitar enter the foreground, providing a small detail that brings loads of depth to the track.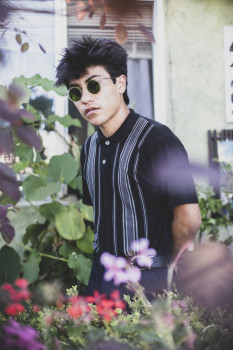 Joining in the wistful nature of the track with her guest performance is Firelordmelisa, another California-based artist. Her performance is the perfect mirroring of Tapia's; two lost souls searching in vain for their summer love before it's all over. The two's harmonization on the chorus is outstanding, helping create this daydream-esque soundscape that one can't help but smile to. And as the track comes to a close, they harmonize one last time, sending listeners off on a high note and giving them a reason to go on with the rest of their day feeling refreshed.
Back in bed
it's 3 am
with no one at my side
it gets real cold
because these blankets
will never warm my heart
The accompanying music video captures the forlorn aspects of the track and mixes it with the bright and sunny days of summer in a beautiful manner. Directed by Ross Harris, the video is a combination of bored poolside moments and elaborate yet lonely parties. Even with all of the partygoers, one can't help but feel alone when there is no one to embrace it all in with. Firelordmelisa makes an appearance as well, providing her verse in a dimly lit bedroom where the troubled heart can be free.
"Someone To Spend Time With" grabs the very best of vintage melodies and combines it effortlessly with contemporary beats to make a standout track. The rhythm is infectious, and it's one that listeners can't help but fall in love with. Los Retros is an absolute breath of fresh air in the music scene, and if fans can expect to see this same talent in the future, a bright path with Stones Throw is ahead of them, and we at Atwood Magazine will certainly be keeping an eye on this artist to watch. Expect to see an EP sometime this summer.
— —
"Someone To Spend Time With" – Los Retros
— — — —
? © Ross Harris
:: Today's Song(s) ::
:: Stream Los Retros ::