I can do this all on my own
How often do we hold ourselves back from fulfilling our true potential, and being our best possible selves? It is all too easy to sit back and let the world turn around us; to keep things in stagnation, doing the same and letting life just happen. Such inaction is a luxury, a dream we all ought to wake from. Lulu Lewis take control of their own life on "All Just Pretending," a passionate assertion of self-determination that cuts ties with dependencies and reliance in order to let one's individuality spread its wings and take flight.
I don't know to make changes
I don't want to change things
I just got where it's easy
I just know that I know…
Watch: "All Just Pretending" – Lulu Lewis
---
Atwood Magazine is proud to be premiering the music video for "All Just Pretending," the latest single off Lulu Lewis' forthcoming debut album (2017 via Ilegalia Records). Consisting of Dylan Hundley and Pablo Martin, alongside William X Harvey, Walter Vernon Baker, and Jay Mumford (J-Zone), Harlem's Lulu Lewis is an artistic medley of genre and media. Hundley herself is an actress, producer, visual artist and songwriter; Martin is a producer, bassist and guitarist known for playing lead guitar in the Tom Tom Club. Musically, Lulu Lewis mix modern and classic rock stylings, melding psychedelic, soul and post punk influences into a formidable embodiment of musicality. "All Just Pretending" feels like a cross between The Zombies and The Black Keys, and certainly its timeless message allows it to truly exist outside of the modern age.
I don't need a pimp at all
I can do this all on my own
I don't need a shill anymore
I can do it all on my own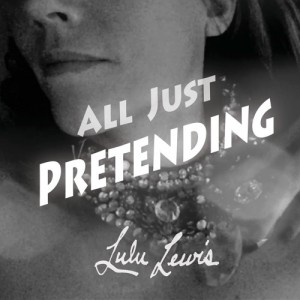 Hundley's voice is strong and forceful as she sings about independence: She may have flaws, but she doesn't need someone else's help to get by; she can do just fine on her own. "This track was born from a place of personal strength and also self recovery for me," she explains. "The brave act of allowing oneself to flourish. That was hard for me, for a time in my life." The song's title finds its way into the second verse, where Hundley questions the nature of her demons. She may not always be in control, but that doesn't mean she's helpless. We face challenges all the time; overcoming those challenges is a natural part of life. Sometimes, however, you need to make yourself vulnerable in order to realize your true potential.
I used to be my worst enemy
Now I have worse enemies than myself
Maybe it's all just pretending
I can't always go home
Band co-leader Pablo Martin goes in-depth into the song's words. Lyrically, he describes "All Just Pretending" as "a song about breaking a path of exploitation by realizing that sometimes we give that power to a person or an entity, because we think we need them in order to survive when we actually don't." Moreover, this track is quintessential Lulu Lewis: "Musically, it's the song that rounded up Lulu Lewis conceptually, and the ties with Harlem. See, there is a lot of music that came from here – jazz, Latin soul, disco, gospel, etc., but never a rock n' roll band, so we are, for good or bad, claiming that role. Jay [Mumford], our drummer, called it an oxymoron when he heard the Harlem Punk label that I've coined; we're totally fine with that. If you listen to the track, it's essentially a Latin soul Boogaloo beat, but so abrasively recorded and executed that you can't call it that anymore. We were pushing our limits on how we wanted to sound and what we wanted to say. It's a harsh song with a lot a soul and great groove."
A black and white video of the band is interspersed with trippy, ominous silhouettes of a man with a gun and a fancifully dressed woman. The film noir reference is strong, yet vague enough to keep us open-minded about whatever tragedies are to ensue. "The video itself is a film noir homage which I found somehow fitting," notes Dundley, who has starred in multiple independent films including Whit Stillman's Academy Award Nominated New York classic Metropolitan. "I'm also playing with older experimental film themes and ideas which I'm a huge fan of. It's my intention to make a video for each song on our forthcoming LP and each will be thematically an homage to a certain era of film. This filmic aspect does and shall play a large role in what we do now and going forward."
No matter your head-space, "All Just Pretending" will transport you to another plane, reminding you that survival rests in your hands alone and that shadows lurk around every corner. Lulu Lewis are a force to be reckoned with, wielding a progressive spirit of artistry and passion that promises to engulf us in waves of raucous ire and self-sufficient delight.
— — — —

"All Just Pretending" – Lulu Lewis