Michael Burrows' heartfelt sophomore single "Turn This Love Around" aches with the weight of affection in its call to make up, move on, and be together.
— —
One of the main questions that keeps coming up about this song is: If you could go back in time and turn one love around what or who would it be? I'm truly fascinated by that question…
Australian singer/songwriter Michael Burrows is the kind of person who would rather fix a problem right away, then let it fester and bubble under the surface. He's the kind who's ready to sort things out, finding common ground and a solution as quickly as possible. Why hold onto our troubles? Why push it down, rather than let it out?
Burrows' heartfelt sophomore single "Turn This Love Around" aches with the weight of affection in its call to make up, move on, and be together – embracing the good, so that it always outweighs the bad.
there's a window open
somewhere in this house
let all these crazy little fears fly out
there's no problem too big to solve
and i don't wanna lose it all
girl all i wanna do,
is make things right with you
Atwood Magazine is proud to be premiering the lyric video for "Turn This Love Around," the second single off Michael Burrows' upcoming EP, Turn This Love Around. In premiering the Melbourne-based artist's debut single "Please Don't Cry" last September, we noted how Burrows' music has a timelessly classic pop/rock sound: "With as much affection and love as a breakup can have, "Please Don't Cry" manages to create a meaningful, while still bittersweet, sendoff."
Released as a single in late 2018, "Turn This Love Around" is a heartwarming plea to stop fighting and come together. Shining with charismatic alt-country, folk-rock sound, Michael Burrows professes the world of possibility and potential a relationship can have – as long as they turn this love around.
"I'm a mess when people hug," Burrows admits, speaking to Atwood Magazine. "At airports, in movies, on the street. There's just something so raw about two people coming together like that. Happiness, sadness, confusion, it's all there in one action. It's like an unspoken apology or a an instant way to show appreciation. Either way, when you combine a hug with music…. I'm a mess. It always hits me in the throat. Those reunion shows where they bring families torn apart by war or distance together or orphans searching for parents… it kills me and when they hug… I start slicing raw onions right there in the room."
He continues, "I also don't sit very well on an argument, unless it's been worked out. That was the original theme of the song. Never go to sleep on an argument and if love is worth keeping then it's worth fighting for. It's worth turning around and protecting the love you have. I'm definitely the kind of guy who will pace nervously if I've hurt someone and can't rest until I've apologised or tried to work it out. The older I get, the faster this process is becoming."
This genuine sentiment can be felt in full through Burrow's charming chorus:
we can break each other's hearts
we can tear our lives apart
or together we can change this road
we're going down you're every
thought inside my head
this love is far from dead
so come on back to bed
and turn this love around
turn this love around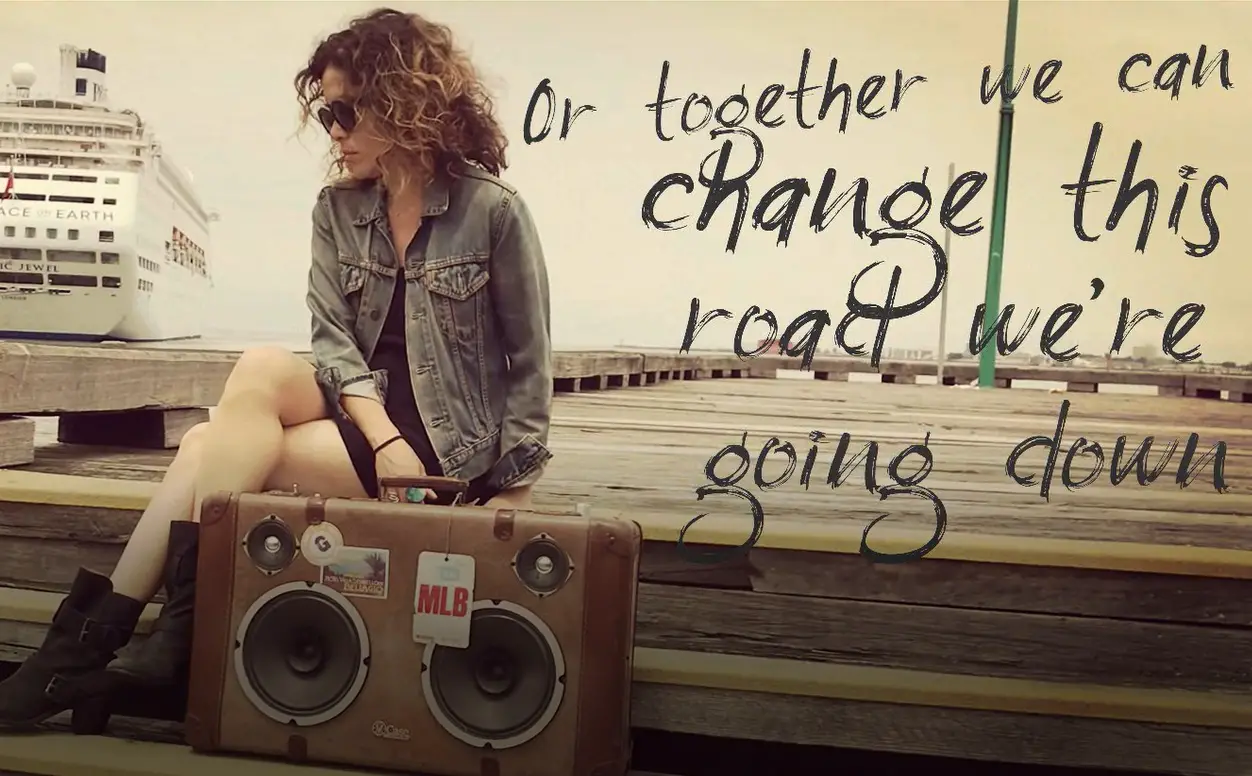 Starring Burrows' wife Noe Harsel and directed by Burrows (alongside a film crew of Dylan and Levi Burrows), the "Turn This Love Around" lyric video follows a wayward vintage speaker suitcase (and its owner) traveling across Melbourne. "The idea was that she would carry the same vintage speaker suitcase from the front cover of the EP. The suitcase has always represented a kind of time machine to me," Burrows remarks. "It fuses a vintage memory with contemporary audio functionality. The time machine idea sits well with the notion of time travel to go back and turn one love around that meant the world to you. Lyric videos are normally quite abstract, but we decided to create something a little more connected to the music and it adds some urgency and intrigue to the lyrics. Noe appears to be searching for something, or someone. Hopefully she's on her way to try and turn an important love around. The ending was left quite open to interpretation. She finally opens the suitcase and we don't get to see inside…… maybe it's a miniature couple hugging….. but also could be a new pair of shoes."
"Turn This Love Around" inspires love: The song is a genuine assertion of goodwill and sincerity, a call to spread and embrace light. Ultimately for Burrows, it's the power and meaning of the emotions behind this song that make it so worthwhile.
there's a light that flickered
high above my head
when the blue sky suddenly turned red
wish i could take back
every word
love's not supposed to hurt
girl all i wanna do is
stay right here with you

"There's a great minor chord under the lyric 'we can tear our lives apart' which always gets me and was a great addition to the song that really makes it for me.  I love playing this live, and always hope there's a couple in the audience that get inspired to work through their shit…. I was playing at a bar in Nashville between recording and I played an acoustic version of this song. A couple in front of me started hugging and it was like a music video happening right in front of my eyes. It felt like the lyric meant something to them when I sang it and they seemed to then gravitate towards each other and the moment was really special to me. That's the power of song. Even if their love moment was a coincidence, the idea they were turning their love around felt right."
"Turn This Love Around" is a song for reconciliation; a song for acknowledgement and gratitude; a song for hugs. Stream Michael Burrows' lyric video below and embrace a beautiful romance.
Always remember: Choose love.
"Turn This Love Around" – Michael Burrows
— — — —
? © DS Images – Dean Schmideg
:: Stream Michael Burrows ::