Exploring her journey with Borderline Personality Disorder, Los Angeles artist Mandi Crimmins' hyper-confessional 'BORDERLINE' EP is some of her most honest and vulnerable work to date.
Stream: 'BORDERLINE' – Mandi Crimmins
---
Massachusetts born, Los Angeles based artist Mandi Crimmins recently released a new EP and it's some of her most honest and vulnerable work to date. BORDERLINE, which features five tracks, as well as a stripped-back version, details the artist's journey with being diagnosed with Borderline Personality Disorder. The concept rock EP touches on a multitude of topics and experiences that come hand in hand with mental health, including the highs and lows, as well as the general navigating of life in your twenties.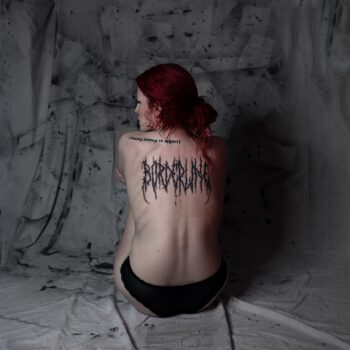 The EP is a personal look into the musician's life, as she knocks down barriers and shows she isn't afraid to present her most authentic self. Crimmins shares, "While I was in the process of writing the EP, I actually ended up getting diagnosed with Borderline Personality Disorder. Writing to me is therapeutic and usually whatever is weighing on my mind most comes out during the writing session. After I finished the EP, I realized that I had been writing about my diagnosis before I even had it. They all perfectly described what it feels like to be in my head."
BORDERLINE truly covers it all, from high energy and fiery, passionate emotions to more introspective and contemplative moments. The artist delivers a raw and emotional intensity and is impossible to ignore. Atwood Magazine takes a deep dive into the EP, as we uncover the stories and meanings behind each song.
— —
Inside Borderline
MELTDOWN
Starting off strong with a warbling guitar line and menacing beat, "MELTDOWN" sonically encapsulates the feeling of being overwhelmed, to the point of reaching a meltdown. This is reflected in the collision of instruments, crashing percussion and overall chaotic atmosphere. Crimmins has mentioned how listening to this track can be cathartic and is perfect for when you need an outlet and something to encourage you to scream from the top of your lungs.
PARANOIA
"PARANOIA" is dark and eerie, as the songwriter speaks about her anxiety. With hyper-confessional lyrics, the track is seemingly comforting as listeners are certain to be able to relate to it in some way. She sings, "Stupid like Alice, always falling down rabbit holes, deeper deeper down, fall til' I hit the ground." The haunting tone captures the feeling of being trapped in a cycle, consumed by fear and uncertainty.
EGOMANIAC
With a throbbing beat, and echoing vocals, Crimmins vents about her feelings for someone in "EGOMANIAC." Through blistering guitar riffs, confrontational lyrics and driving drums, this track is a perfect outlet for anyone looking to release their pent-up anger and frustration, as Crimmins speaks to the feeling of being constantly undermined and belittled by someone who thinks they're better than you.
BREAK ME DOWN
"BREAK ME DOWN" narrates Crimmins personal struggles with depression. Co-written and produced by The Haunt, the song has garnered an impressive amount of attention on TikTok. The raw and honest lyrics depict the inner-turmoil of someone struggling with depression, as she sings, "haunted, unwanted, these voices paralyze me, I can't breathe, mentally all over, no composure." Crimmins' encourages listeners to confront their darkest thoughts and feelings. "BREAK ME DOWN" is a shining example of the power that music has to help us confront our most difficult emotions.
ILY, DON'T LEAVE
"ILY, DON'T LEAVE" is the only song on the EP that wasn't written during the time of Crimmins' diagnosis, and yet, it fits so perfectly with the overall theme. This emotional track is a love song, but written through the lens of the artist's BPD. Crimmins shares, "Love songs have always felt incredibly hard to me to write – they never feel authentic to me when I hear them or attempt to write them. But this project gave me the direction for the coveted long song that I needed:  a love song through the lens of mental illness." Taking a different lane sonically, "ILY, DON'T LEAVE" is upbeat and positive, while still including an undercurrent of fear, paranoia, and self-deprecation. Crimmins continues, "I realized that if I feel that the current popular love songs out now lack this level of reliability for me, then there must be other people who also feel like that too. This song is for them! For the lovers who want a high-energy relatable love song that admits to fears amidst immense joy."
— —
— — — —
 © Nic Wheat
:: Stream Mandi Crimmins ::
---