Tom Misch's "My Fancy Free Future Love" rearrangement playfully illuminates Common's grown-up love song.
Stream: "My Fancy Free Future Love" – Common, Tom Misch
---
Sauntering in with compact, off-beat keys atop a light and tight drum beat, and spacious yet playful guitar hooks, "My Fancy Free Future Love" begins more like a Tom Misch jam session than a remix of a Common track. When the rapper's first verse comes in, though, the stuttered first lines bring an immediate sense of impromptu collaboration.
L-l-l-l-l-let's go on
We we-weather-weather the storm
Love comes through and we get it on
Been through the PM just to see the dawn
They say it never rains in Californ'
That done changed 'cause of global warming
Depends on what you use for a lens
I was told God used rain to cleanse
In you I got a friend, your kin is my kin
I prayed for a woman, so I say amen
A gift in my life that can't be boxed in
You don't complain when I watch SportsCenter Top 10
Over and over again, no more holding it in
Let's write a love story, we don't know where it end
I'm beginning to understand and understand women
Yeah, understand forgiving, understand commitment
Understand living in love with no division
Understand she gon' be like, "Nigga, just listen"
Girl, in me, a King has risen
So close, the future don't seem as distant
The piano provides a perfect frame around Common's rhythm, through which he sets out his optimistic and love-struck subject matter. Despite the Chicago polymath's eclectic and global career, his lyrics are touchingly close to home, including references to his partner not complaining when he watches television repeats, as well as the fact that he is 'beginning to understand and understand women'. Halfway through, the first verse tumbles into revamped drums like dominoes falling into place. The instrumentation backs away entirely as Common declares that, in him, 'a King has risen'. "My Fancy Free Future Love" thus feels like a romantic coming-of-age, and is therefore a warm and believable track, underpinned by an engaging sense of intimacy.
So fancy free, 'cause I wanna be
To understand part of me
So fancy free, 'cause I wanna be
To understand part of me
Off the back of four cascading piano chords, Misch revisits the classy guitar riff which introduced the song. The joy of this remix comes from the simple pleasures at its heart. Misch dances around Common's strong verses, which are largely untouched since their original appearance at the end of his 2019 album, Let Love. The young Londoner ably mirrors the lyrics' messages of love, understanding and commitment, with the regular punctuation of his piano and the levity of his sunny guitar refrains. The happiness of the track is thus enhanced by further listens; Common's endearingly specific examples of everyday love can be more fully appreciated, whilst you can also lean into the stops and starts of Tom Misch's trademark grooves.
It is hard to listen to this as a typical remix, as the instrumentation and lyrics dovetail almost organically.
Though Misch has overhauled the beats and melodies, he has not sought to redefine the song, and allows Common's words to breathe. Multi-story riffs on the guitar do not tangle with the flow of the rapper's words, but instead serve as sonic lens flares on this brightest of tracks.
Ah, ah, new shoes, ah, ah, new clothes
Really that glow is from your inner soul
You a good DJ as long as you ain't blow
Red carpet looks I tell you when they coals
Use no stylist, you know I joke childish
My Gambino is black not Italian
Let's watch ATL, drink wine, and order Postmates
Background music either Anita or Ghostface
Any time I get with you, it's a dope date
You juicin'? Don't lose too much weight
Mind full of Gotti, Soulcycle for the body
Your hero's Angela Davis, mine's is Ali
I probably couldn't have done this, years ago
Relationship journey is spiritual, lyrical
Written in the sky above, it's a higher love
If it get ashy, we can start applying love
We can work, we can laugh, we can cry in love
Let's get gray, then we can die in love
Tell the first responders, this is a fire love
Gratitude, to the Most High above
You my partner, da-na-na-na-na-na
You are part of, da-na-na-na-na-na
This is sparks of, no matter what they call it
This is God's love, our love
You get spicy, any time I act like a Pisces
That's the only time you really wanna fight me
Can't copy sex, still you can bite me
That could be the start of our black clan like Spike Lee
You help me with my lines, tell me when my raps are wack
When I'm sick you got remedies to battle back
Your jellyfish theory we could master that
I love you this lifetime and after that
Common concludes by reiterating the relaxed, 'fancy free' love at the heart of the track, whilst Misch ambles effortlessly out of the song with his stylish brand of funk. Though Misch's instrumentation is unavoidably cool, "My Fancy Free Future Love" will ultimately leave you feeling significantly warmer than you were five minutes before.
— —
Stream: "My Fancy Free Future Love" – Common, Tom Misch
— — — —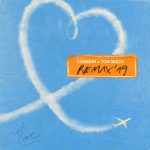 Connect to Tom Misch on
Facebook, Twitter, Instagram
? © 2019
:: Today's Song(s) ::
---
:: Stream Tom Misch ::
:: Stream Tom Misch ::