A voice that takes your breath away and songs that make your heart sink: Lizzy McAlpine's 'End of The Movie' tour will stay with us forever. 
Stream: 'five seconds flat' – Lizzy McAlpine
---
Successful artists all have their "thing" – a strength so strong it allows them to break through the rest. Usually, it's one of two things. 1) Their vocals or 2) Their songwriting. It's incredibly rare that someone with the songwriting chops of Joni Mitchell also has the voice of someone like Ariana Grande. Lizzy McAlpine undoubtedly has both. With lyrics as cutting as,
Doomsday is close at hand
I'll book the marching band to play as you speak
I'll feel like throwing up
You'll sit and stare like a goddamn machine
I'd like to plan out my part in this
But you're such a narcissist
You'll probably do it next week
I don't get a choice in the matter
Why would I? It's only the death of me
McAlpine's velvet voice can run up, down and all around an octave so smoothly you barely even realize she's doing it. And while we review the concert as effortlessly unbelievable, it's only because the best of best make incredible effort look easy. McAlpine did that on May 8, 2023 at the ACL Live Moody Theatre in Austin, TX – all while fighting a cold.
A very notable mention is McAlpine's opener, Olivia Barton. Without knowing much about the artist before the show she absolutely blew us away. Charging the stage with energy and charisma, Barton had the crowd from song one. It's not easy for an opener to enamor a crowd, Barton did this and never let us go. Her vocals were crystal clear, echoing beautifully throughout the venue. With each song she told a story, captivating, true and scarily relatable. Without a doubt, we left the show as new fan of Barton. She graced us with a few unreleased songs; we'll be keeping an eye out, and you should, too.
---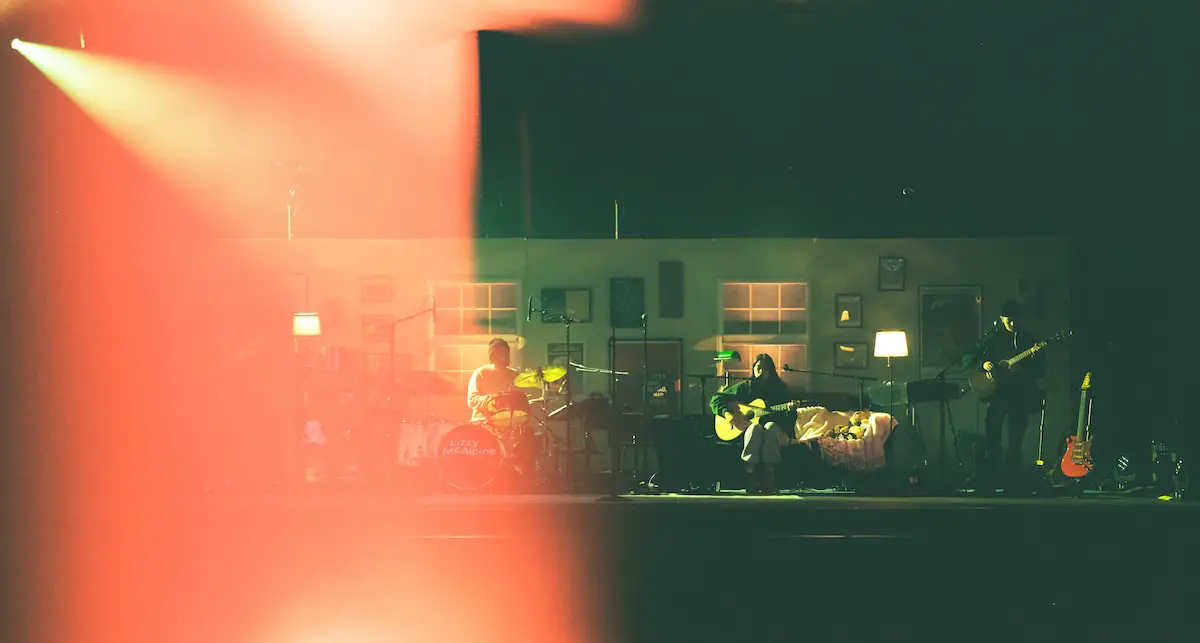 Concert Review
The stage set is the coziest set we've ever seen, making everyone feel at home. The backdrop is a home complete with posters and dimly lit windows. There is a velvet green couch in the forefront with an electric keyboard next to it. You almost don't notice the rest of the band's setup weaved throughout. McAlpine has made us feel like we are at home with her.
The lights go dark as dramatic instrumentals introduce "an ego thing" revving up an already electric crowd. The band jogs on stage followed by McAlpine, whose silhouette draws screams from every section of the theater. The lights come up as she sings the first lyric with a smile so sincere and wide; everyone is happy to be there.
McAlpine sings through "an ego thing" to a mesmerized audience before moving to "Over-The-Ocean Call," a crowd favorite. McAlpine removes the mic from the stand, pointing it towards the audience and embracing the sing-along to the chorus the entire room knows the words to – a recurrence of the night. Her smile is wide as she moves across the stage, taking in the crowd.
---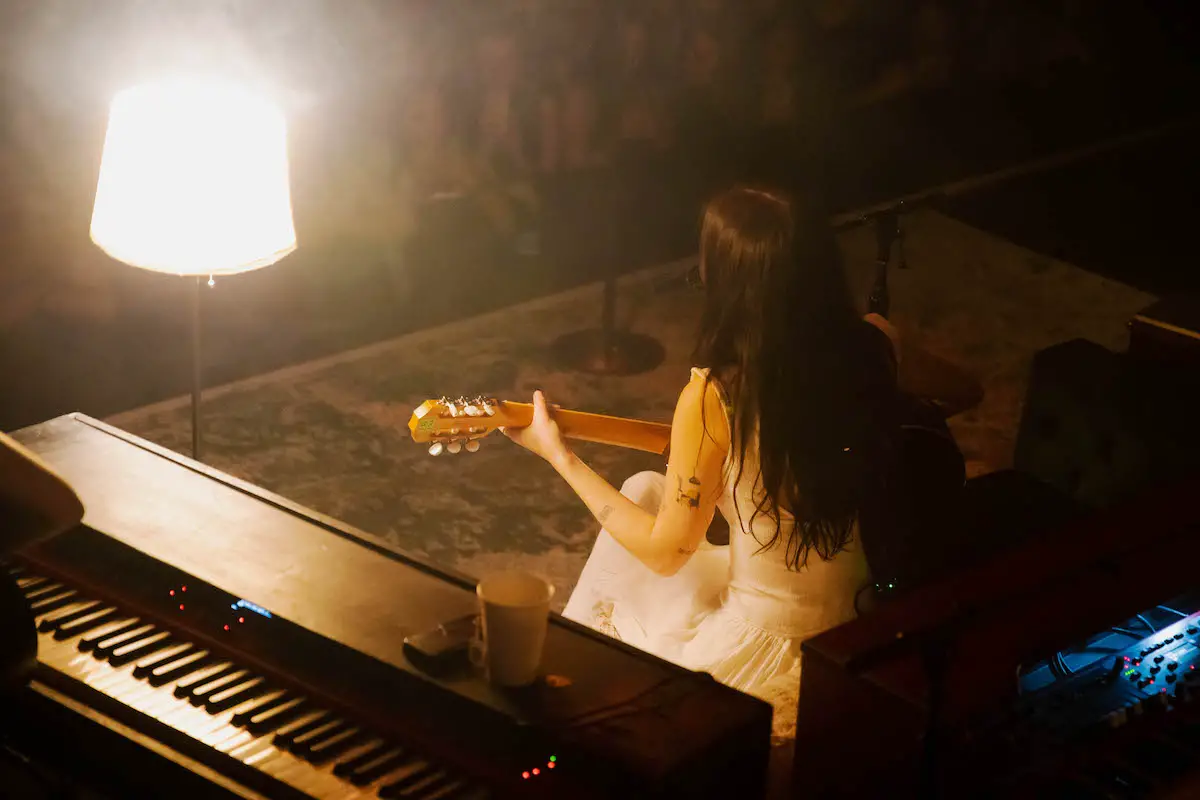 She breaks before the next song to say hello. She could be talking to a room of three people rather than almost 3,000. She's humble and gracious while also confident and natural. She slyly introduces the next song, "all my ghosts" by saying, "This is a song about slurpees," and the crowd explodes.
She plays through the next two "firearm" and "doomsday" for an audience who never lets up excitement and never misses a word.
---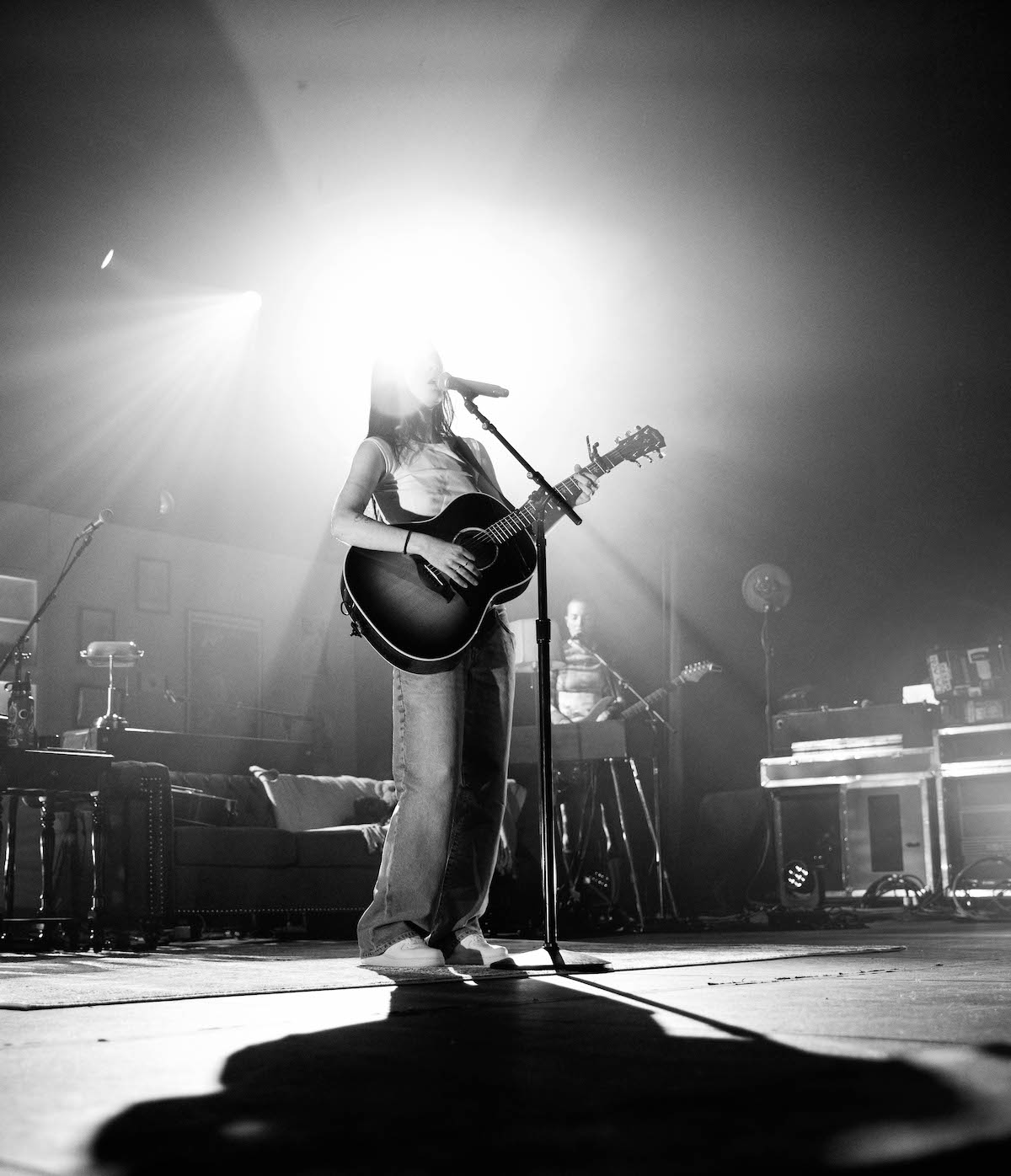 McAlpine has a catalog of songs with one as equally impressive as the next.
The crowd isn't at this show to hear just one or two songs they love. They're here to hear every word of every song, and this is wildly evident. Even as she continues to her next two songs, plucked from her first album Give Me a Minute, she remarks how it's amazing that we still care about these songs. And we absolutely do.
The lights dim as we begin to hear rain falling. The production lets us know something special is about to happen. Sure enough, her latest viral hit, "Ceilings" is up next, and it is as special as you would imagine.
---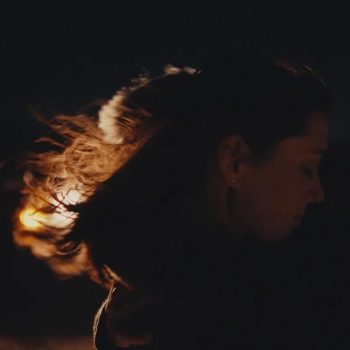 She played three new songs throughout the set. This was our favorite part. You could tell these were of a different caliber than her debut album or the critically acclaimed five seconds flat, but just as those pieces are, they each were magic. They make us eager to hear her next body of work of which she assures us we will love, although it's not done yet so be patient.
McAlpline turns on the set lamps herself as she makes her way back to the piano with her notebook. She takes this moment to connect personally with the audience. She thanks us for giving her art space. She tells us that she used to play all her songs playing in her basement, on an electric piano while looking at her notebook. And then she does it for us by playing the beautiful "In What World". It was the most special moment of the show.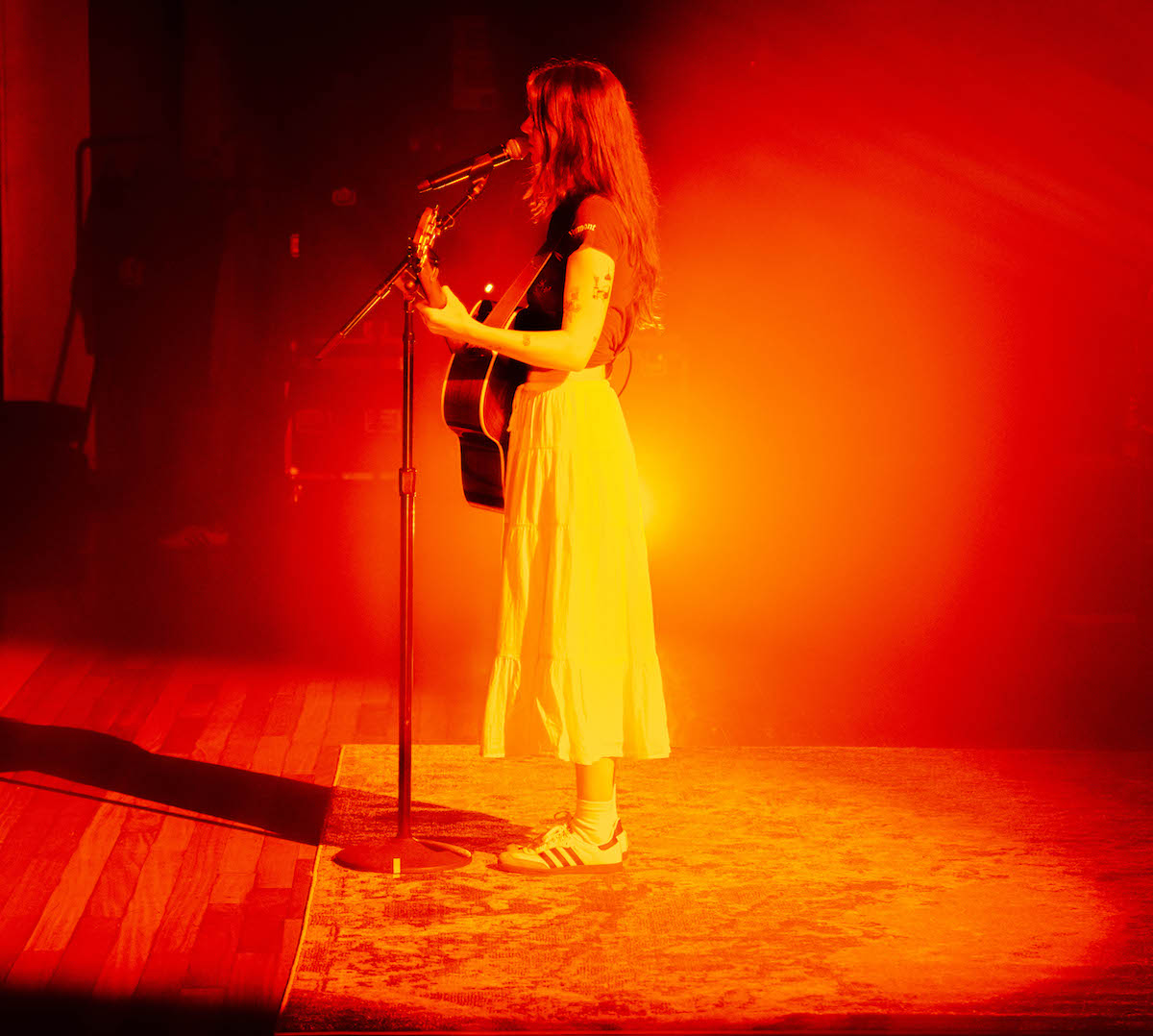 Towards the latter half of the show she conducts a group singalong to one of her new songs, "I Guess." Flawlessly executed, McAlpine's ability to engage with her audience in a natural, charming way is just one of the things that makes this live show stick with you. She continues with "Pancakes for Dinner" and the grand finale of "Orange Show Speedway," not before garnering a cowboy hat from the audience. We all dance and celebrate together until the end.
McAlpine never missed a beat. She sang each and every song to perfection. She introduced runs and new melodies throughout, which continuously drew loud applause from the crowd. Although we tried, the End of The Movie Tour and McAlpine's performance in general is something that cannot be explained in words. You really have to see and hear it to understand. This is your PSA – Go to a Lizzy McAlpine show, you will not be disappointed. And remember, follow along with Oliva Barton's journey too. We will be.
— —
— — — —
 © courtesy of the artist
:: Stream Lizzy McAlpine ::
---